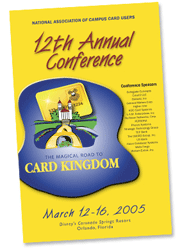 Lowell Adkins, executive director of the National Association of Campus Card Users, has just one word for those attending–or thinking of attending–the organization's annual meeting in March: Disney.
But he's not talking about the Magic Kingdom, or EPCOT, or MGM, although those certainly provide nice incentives for bringing the family. No, it's Disney as in Disney Innovation and the Disney Institute. At no extra cost – and no increase in the conference registration fee over last year–those attending the NACCU conference March 12-16 at Disney's Coronado Springs Resort in Orlando will get three 90-minute Disney Institute sessions. Complete all three and you end up with a certificate. But, more importantly, you'll have received training from the company that practically invented customer – and employee – satisfaction.
And for an extra $125, there's the pre-conference workshop on March 12 – a three-hour behind-the-scenes tour of Walt Disney World. "This is not only a fun thing to do but it will be a great professional development program," said Mr. Adkins. "Folks who attend this pre-conference will get insight on how to manage a complex operation. It will be a good learning experience."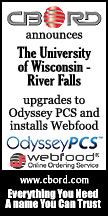 Disney icing
But Mr. Adkins considers Disney "icing on an already very rich cake. There is so much going on in the industry … We've got educational breakout sessions, plus Disney." Even the conference theme, "The Magical Road to Card Kingdom," is tied to Disney.
The goal is to have 350 to 400 attend this year's conference. Last year's event in San Antonio drew 325, he said. "We already expect that a destination like Orlando will draw more. Conference chair is Dianna Norwood, Florida State University and co-chair is Kathleen Kelly, Carlton University, Ottawa, Canada.
There will also be some 55 exhibitors composed of major system integrators, financial institutions, accessory providers, and more, added Mr. Adkins.
"Every year, we have an excellent conference because of incredible networking opportunities. We'll have six breakout sessions. Each will have five tracks. That's 30 education opportunities. Plus there's always those networking opportunities, talking to folks in the hallways," he said.
"Learning from the experiences of others is the keystone to the success of this association and its members' card programs," commented Ms. Norwood. "Ask anyone why they attend the annual NACCU conference year after year, and they will quickly point out the advantages of networking with others who are experiencing the same day-to-day challenges on their campuses. Many of our veteran members take advantage of the face-to-face opportunity to exchange ideas with our corporate members in the exhibit hall."
Conference attendees will "get the best of what we've always done, plus an extra added attraction – the Disney Institute, a great professional development opportunity," added Mr. Adkins.
"We are very excited to be able to include three premier Disney Institute sessions in this year's strong educational line-up," said Ms. Norwood. "This is another perfect example of NACCU's commitment to its educational mission for our membership."
Wireless and more
Some of the other key sessions will cover wireless, security, access control, and even how to set up a card program. "There are still people who are doing that," said Mr. Adkins, "particularly in community colleges where a lot of the new installations are happening now. That's a real growth place for the campus card industry."
Marketing will also be there. "It's so important that it will be part of every one of the six breakouts. Disaster recovery is another important topic. That can be a natural disaster (Florida's four hurricanes, for example), or what do you do when your system fails or you've been hit by a hacker," added Mr. Adkins.
There will also be award presentations, such as the NACCU PERSONA Professional Development winner, "which we'll be announcing in late January or early February," said Mr. Adkins. Also, the winners of the best card and best marketing contests will be announced. Attendees will get to vote for their favorites at the conference.
Not to be forgotten is Sales Pitch Sunday. "As always, that's a win-win opportunity for folks to see what's going on and it's a great chance for vendors to toot their own horns," said Mr. Adkins.
The three 90-minute Disney Institute sessions Monday through Wednesday, will cover Leadership, quality service, and people management.
The NACCU conference in brief
While the complete agenda and other info is available at: www.naccu.org/conferences/2005/2005conferenceindex.html, here are some educational session highlights:
Saturday, March 12:
Pre-Conference Disney Institute Workshop, "Innovation in Action."
Sunday, March 13:
Sales Pitch Sunday, and opening of exhibit hall.
Monday, March 14:
Educational Breakout Sessions #1:
Successfully Launching and Running a Community College Campus Card Program
Ryan Gardner and Stacey Henecke, Kirkwood Community College
Wireless 802.11b Locks Within Your Campus Community
Jim Primovic and Ed Wassmer, PERSONA
Keeping Our One-Card Databases Secure: Elegant attacks and simple defenses
Adam Thermos, Strategic Technology Group
Using Wireless Handheld Devices for On-Line Campus Card Transactions
Matt Drummond, Duke University
Financial Models for a Successful Card Program
Rosalind Meyers, Georgia Tech
Educational Breakout Sessions #2
A Guide to a One-Card Project or Expansion
Michael Peele, Georgetown University
Championing Your Campus Card Program
Joe Krier, University of Wisconsin, Stout
Benefits of the Webfood Online Ordering System
Read Winkelman, The CBORD Group, Inc.
Controlling Multi-Function Devices/Printers
Marc Belanger, Marquette University
The Journey Off Campus
Bill McGee and Steve Robbins, Clemson University

Tuesday, March 15, 2005:
Educational Breakout Sessions #3
From Frontierland to Tomorrowland in 18 Months: Implementing a New ID Card System
Dr. Mike Reagle, Eastern Kentucky University
Developing a Marketing Plan
Cindy Vetter, University of Northern Colorado
Advancements in Card Systems
Bob Lemley and Ryan Zlockie, Diebold, Inc.
How Do Proximity Cards Fit Into the Campus Card World?
Gary Smith, ColorID
Recipe for a New Student ID - Serves 100,000
Joel L. Weidner and Cindy Kellerman, Penn State
Educational Breakout Sessions #4:
Your Card Beyond The Campus Walls
Fred Emery, General Meters Corporation
The Magical World of Marketing: A Plan for Small Schools
Jessica Mrozek, Mount Union College
Understanding the Networked Transaction Environment
Jim Hermens, Blackboard Inc.
Creating Your Own Disaster Recovery Environment
Debbie Wright and Mark Harris, The George Washington University
The Card Program from an Administrator's Viewpoint
Ed Kane, Carleton University
Educational Breakout Sessions #5
Identity Management and Valid Forms of ID
David Woodbury, University of Illinois
Marketing Ideas and Suggestions
Sara Neer, Ohio State University
Campus banking: Making It Happen
Whitney Bright, US Bank
Thinking Prox? You Might Want to Skip Right Over It
Dennis Caulley, AccessID, Inc
Accounting Procedures and The Card Office
Candace Elderkin, Mesa State College
Wednesday, March 16
Educational Breakout Sessions #6
Running Your Card Office
Jeanine Brooks, The University of Alabama
Getting the Most Bang From Your Marketing Buck
David Townsend, Carleton University
How to Launch a Successful Campus Card Program
Alicia Faugier, Wells Fargo
Technology for Secure ID Cards
Kiran Gandhi, MagTek Inc.
Creating a Business Plan That Works in Higher Education
Alex Herzog, University of Nevada, Las Vegas
"And by the way, it's Orlando, a family opportunity," added Mr. Adkins. "It ought to be a wonderful week in Orlando."