The tale of Washington State University banking partnership and ID card
By Andy Williams, Associate Editor, Avisian Publications
When Washington State University in Pullman went looking for a banking partner a couple years ago, administrators had some strong ideas of what the program needed to offer.
"WSU was approached by a number of institutions who wanted to provide banking services for our CougarCard holders," says Craig Howard, director of WSU's Administrative Services Information Systems. "However, the offerings always fell short in one way or another."
"We had always known that a program would need to meet some fairly stringent criteria before we would seriously entertain a banking relationship for the CougarCard," says Howard. "The program would need to provide an instantly issued Visa or MasterCard logo debit card, no two week wait period, and we wanted the program to be opt in with a brick and mortar presence," adds Howard.
After the requests for proposals went out, Howard says the university brought in two banks for final discussions, one which was U.S. Bank.
"The instant issuance was pretty tough criteria but U.S. Bank told us they'd be doing instant issuance in the next few months," says Howard. The other bank had no plans to do instant issuance.
"WSU awarded the bid to U.S. Bank and we were able to scrunch up a little space, 650 square feet next to our card office." One door literally separates the bank from the card office.
The university started issuing its PIN-based debit cards in 2007, Howard says. To do so it had to make some changes to how data was encoded on the CougarCard. The card would still be used for meal plans, the school's declining balance program Cougar CASH, facility access, sports passes for athletic events with the added PIN debit functionality. The university had negotiated for the card to be used at 32 off-campus merchants.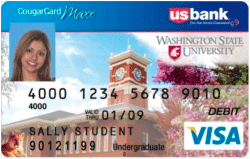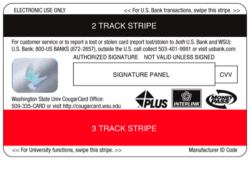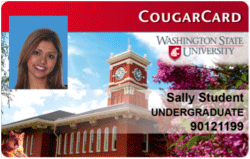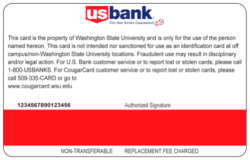 The CougarCard comes in two choices, the standard card has just one red mag stripe on the back. Everyone, the school's 18,000 students and 5,000 faculty and staff, receive the standard card. But if they choose the CougarCard Maxx, which involves opening an account with U.S. Bank, they get an enhanced version, says Howard. U.S. Bank started offering this card in January, says Howard.
WSU and U.S. Bank made several changes to the program including:
Moved the Maxx card printer and software into the on-campus U.S. Bank branch adjacent to the CougarCard Center.

Developed a "flat," non-embossed Maxx card.

Added a second, black magnetic stripe to the CougarCard Maxx to eliminate the need to populate any banking information into the CougarCard System.
The black mag stripe is used with the banking account as a normal debit card and the red mag stripe is for everything on campus, the resident dining account, Cougar Cash, which works in vending machines, door access for residence halls, admission to football games or admission to the recreation center, says Howard.
"We also redesigned the standard CougarCard to provide a complementary format for the CougarCard Maxx. All of these changes and innovations have caused us to change our marketing and internal procedures to keep up with the evolution of the CougarCard program. We're in the final stages of those changes now as we're working with our local merchants to shrink our Cougar CASH program to only include on-campus merchant locations for the next academic year."
Off-campus program reduced
What he couldn't have anticipated was the disappointment by some students, of losing 22 of 32 off-campus businesses that could accept the new card. The reason for the move was Visa's non-compete clause that meant the school's standard campus card account couldn't compete with Visa for off-campus business.
The school was able to negotiate the definition of "off-campus," and was able to include some merchants in close proximity to the university, says Howard.
One of the key reasons the university agreed to the new contract, he adds, was that the school is just eight miles from a major shopping area that most students utilize. The problem? That shopping area is in Moscow, Idaho, and the CougarCard couldn't be used across state lines without the university having to comply with banking laws.
There were other issues as well. Challenges started to crop up and the cost to the university started increasing. "Although it was a nice program for students it didn't yield any margin for us," says Howard. "As we analyzed it, the program was becoming less viable. We had also started seeing off-campus sales decline. Last year for the first time it was becoming harder and harder to answer the question that 'my student has a debit card, why put money into Cougar Cash?'"
Adds Howard: "It didn't make sense to be a competitor of Visa."
Cards obtained quickly
"Students have their photos taken in the card center and the bank prints out the CougarCard Maxx. If they don't have a bank account, or if they're not interested in a CougarCard Maxx we print the standard CougarCard and give it to them," says Howard.
Going into the summer, WSU issued some 700 Maxx cards. "Now we're going through orientation, and we've issued about a thousand. It will probably be close to 2,000 students carrying the Maxx card by the time school starts," he says.
More importantly, the program is optional. "Students don't have to get a Maxx card or bank with U.S. Bank unless they choose to."
Do you want prox with that, too?
Now, the university is taking the Maxx card a step further. It has begun a pilot program to include a prox chip on the card for those students, faculty or staff who need access to the school's more secure areas, such as computer labs or server rooms. The pilot began the first week of July.
"The goal is to avoid issuing two cards or making people carry two cards," says Angela Ralston, operations manager for U.S. Bank Campus Banking. "With our Maxx card replacing their ID card, we needed to be able to replace it wholly, performing all the functions the standard campus card did."
"The mag stripe on my CougarCard Maxx has gotten me through the back door of the building and my office door but to get into the server room, I need a prox card. Now with the prox chip on my Maxx card, I have one card that really does do everything," says Howard.
The card will be distributed to other students and staff who need access to buildings like the university's main server facility. "We also only have prox access for the cashier areas, the vault rooms and certain labs," says Howard.
Why prox at all? Mostly it's for convenience because Howard doesn't think the card is that much more secure. "Often times it's just easier to get through the door without doing anything with your hands. For example, you might be loaded down with books and "as long as you can get the card close to the reader" you can get in, says Howard.
Right now, just a hand-full of students have need of a prox card. And again, it doesn't matter whether you have a Maxx card or CougarCard not tied to a U.S. Bank account, you can still get a card with the prox chip if you need one with that capability, says Howard.
One stumbling block for the prox cards is that they're more expensive than one with just a mag stripe. "We pay about $4 for a duo HID prox card with mag-stripe and 42 cents for a preprinted magnetic stripe card," says Howard.
He anticipates issuing 20 to 30 prox cards in the next six months. "It's a small group because they only have certain facilities that require prox but that makes it an attractive place to do a small pilot," says Ralston.
"We plan to make this available at other universities once the pilot has proven successful," adds Ralston.
"One of the reasons we chose to do this pilot is a demand from the schools. If they offer prox technology on their standard cards, they want the bank card to be backward compatible. They want to be able to offer everything else on one card. That's what drove us," says Ralston.