Sustainable options are still a ways off
By Ed McKinley, Contributing Editor, Avisian Publications
Polyvinyl chloride–or PVC for short–dominates the nation's plastic-card market despite efforts to find more ecologically friendly materials. Cards made of 100% PVC account for perhaps 90% of all the plastic cards made in North America, according to card-industry executives. Most of the other 10% are composite cards with polyester cores sandwiched between layers of PVC.
"PVC has been honed in our trade for over 30 years for print-grade stock–everything is built around PVC," says Bill Crawford, vice president of sales and marketing for Franklin, Ohio-based Waytek Corp., a materials and coatings supplier to card manufacturers, and a board member of the Princeton Junction, N.J.-based International Card Manufacturers Association.
Low price makes PVC the material of choice for most cards. It sells for a dollar a pound, yielding cards that cost about four cents each, much less than cards made from other materials, says Shane Cunningham, marketing communications manager for Digital Identification Solutions LLC, which provides printers and software for creating secure credentials.
The price of a card tends to increase as the environmental friendliness of its construction increases.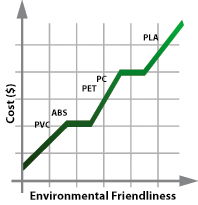 The durability of a card tends to decrease as the environmental friendliness of its construction increases.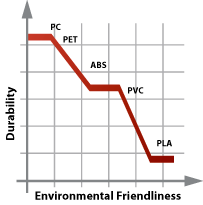 The advantages of PVC don't end with price. Manufacturers find it relatively easy to print on PVC and to glue magnetic stripes, Crawford says. Card makers can laminate, hot stamp and die cut PVC, it accepts dye from a variety of printers, Cunningham says. And it is the only card material that "self extinguishes," meaning that if it catches fire it puts out the flame, he adds.
But 100% PVC cards don't last as long as cards made with some other materials, says David Ogonowski, an estimator who handles product development for Denver-based CPI Card Group. That's why manufacturers make composite cards with polyester cores and PVC on the outside, he says.
Depending upon how the public uses cards, 100% PVC versions last two to four years, and composite polyester and PVC cards last four to six years, says Mark Degan, corporate marketing manager for Cornelius, N.C.-based ColorID LLC. In tests on specially designed machines, pure PVC cards break after an average of 30,000 to 40,000 flexes, while polyester survives more than 55,000 flexes, Crawford says.
Composite PVC and polyester cards also withstand heat and cold better than 100% PVC cards, says Crawford. Putting photos and birthdates on driver licenses and ID cards with desktop printers can require heat, so those users often choose composite cards, he continues. Credit cards don't require personalization via desktop printers, so 100% PVC works well for them, he notes.
PVC is good for cards, but some say bad for the environment
Still, not everybody loves PVC. While winning the trust of the card industry, PVC has earned the ire of environmentalists. "PVC is the single most environmentally damaging of all plastics," says the Web site of Washington-based environmental group Greenpeace. The organization advocates phasing out PVC because producing it creates the deadly poison dioxin as a byproduct. Burning PVC also can release dioxin into the air, Greenpeace says.
Environmentalists also point out that PVC is not biodegradable. In other words, it will not break down in landfills, making it an objectionable material, they say. Some groups have branded PVC acceptable for long-term use in products that include plumbing pipes and house siding, but contend the material should not find its way into cards used for just a few years.
Environmental concern over PVC is spreading to the general public, says Daniel Gilliland, business development director for Lowell, Mass.-based Mirel, a supplier of bioplastics. The industry is thinking hard about "green" materials "due to card issuers seeing pressure from consumers," he says.
"Retailers, such as Target and Wal-Mart, and card issuers, such as Visa, MasterCard, Discover and American Express, are pushing for green solutions to market to their customers," agrees Brad Paulson, founder of Thor Engineering, a Northfield, Minn.-based consulting company, and ICMA Standards Representative.
The plastics industry has responded by creating biodegradable PVC cards. An additive to the cards attracts hungry microbes that break down cards in nine months to five years, industry observers say. It shares most of PVC's good qualities in the manufacturing process, according to tests by card manufacturers. But it has been available in cards for less than two years, Crawford says, describing the material as in its infancy.
"We're at the mercy of consumers," Crawford says of biodegradable PVC. "At the end of the lifecycle, are you going to recognize a card in your wallet is bio PVC and you're going to do something different with it than you did with your cards that aren't bio PVC?" Crawford asks.
Biodegradable PVC costs slightly more than regular PVC and some fear that as it degrades it releases harmful toxins into the soil. Regardless, for some card users, making PVC biodegradable will not be enough because manufacturing it still requires petroleum and thus fails to qualify as sustainable.
Replacing petroleum with renewable sources for card materials
The search for renewable materials has led to cards made from polylactide acid–or PLA–mostly from corn in the United States and from sugar cane elsewhere. "We've tried it with potatoes, we've tried it with wheat, and corn does pretty good," says Crawford. "In a few years we might be using something else." Crawford's company, Waytek, does not offer PLA but does make adhesives to bond the PLA to PVC.
PLA advocates, including Brian Glasbrenner, business director, films and cards, for NatureWorks LLC, a Minnetonka, Minn.-based provider of PLA, say the material has the potential to seriously reduce environmental problems.
"The environmental attributes can be really significant when considering something as large as the transaction card industry–which produces something like 19 billion cards each year, says Glasbrenner. "If just 40 million of these PVC cards were converted to PLA," he says, "it would give you the fossil energy savings equivalent to almost 39,000 gallons of gasoline, and the greenhouse gas savings equivalent to driving a car 1,200,000 miles."
Sustainability can provide a convincing argument for PLA among many consumers, but the cards themselves disappoint many in the card business. Cunningham cites problems with discoloration–either a slight gray or yellow tinge–that can reduce the clarity of the images printed on the cards.
Before processing, corn-based cards are susceptible to heat.
"You put corn sheets in a truck and send them three states away, they arrive and it's a solid block of plastic," says one source who requests anonymity. "Then you read on the tech data sheet that you're supposed to keep it refrigerated."
PLA cards need a PVC surface to work in dye-sublimation printers, adds Cunningham. Gluing a magnetic stripe to PLA can present challenges, Crawford adds. Inconsistency plagues PLA cards, according to another industry executive.
Cost is also an issue as PLA cards cost about 14 cents each, compared with four cents for a PVC card, Cunningham says, noting the difference can add up for issuers ordering hundreds of thousands of cards. "We're still a very cost conscious society, especially now during a recession," he says. "Everybody is going green if doesn't cost more."
Though sustainable, PLA cards fall short in another way, according to Crawford. "PLA cards are seldom recycled," he says. "They hate PLA in the recycle stream," he says.
PVC is hard to beat
However, contrary to what some recyclers believe, PVC can be recycled. Recycled PVC works just about as well as virgin PVC in the manufacturing process, but cards made of recycled PVC often appear gray and cost slightly more than virgin PVC cards, Crawford says. Making a card of recycled PVC requires less energy than using virgin PVC, but the recycled-PVC cards cost more, Crawford says.
Besides turning to recycling, the search for greener cards has precipitated inquiries into other types of plastic.
Still, not one of the alternative plastics stands above the others or above PVC in all three criteria of sustainability, processability and functionality, says Tom Mucenski, business manager, card films for Gordonsville Va.-based Klöckner Pentaplast, a supplier of plastic films. His company has tested a number of plastics for those three characteristics.
Another study of eight common plastics, conducted by Waytek, indicates PVC requires the least energy to produce and that making PVC results in the second-lowest greenhouse gas emissions, Crawford says. The tests did not point to any one superior type of plastic, a result echoed in later studies by Thor Engineering.
"It will be quite some time before alternative green plastics meet the physical requirements and pricing provided by PVC, which makes it difficult to provide reliable and cost-effective 'green' cards," says Thor's Paulson.
PVC – Polyvinyl chloride
Most common material used in North America for ID cards. OTHER APPLICATIONS: pipes for construction industry, cling films, juice bottles and food packaging, etc. Plastic Identification Code 3.
PET (also called Polyester) – Polyethylene terephthalate
Used in combination with other materials such as PVC to add strength to plastic cards. There are various forms of the plastic resin or polyester as it is called in the textile industry. OTHER APPLICATIONS: beverage bottles, flexible food packaging, thermal insulation, textiles and boat sails. Plastic Identification Code 1.
Composite (also called Poly-Composite)
Plastic cards labeled composite most often consist of PET at the core with PVC outer layers. PET increases the card's durability while PVC keeps it low cost and easy to print on via standard dye sublimation card printers.
ABS – Acrylonitrile butadiene styrene
Most common material used in Europe for ID cards. OTHER APPLICATIONS: pipes for construction industry, automotive parts, golf club heads and toy Lego bricks. Plastic Identification Code 7 (shared with PC and others).
PC – Polycarbonate
Commonly used in ID cards that are personalized via laser engraving techniques. There are numerous types of PCs that are used frequently for injection molding processes. OTHER APPLICATIONS: single use and reusable drinking bottles, CD/DVDs, tubing and Apple computers. Plastic Identification Code 7 (shared with ABS and others).
PLA – Polylactide acid
Biodegradeable polyester made from renewable sources such as corn and sugar cane. Marketed for plastic card use under the name corn cards but only nominal use to date. OTHER APPLICATIONS: medical sutures, stents, plastic cups and food packaging.
ABS, PET and others challenge PVC
One plastic, called acrylonitrile butadiene styrene, or ABS, may someday undercut PVC on price in North America, says Cunningham. ABS costs less than PVC in Europe, but U.S. manufacturers don't make ABS because of their focus on PVC, he says.
Adding the transportation costs from Europe or Asia makes ABS more expensive here than PVC, he continues. Although ABS is more durable than PVC, it can't withstand direct-to-card printers and instead requires retransfer printing, says Cunningham.
Meanwhile, some card industry executives are turning their attention to polyethylene terephthalate, or PET, as a card material because Americans recycle so many milk containers made with PET or with amorphous polyethylene terephthalate, called APET, and oriented polyethylene terephthalate, called OPET. All offer more strength than PVC but present personalization challenges and cost more than PVC, Crawford says.
Polyethylene terepthalate glycol, or PETG, has gained popularity as a card material in Europe and Asia, Crawford says, and yields cards that look as good as PVC. Environmentalists consider PETG green because incineration presents no problems, he notes, and its lamination temperature is lower than that of PVC.
Europeans and Asians also have taken to polycarbonate, or PC, which incinerates to water and also offers durability, resists heat and accepts laser imaging, Crawford says. High cost presents a drawback, he notes.
The olefin family of plastics, including polypropylene, or PP, and polyethylene, or PE, has many variations and could become an alternative, Crawford says. Among types of resins captured in the recycling system, high-density polyethylene, or HDPE, places second in volume, and PP is third, he says. Olefins are light in weight, which reduces transportation costs, he adds, while noting the difficulty of printing on olefins.
Polyhydroxyalkanoate, or PHA, is a naturally occurring plastic made in bacteria cells, Crawford says. Natural enzymes can digest the material and thus return it to nature, he says.
While most of the industry explores the world of plastics for card materials, some manufacturers have turned to wood, sometimes with the grain intact, says Cunningham. "That might be a more biodegradable card," he says of wood, "but I don't know if you're saving the planet if you're killing the trees to make cards."
"Fundamentally, cards can be made from anything," notes Thor Engineering's Paulson. "Green materials need to provide the reliable functionality at competitive prices that is provided by the plastics currently in use."
Jim Colleran, project manager, global support, for Irvine, Calif.-based HID Global, summarizes his company's experience with green cards this way: "We're seeing a lot of questions but very little real demand. That part of the market is really young."