But is it a cost efficient, greener alternative or a fad with serious security risks?
by Andy Williams, Contributing Editor
For some members of the card printing market, it's hard to justify costs involved in printing rewritable cards, while for others, like HID Global, it's an untapped, perhaps under-served market.
Rewritable cards are plastic ID badges that when issued with specialized printers enable the same cards to be erased and rewritten hundreds of times. The rewritable printers use heat to change the information printed on the card. In Fargo's rewritable printing process, the ribbon is actually removed from the printer and the printhead comes in contact with the card. The heat from the printhead reacts with the card's special finish to produce the printed image. The type of finish used by the card manufacturer determines the image's color, generally blue or black, explains Apryl Erickson, senior channel marketing manager for Fargo products at HID Global.
Persona C30e Quick Facts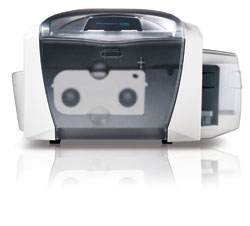 MSRP: $2,295
Print Method: Dye-Sublimation / Resin Thermal Transfer
Print Speed: 35 seconds per card (YMCKOK)
Add-ons:
Smart card encoding modules
Magnetic stripe encoding module
Dual-sided printing
Ethernet connectivity with internal print server
---
Fargo DTC400e Quick Facts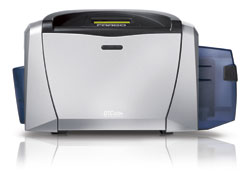 MSRP: $2,895
Print Method: Dye-Sublimation / Resin Thermal Transfer
Print Speed: 35 seconds per card (YMCKOK)
Add-ons:
Smart card encoding modules
Magnetic stripe encoding module
Dual-sided printing
Ethernet connectivity with internal print server
---
Datacard SP25 Quick Facts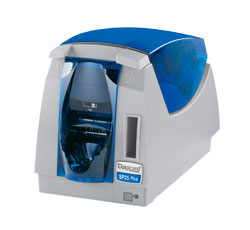 MSRP: $1,645
Print Method: Direct-to-card / Rewritable
Print Speed: 12.4 seconds per card (full card erase and rewrite)
Add-ons:
Magnetic stripe encoding
Smart card personalization (Contact/contactless all-in-one reader)
---
Evolis Tattoo Rewrite Quick Facts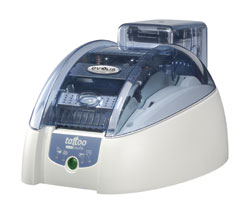 MSRP: $1,740
Print Method:
Monochrome direct thermal (black or blue) - Erasable & rewritable
Line mode for text, barcode and logos
Diffusion mode for image/photo printing
Erase/print cycle: 8 seconds
Add-ons:
Magnetic stripe encoder
Contactless encoding unit - ISO 14443A
100-card additional feeder
---
CLEARjet CX-one Quick Facts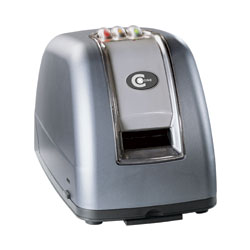 MSRP: $3,495
Print Method: Monochrome, greyscale full graphic thermal print head system
Encoding modules:
Magnetic encoder
Contact chip encoder
Contactless chip encoder
Add-ons:
"Rewritable printing is an excellent option for several specific applications," says Erickson. She admits that, as a technology, rewritable printing doesn't provide "the high level of security, nor a full-color glossy image like with our HDP-branded printers, but the ability to print and erase cards 200 times can stretch ID budgets in ways that satisfy end users with other priorities."
Fargo's rewritable printers are geared toward the entry-level or mid-level markets, she adds. That means lower costs – less than $3,000 for Fargo's two rewritable models – the entry level Persona C30e at $2,295 and the mid-level DTC400e for $2,895.
Geraldo Talavera, Evolis' managing director, describes how his company's line of rewritable printers works. "The card itself includes a thermo-sensitive material which becomes visible when heated at a temperature of 180°C, followed by rapid cooling. When a lower temperature is applied, typically between 110°C and 160°C, the color disappears. The thermo-sensitive material is laminated on a plastic substrate to make cards."
HID suggests using rewritable printers with other technologies. "We manufacture an iClass contactless card with a rewritable surface, say for visitor or temporary badges for contractors or employees who need access to facilities for temporary periods," says Erickson. "Issuing iCLASS cards can become quite expensive to such parties but it makes sense when you can leverage that expense over a number of uses with the rewritable card."
The opposite side of most rewriteable cards feature a standard PVC finish that can be personalized like any other card. The cards cost more than $2 but with 200 uses, that's about a penny per each visitor.
Rewritable cards find a niche in education, visitor and loyalty applications
One use for this type of card is in K-12 education. "We have a large pilot project outside the U.S. where the government has mandated that all students carry a photo ID, with one side containing the rewritable information, such as a class schedule, bus schedule, emergency contact information, etc. The reverse side has the full color identification information, including the student's photo," says Erickson. With this school application, the school batch-prints the front of the card in full color with ribbon and prints the variable data and class schedule on the reverse, rewritable part of the card, during school registration.
The loyalty card market is another niche. "Businesses encourage customers to carry their cards and keep track of their purchases. Accumulated value imaged onto the card is more secure than with paper punch cards. And, updating and erasing points is easy since it's simple to remove the cartridge-based ribbons from the Fargo printers," says Erickson.
Fargo is seeing a lot of demand for these printers, "especially from price sensitive markets," she adds. "Obviously if you're able to buy a card and use it 200 times, you're saving quite a bit of money."
Talavera says the major uses for rewritables are in loyalty applications. "Bonus points or special offers are printed directly at the point of sale after each transaction," he says. "They are also a good choice for visitor badges. The same card can be used to erase the info of a visitor and print it for a new one. In sophisticated applications, the card will include contactless chips allowing identification of the holder and giving access to specific areas of the building. The printer is then part of the visitor management system, including software, visitor database and card readers."
Many printer manufacturers offer rewritable models
Evolis Card Printer has its Tattoo Rewrite card printer that can print and erase the same card up to 500 times, says Talavera. "Because no ribbon is necessary, Tattoo Rewrite is a cost-effective and environment-friendly solution." The Tattoo basic version with no encoding option runs $1,740.
Grambach, Austria printer manufacturer, CLEARjet, has been focusing on reprint technology for smart cards, says Kerstin Grabner, marketing and sales. "Projects worldwide show the success of rewritable smart cards, such as student ID cards, electronic tickets in public transport and for events, ski passes, visitor and employee id cards, club and loyalty cards and many more."
The company's line of CX-one rewrite printers include some which can produce photos and all which can be delivered with integrated read/write devices for contact and/or contactless chip cards as well as mag stripe modules, she says. Pricing starts at around $3,495 for a standard printer without any options.
The CLEARjet printer relies on thermal technology to heat the card and change the information. "When equipped with a read/write module for chip, RF chip or magnetic cards, the information also can be changed electronically in your card," she adds.
Grabner says there has been a demand for such printers. "The focus is to find an application for reusing the card and update information on the card as well as electronically in the card. You don't have to throw the card away after use. This level of reusability and update possibility ensures that the costs of electronic systems are drastically reduced."
Datacard Group's entry-level rewritable printer is the Datacard SP25 which "offers both full-color/monochrome card printing and rewritable card technology," says Mark Andersen, head of desktop product and industry marketing. Suggested retail, he adds, is $1,645, "which, to our understanding, is the lowest cost card printer offering both rewritable and full-color card printing capability in one printer."
As for demand, this is still a somewhat new market, he says. "The markets/applications we are targeting are retail, visitor management, transportation, education and entertainment. The possibilities for creative uses of this technology in various applications are unlimited."
A dissenting view questions the viability of rewriting cards
Digital Identification Solutions doesn't feel the same way. The company doesn't offer a rewritable card printer, says Shane Cunningham, the company's marketing manager for the U.S. and Canada. "The most important reason is the major reduction in the security of the card," he explains. "If you have a card that can be rewritten, all I need is a printer to rewrite it, and I can fake your cards whenever I want. It's about as secure as putting stickers on a card to validate it. It was designed as a convenience to the end user, but with the extremely low cost of standard PVC cards and inexpensive direct card printing, it doesn't make much sense to us."
"Reissuing a rewritable temporary ID may sound like a good idea, but the real question is whether an ID is really needed at all for visitors," adds Cunningham. "If it needs to be personalized, is it because your facility honestly needs to be secure? If so, a rewritable card is an unnecessary risk. If your facility doesn't need to be secure, then what is the need to re-personalize the visitor card? Why not just issue generic visitor IDs that can still be tracked in the system and reused for the next visitor?"
With loyalty cards, "I have yet to see an instance where re-printing a card can handle what re-encoding it already can do better. The purpose of a loyalty card is to advertise the issuing company and linking the user to the benefits offered. I imagine that a discount card could be used up by one end user, and then returned and re-issued to another, but not without a significant amount of loss or damage of the card beyond re-use. The savings for the number returned and re-issued would have to be significant to validate the switch in technology. If the turnover is that quick, then paper or Teslin cards might be more cost-effective."
He states that his customers are "looking for secure credential solutions with layered methods for making the card tamper resistant, not just a means for cheap card personalization. We know of a few venues that thought the idea of rewritable cards sounded interesting, but we haven't seen any demand for it at all. We see this as a buzzword technology that may create enough public interest to make some initial sales, but does not have lasting market value."
While some don't see the need for rewritable cards there are, schools and retailers that have seen the benefit. It seems to be a complicated equation in which cost, turnover, security and a host of other variables must be considered. And it's clearly an equation that changes with each specific issuers environment. Whether or not the market for the cards will increase or decrease, only time will tell.