Are displays for smart cards finally more than just talk?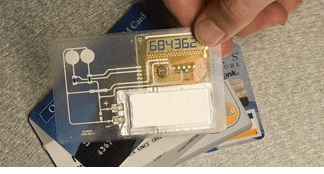 Marisa Torrieri, Contributing Editor
It's your credit card … spiked with something extra … a thin, flexible display with a readout similar to that of a calculator. But you don't just make transactions with this card. With this baby you make them two-factor style, fusing something you know (your card number), with something you definitely have in your possession (your card).
Why would a cardholder care?
Here's one reason: in growing digital-transaction real-world scenario, where more and more purchases are made online, the party on the other end receives your card number and security code, but there's no way of knowing that you actually are the one holding the card. No biggie … until some ID-stealing thief's trying to purchase a dozen iPods online using your number.
Fortunately, this new kind of card is on the horizon, and will allow consumers to conduct secure transactions with two-factor authentication with ease. A growing number of companies are developing thin, password-generating card displays that can be incorporated into your trusty cards. Equipped with displays, that can now be mass-produced at rapid speed, these new powerful cards generate single, numeric pass codes that change at the push of a button, transaction to transaction. In the future, people will be able to
view things such as recent bank transactions and credit card balances – on the cards themselves.
Because U.S. consumers and the financial institutions that serve them continue to resist technologies such as One-Time-Password tokens, that make consumers do more work to secure their transactions, display-equipped cards are generating a great deal of interest as an alternative for secure two-factor authentication.
In the next six months, a number of companies working with electronic displays, like Aveso Inc., SmartDisplayer, and InCard Technologies, are hoping to see their slender, powerful, high-tech wares bear fruit.
Financial applications are, arguably, the hottest and most promising markets for display technology cards, thanks to nearly one-year-old Federal Financial Institutions Examination Council (FFIEC) guidelines, recommending that institutions to bear the burden of incorporating two-factor authentication methodologies into their offerings to enhance security.
"This is another hardware or token format," says Emily de Rotstein, executive vice president of marketing for Aveso Inc., a company that develops printed electronic displays. "If you're a bank in America, you can brand the card, personalize the card, and add OTP functionality to the card itself. It's the logical next step in the evolution of a payment card for secure online authentication."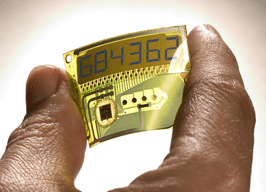 According to Ms. de Rotstein, technology such as Aveso's allows for easy integration of electronic displays into high-volume printed products such as credit cards and packaging labels. Because displays are produced using existing print-manufacturing techniques, display devices can be scaled cost-effectively in the hundreds of millions of units, volumes required to support a global industry standard for the electronic display card.
How the technology works, why it makes transactions better
Sure, the form factor – a slender, powered card that give you a one-time-password, and may even be able to display credit card balances – is a sexy proposition. Especially in light of the FFIEC guidelines. But what about the technology?
To get an idea of how a thin electronic display works, one must first understand that it is just one of three critical components of a display card: the other two are the battery (the power source, which allows for a number to be generated), and the microprocessor (the chip that runs algorithmic applications to generate numbers).
Display technology allows for a one time passcode to be generated and show up, on a card's surface, within seconds. So a person holding the card possesses two-factor authentication – something they know (secret password), and something they have (the card itself). The combination lessens the likelihood of identity theft.
And that's just for starters.
The display card will potentially be able to display all sorts of information to its users; numeric, electronic displays give numeric information, for example.
"Thin and flexible electronic displays enable new applications that have not been possible displays that have not been possible in the past due to the limitations of the traditional, glass-based displays," says Ms. de Rotstein, referring to glass-based, liquid crystal displays found in such applications as watches and phones. "Traditional displays are often too thick or too fragile for integration into the standard credit card. By overcoming these hurdles, plastic, flexible displays will transform the payment card and deliver benefits to consumers and card issuers alike."
It's those applications Innovative Card Technologies (InCard) is banking on in a series of pilots set to begin in the fourth quarter of 2006, says CEO/Founder Alan Finkelstein.
"The world is becoming aware that a random generator is the fastest, most cost effective way to get secure technology to the mass market," says Mr. Finkelstein.
InCard is the exclusive provider of a flexible display technology called SmartDisplayer, developed by the Taiwanese company of the same name, as it relates to displays placed in a card form factor.
InCard Technologies recently created its DisplayCard with OTP and it plans to pilot the card later this summer. The card, via an embedded chip and an display, generates an OTP at the push of a button. Then, the card is authenticated by a secure server to confirm that the genuine cardholder is the one making the transaction.
So, by the time cold snow has replaced this slip-and-slide summer, will interest in these cards generate a new kind of heat? InCard, for one, is crossing its fingers. "When we started to look into this three or four years ago, we met with everybody who was trying to develop technology and components like these," says Mr. Finkelstein. "From the time they showed us a display that was working, it still took three years of R&D and many millions of dollars."
Still, the bottom line comes down to consumer behavior, the perceived
necessity of two-factor security, and, according to Mr. Finkelstein, the question: "Do you want to carry two or three of those tokens or would you rather put a card (with a flexible display) in your wallet?"