Identification, NFC, contactless and Japan will all be major focal points during the 22nd edition of CARTES, coming your way Nov. 15-17 in Paris at the Paris-Nord Villepinte Exhibition Centre near Roissy Charles de Gaulle international airport.
One of the major changes this year, according to CARTES Communication Director Hélène Tsounguy, is the coming of age of CARTES' IDentification, which has been somewhat of a CARTES stepchild since its introduction in 2005. Then, it was an area dedicated to secure technologies. This year, it "takes its independence as a true exhibition near CARTES," she said.
The international show, which got its start in 1985 as the International Plastic Card Forum, is expected to draw more than 20,000 visitors this year, an increase over last year's 19,576 visitors. The word, cartes, she said, "simply means both 'smart cards' and 'chips' in French."
When CARTES was first created, it was just "some little stands (booths)," at a local hotel, explained Ms. Tsounguy. But as the smart card market has grown, so has CARTES. "As the event became bigger and bigger, it moved from a hotel to a convention center in Paris, then to another one just near Paris," and finally to its current location, she added. This year there will be some 480 exhibit booths.
With CARTES' focus this year on security and contactless technologies, it makes sense that IDentification should have its own…well, identity. "Benefiting from a separate promotion, IDentification will have its own exhibition and will bring together all others in physical and logical access control, network security, strong authentication, cryptography, biometrics, secure documents, and so on," said Ms. Tsounguy.
Why attend?
"As a professional in this market, you can't miss CARTES & IDentification because it is the biggest show in the world where you can meet all the players of the industry," she adds. "You can also listen to the CEOs of the leading companies during the opening 'World Card Summit,' and meet key speakers from all over the world. It is a unique opportunity to discover innovations," she said. "CARTES & IDentification is now the world leading event in digital security, smart cards and identification. The success of our event is that we always try to adapt and to follow a fast growing market."
NFC featured at the new TechZone
One of the latest innovations is NFC (near field communication). With the focus also on the newest in contactless technology, "we are organizing a new area (at CARTES) called 'Mobile Transactions TechZone' in partnership with the NFC Forum," she said. "NFC technology will be in the spotlight with demonstrations of applications in everyday life, educational presentations of new products using contactless and prototypes."

Country focus: Japan
Each year, CARTES recognizes a country it considers leading the way in innovation or smart card strategies. Last year, Canada was tapped for its countrywide EMV migration that was just gearing up. This year, CARTES returns to Asia, spotlighting Japan. "This country is a true technology lab and a forerunner concerning biometrics, multi-applications, payment by mobile phone and contactless technologies," said Ms. Tsounguy. "Japan is opening the way to tomorrow's applications and new consumer behaviors."
Some 113 million smart cards were sold in Japan in 2005 equaling 40 billion yen or about 265 million euros. Japan, too, is undergoing an EMV migration and is expected to have 340 million smart cards in use by 2010.

Sesames Awards
There's another reason CARTES is so popular in the industry: Its annual Sesames Awards. Founded in 1996, the contest rewards the best innovations and applications in the marketplace and gives the recognized companies bragging rights. This year's applicants set a new record, 211 companies, which will vie for awards in 10 categories: hardware, software, identification, IT security, transportation, banking/finance/retail, health care, mobile, e-transaction, and loyalty.
Planning your schedule
In all, there will be 19 conferences and 200 speakers. While many of the speakers and subject matter haven't yet been finalized (as of mid-July) here, then, is a capsule overview of the areas that will be covered at the 2007 CARTES and IDentification.

Tuesday November 13, 2007
World Card Summit -10:00 am -4:30 pm
This event, which marks CARTES' official opening, will feature leaders in the smart card and identification industry presenting their most recent technological advances. The morning will be dedicated to the activity and role of the smart card and the afternoon to the identification sector.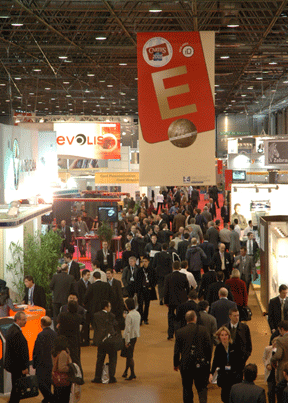 Bank Identification - 9:30 am -5:30 pm
A number of technologies and products are being implemented to make the banking environment safer. What's the current status and what does the future hold in this area?
Biometrics in everyday life - 9:30 am -5:30 pm
Often combined with security, biometrics actually extends to many sectors. In the past it was mainly used for access control, but now biometrics can be found in the payment industry as well.
Card Basics - 9:30 am -5:30 pm
As the title suggests, it's an overview of smart cards.
The SIM's future - 9:30 am -5:30 pm
The versatility of the SIM (Subscriber Identity Module) chip is one of the main drivers in the cell phone market today. This section will look at the SIM's future in terms of capacity, security and innovation.
RFID: the solutions - 9:30 am -5:30 pm
Regarded as an effective means to manage the supply chain while tracking a product's movement, this section will cover this mature technology, including testimonials while looking at the various achievements this technology has accomplished.

Wednesday November 14, 2007
Cards & Payments 2007 - 9:30 am -5:30 pm
Whether by contactless or by mobile phone, the payment environment is in the middle of a significant evolution. What's ahead? How will the banking world take to these new payment methods?
Multi-applications - 9:30 am -5:30 pm
Combining several applications on one card allows the cardholder to manage his preferred applications in his everyday life. This will investigate some of the many projects currently underway.
Digital Identity - 9:30 am -12:30 pm
Whether at the state level with an electronic ID card or at the corporate level with in-house identity management, or even individually with e-commerce, digital identities are now an integral part of our lives. Yet issues regarding security and proper ID management remain.
Card Security - 2:00 pm -5:30 pm
How secure is the card? How can it be improved? Does the appearance of new types of fraud jeopardize card security? And, importantly, how can cards be hardened against these new types of fraud?
Personalization: Services with added value - 9:30 am -5:30 pm
A true technological tool, the card is an efficient marketing instrument that can be used to target a specific population. Is this a phenomenon with limited use, or a real market with great potential?
Theft Identity - 9:30 am -5:30 pm
Logins and passwords are the most common tools to authenticate and validate a person's identity. Despite these precautions many are stolen. What measures should be taken to limit this fraud? Do we all need the same level of security? And what about protecting the data embedded in mobile phones?
Java Card - 9:30 am -5:30 pm
The Java Card technology is in its tenth year of development. Primarily used as an interface, the Java Card technology has been able to combine simplicity and ease of use with effective security. What's next with the new versions?
Mobility - 2:00 pm -5:30 pm
This market has had to adapt to the new mobility requirements for people constantly on the go who are using different communications tools … Blackberry anyone? Or iPhone? This has led to the merger of several technologies. But how are they working together, particularly in the payment or transport sectors?

Thursday November 15, 2007

Cards & Payments 2007 - 9:30 am -5:00 pm
A wide-ranging economic environment is being built in the European banking world: the SEPA (Single Euro Payment Area). Many ideas are circulating on this issue. What is to be expected from the SEPA? In which new areas will the card be used? And who are the new actors in this redefined banking landscape?
Loyalty and Gift Cards - 9:30 am -5:00 pm
The loyalty and gift card market is in full development. Ideas and market opportunities are numerous for those who wish to target specific persons and areas.
Electronic Documents - 9:30 am -5:00 pm
Electronic administration is undergoing significant development. In addition, the activity in the e-passport sector continues to grow. With specific application examples, this day-long session will provide an overview of what's available now and what's coming.
POS & Kiosks - 9:30 am -5:00 pm
Payment terminals have adapted to different market evolutions (contactless, biometrics, etc.). Due to their effectiveness and ease of use, consumers are using them more. Now, multi-function kiosks that promote integration are cropping up. What will we be able to do with these new devices and how secure will they be?
NFC and Contactless - 9:30 am -5:00 pm
Thanks to near field communication, contactless technology has gained more popularity. What development opportunities are available and which sectors will benefit the most from NFC? More importantly, when will its international deployment take place?
For the latest and most up-to-date CARTES' program visit www.cartes.com.
Near Field Communications News and Insight
Explore more developments dealing with the implementation of Near Field Communications, a short-range wireless technology that promises to revolutionize contactless identification, payment, access, and more.
Click to visit NFCNews
.