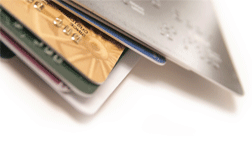 Issuing combined student IDs and bank cards on campus reduces the time it takes to get these multifunction cards into students' hands, and it enables them to begin using the card the moment they exit the campus card office. But if that card was a branded Visa or MasterCard product, this hasn't been possible for most issuers.
Visa and MasterCard rules made it all but impossible to issue branded products from a campus card office or bank branch. The rules were put in place to curb fraud and counterfeiting and they did so by requiring that cards be produced only in secure, approved facilities. A campus ID could be a Visa or MasterCard product, but it would have to be produced offsite at a secure printing facility.
This presented a major challenge to campuses. The student ID card is needed immediately for dining, access, library and privilege control – so it was not practical to tell a student that they would receive their card by mail in the coming weeks.
Adding to the challenge, the rules also required that the cards be embossed. Embossing of the numbers and name are a legacy requirement from the days of the manual "zip zap" machines used by merchants prior to electronic point of sale devices. Even after the new POS devices became mainstream, some small merchants continued to use the manual technology and others relied on the embossed characters when the POS was down. Though the technology to create embossed cards is available in desktop machines, it is not a common item in campus card offices.
So, most campuses opted to instantly issue a non-branded product that works as a debit card but in the more limited ATM networks or with merchants specifically signed by the bank partner.
Such was the tale of instant issuance. But as Bob Dylan says: the times, they are a-changin.'
MasterCard and Visa have loosened some of these rules and opened up the ability to produce cards onsite. The rules outlining secure facilities have become less stringent, making it possible for cards to be issued at bank branches and other locations that have reasonable security and good inventory controls. The associations are also considering doing away with the embossing requirement.
So how would instant issuance work in a campus card environment? In most cases, the campus' bank partner would receive a supply of blank card stock with the Visa or MasterCard brand already imprinted. These cards would then be run through the card printer in the bank branch on campus.
Printer manufacturers rise to the occasion
Seeking to support this emerging opportunity for instant issuance, HID-owned Fargo Electronics developed a new card printer geared primarily for the banking, credit union and retail industries. But it's a printer that can just as easily be installed in a university campus card center, says Steve Blake, HID Global's director of business development. In one printer, a campus can produce a card that is both the student ID and the Visa or MasterCard branded debit card.
"Many campuses that have bank card relationships offer students a variety of financial services during the registration or orientation process,"he says. "But issuance of a branded debit card is different from issuance of an ID card."
However, more banks and credit unions are doing instant issuance at their branches, he adds. "Customers can apply for a debit card and get it immediately. What we have is a bank card printer based upon the HDP5000 platform, which utilizes reverse transfer printing to produce a card that has brilliant and true high definition colors, similar to the pre-printing process," says Blake. Called the Fargo HDPii – for instant issuance – the new printer will eliminate the need to preprint batches of cards since that can all be accomplished onsite.
The printer was launched earlier this year following a large pilot at TD Banknorth. That trial involved "46 of our printers. We're anticipating roll-outs in the U.S. and then Canada," says Blake. The printer will produce a flat card as opposed to the traditional embossed debit card with raised letters. "It can be customized at the branch, starting with a blank white card," he adds.
While no branch bank on a college campus is using HDPii right now, "our next step is to approach banks and colleges that have campus card programs. They can kill two birds with one stone: do student issuance
and a branded debit card all in one step. From the bank side, it's a tremendous opportunity. If you can get cards into the users' hands faster, they'll start using them sooner."
Blake says the industry term for this is "shift and lift." The shift part comes in moving the initial transaction up sooner. "If a card is sent in the mail, you might get it anywhere from five days to two weeks after application. If you're instantly issued a card, you can use it right away." The lift part describes the activation, or non-activation of the card itself. "When a debit card is ordered, probably 40% of the time it won't be activated," he adds.
The printer will produce debit, credit, gift and prepaid cards. Fargo is seeking Visa and MasterCard certification, with initial focus on debit cards. He says several banks "have approached us and our software partners about moving forward with major pilots involving instant issuance. Many of these already have great relationships with schools."
Prices start at $6,995 for the HDPii with magnetic stripe encoding, dual-sided printing as well as the physical and data security additions to meet Visa and MasterCard regulations. There is also an optional dual contact and contactless smart card encoder. "Reaction to the HDPii has been fantastic," he says. "Customers are delighted because they're getting a card immediately." It's instant gratification in the purest sense. Banks also like the idea of this shift and lift. They'll generate more revenue, and that's resonating extremely well."
He also believes colleges will like this new breed of printer. "They're always looking for ways to better take care of students and the instant issuance of a branded debit card will further separate colleges".
To emboss, or not to emboss
Datacard Group is also involved in instant issuance of MasterCard/Visa-approved cards.
Mark Andersen, head of Desktop Product and Industry Marketing for Datacard Group, says the company has several varieties of instant issuance solutions. "We offer technology options for personalizing embossed, indented and flat credit/debit/prepaid cards. The Datacard150i desktop card personalization system embosses and indents preprinted credit/debit/prepaid cards. The new Datacard FP65 financial card printer personalizes flat debit cards or pre-embossed cards via direct-to-card printing technology. And the Datacard RP90 Plus card printer also personalizes flat cards via retransfer printing technology."
The Datacard 150i system is MasterCard- and Visa-certified to personalize credit/debit/prepaid cards, he adds. Still, he says, the instant issuance market has primarily involved embossed and indented cards. "There is a trend toward issuing flat debit cards, though MasterCard and Visa credit cards are generally still requiring embossing and/or indenting. Many believe the additional security provided by indenting will remain a requirement of branch issuance card programs (even if the embossing goes away)."
In the 2007 Banking Survey conducted by CR80News, instant issuance was mentioned as something more and more banks are considering. U.S. Bank has is instantly issuing a Visa-branded ID card at the University
of Wisconsin Eau Claire, says Whitney Bright, vice president, campus
banking.
And, Wachovia reports that colleges and universities continue to express interest in Wachovia's Visa Check instant issuance program in association with its ID Cards, says William Caldwell, assistant vice president, campus card relationship manager for Wachovia. "Many of these programs want the benefits of a card with added flexibility for its cardholders which handles their financial needs, not only on campus, but anywhere Visa is accepted," Caldwell adds.