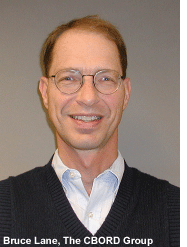 After growing company to major market leader, Mr. Lane announces retirement
By Andy Williams, Contributing Editor
When Bruce Lane signed on with campus card system provider CBORD 22 years ago, it was still a small company. As he explains it, he was "employee No. 14." But today, CBORD has some 475 employees and serves hundreds of colleges and universities, primarily in the U.S. and Canada, but also in Australia, New Zealand, and South Africa.
He had a lot to do with that growth, but now the 53-year-old Lane is planning to call it quits by the end of this year, retiring, at least from CBORD, but not from business life.
"Bruce was the first manager I hired at CBORD," recalls John Alexander, the company's founder and chairman. "Before Bruce, we were just a gang of techies. He brought a real sales focus to the card systems business, and brought a real enthusiasm for entrepreneurial behavior within this organization."
"I'm a little sad to see him go," added Tim Tighe, CBORD president, "because he took the company from a small upstart company to a leading provider in the college card systems world."
Mr. Lane jokes that he was hired as vice president and "for 20 years or so I was the person at CBORD the longest who never got a promotion!"
Discussing Mr. Lane's life is difficult without talking about the company that has occupied nearly half of it.
CBORD has been around since 1975, but Mr. Lane, CBORD's Executive Vice President and Chief Operating Officer, did not join until ten years later when, as he explained it, "John (Alexander) was trying to grow the business and needed some help. John had been an MBA student at Cornell, working his way through school. He had written a program to manage the school's food production and inventory control and later bought the rights to it, creating CBORD," said Mr. Lane.
What does CBORD stand for? As the company defines it on its web page: "We're proud of our company name, but it's not an acronym or an abbreviation. The letters have no hidden meaning…"
"There are lots of stories about what it stands for," said Mr. Lane. But the company had 200 bucks and it had to come up with a name and that's what we got for $200, he jokes. "We wanted to pick a name that sounded like something but had a nonsense spelling so we wouldn't have to do a trademark search. In fact, it took us 20 years to get around to trade marking the name."
A circuitous path to CBORD
Mr. Lane took a rather circuitous route to Ithaca, NY, CBORD's home. He had earned his Masters in international relations from Johns Hopkins.
Why international relations? "When I was in high school I went to Argentina as an exchange student so I had a second language under my belt. It just seemed like a natural progression. I got through Johns Hopkins' program. I think I was qualified to be secretary of state but that job was already taken," he laughed. "When I was done, it was my wife's turn to get her degree."
She was seeking her PhD at the University of Wisconsin and that's where the Lanes ended up. Mr. Lane got a job running the state's international programs primarily promoting the export of Wisconsin products and attracting foreign investment to the state. "The hardest work I've ever done is working for the government. It's challenging work, but fun," he said.
He said he worked for the governor's office in two capacities: growing agricultural and manufactured exports and attracting foreign investments. "I then decided to go off on my own and do export development and I got involved with running an export business in Milwaukee."
By the time he was 30 he had run manufacturing and service companies while traveling all over the world.
"When we moved to Ithaca, my wife had completed her PhD. I was at the point of selling a packaging business. My original idea when I moved to Ithaca (home of Cornell University) was to find professors with great ideas, but with no idea of how to market them."
Later, "a friend introduced me to John who needed someone to write a business plan. I had experience running different types of companies, but I wasn't a computer guy. I usually ask my kids when I need computer help. My skill set was in business organization and management…and some selling skills. It was just sort of general growing-the-business skills," he added.
"John has always been the idea guy and Tim's and my role would be to beat on them. He would churn out ideas and we would decide what we could turn into hits. It's been an excellent partnership." Mr. Tighe actually joined CBORD a year after Mr. Lane.

Building the company into a major market player
"We brought in people with the kind of skills that are needed as CBORD becomes a larger company. We've grown CBORD from a small company to a medium sized one and now we want to move to that next level," he added.
Still privately held, CBORD has grown both through its sales efforts and its acquisitions. For example, about two years ago it purchased Diebold's Card Systems Division, inheriting the company's card system and the colleges that were utilizing it. In 2005, the company purchased Student Advantage, a student discount membership business and this year acquired Off-Campus Advantage, a provider of outsourced off-campus card programs.
The Diebold purchase was what pushed CBORD to the next level, adding significantly to the company's business. "That was a lot of hard work for our whole team," he recalled. "We had been talking periodically with Diebold; we would touch bases with them and when they got to the point that their campus card business didn't fit into their ATM business, they finally said, 'lets talk.' "
Diebold added about 200 clients to CBORD's customer base. The $38 million transaction involving Diebold's access control and security expertise also addressed a gap in CBORD's product line – the lack of an access control offering. In addition, Diebold's CS Gold was optimized for large institutions while "Odyssey (CBORD's card system) has a sweet spot among smaller and medium sized schools," said Mr. Lane a few months after the purchase.
"I enjoyed greatly growing the CBORD campus card user base to the largest in the industry," he said. "We have outgrown our own office building and have expanded to an office building next door. We have facilities in Waco, Texas, a help desk in Canton, Ohio, a training facility in Farmington, New York, a manufacturing facility in Cypress, California, and a sales and support office in Sydney, Australia," he said. The company now totals 475 people.
He said CBORD's card systems originally focused on the college world, but "we've had good success at extending it into the corporate world. We now service a lot of big name company clients like Gannett, Daimler Chrysler, New York Life, Kaiser Permanente, and Mass General, where employees use their badges to purchase goods and services in the company cafeterias and stores. The corporate world and healthcare world are where the college world was 15 years ago using card systems," he said.
"Bruce built up our Card Systems Division from a fledgling competitor to the dominant market leader, and most of the work was done using internally generated capital, no IPOs, no financing," said Mr. Alexander. "His attention to the details of his business, and his respect for our clients combined to make us into a terrific business partner for our many clients in several markets."
An overriding customer service mentality
Mr. Lane also considers himself "a very competitive person." He'll get no argument from Mr. Alexander. "Bruce would never, ever, give up on a sales prospect. It was not a question of 'if', it was merely a question of 'when'," he said.
Added Mr. Tighe: "Bruce lives every day with a customer service mentality which has helped this company grow. He has a very strong sense of customer service. We think we have customer loyalty because we do a great job of providing customer service. Bruce has been one of the critical individuals to make sure that happened."
Yet, with the growth CBORD has undergone and the new products it has introduced during Mr. Lane's tenure, none of these make his list of accomplishments. "The thing that makes me feel the best is to look around at all the people that have been employed by CBORD, as compared to 20 years ago," he said. "I look at the economic engine that CBORD has become for so many families. It's very exciting to see that we've created an organization that's been very stable and has provided a livelihood for a lot of people."
One of the things he's going to miss is the "even keel relationship we have with so many college folks. While it's a hard business (in which) to make money, and we are providing colleges with mission critical systems for handling student funds, our customer service focus at CBORD has yielded us a customer base that knows us for working hard to meet their needs," he said.
"It's pretty rare that we come up with a great idea," he added. "Usually schools say to us that 'it would be nice if your system did this or that' and we'd scurry back to Ithaca and figure out how to do it. That innovation always will come from the customer side. And the companies trying to jam it down the university's throat will continue to have a rough ride."
One of those ideas that has taken off came from students, not the university itself. Now called Webfood®, "it first came to John's attention" in 2001, said Mr. Lane. "It was developed by Cornell students who had created an online food ordering system, because they were tired of waiting in line to order and receive their food. We worked with them over a span of about a year and a half and bought the company in 2003. Four of the five Webfood founders are now CBORD employees. That business has grown very well and is used by restaurant chains, corporations, hospitals and universities."
Looking to the future …
With retirement looming, what are his plans? "When I started working on my ideas to retire, Tim and I began assembling a really good coterie of senior managers," said Mr. Lane. "The plan is well in place" for business as usual after he steps down. Max Steinhardt is CBORD's new Senior Vice President of Operations and Randy Eckels has now been with the company for over a year as Senior Vice President of Sales and Marketing. Rick Libby is at the helm of Student Advantage and Shawn McCarthy has joined CBORD as Managing Director of Off-Campus Advantage. "This is a team of very seasoned managers with skills that CBORD needed to grow further," Mr. Lane explained.
As to life after CBORD, "I'm sure I will find other things to do, I'm just not sure they'll be in the college and university world," said Mr. Lane. "We own some real estate, a couple of buildings, I'd like to develop. I've had a good time at CBORD but I figured this was a good time to do something different."
And then, there's always ice cream. "My wife (Heather) and I own an ice cream company and we have a couple of other projects that we plan to get involved with," he said.
It's called Purity Ice Cream and the Lanes bought it in 1998. "It is a fun company with a great product, but not much in the way of financial viability, although it has gotten a lot better with my wife's hard work," said Mr. Lane. "We ceased our own manufacturing last year and now have our own unique recipes produced by a larger dairy in Syracuse. Purity is distributed in Central New York. My wife, Heather is the president and I change the light bulbs and cut the lawn."
"I take a little responsibility (and a little credit) for Bruce's most important life decisions," commented Mr. Alexander. "My wife, Elaine, introduced Bruce to his bride Heather, while Heather was working with us in our restaurant (my night job). Bruce and Heather are a real entrepreneurial team–and my wife and I have enjoyed working with them over several decades."
Most importantly, thanks to a second marriage, he has two young children, ages six and eight, that he intends to enjoy. He also has two other kids, ages 24 and 17 from a previous marriage.
Added Mr. Tighe: "I'm excited for him that he's getting to this stage in his life and very excited about the business he helped build at CBORD, particularly the people he helped recruit."
Maybe he'll also establish a travel agency. His time at CBORD, he said, has allowed him to accumulate a lot of frequent traveler miles. "Alaska is the only state I haven't been to," he said. "If there's one thing I can figure out, it's how to salvage a trip."
Regrets? Mr. Lane doesn't have many. "One night, I'm emailing a colleague at 2 a.m. and we were complaining about how there aren't more hours in the day. But I don't have a lot of regrets. CBORD has been a great place to work and it continues to be a great place. Right now, we're a hiring machine and it's just a wonderful thing to see a company grow like this."
What has helped it grow, Mr. Lane believes, is its understanding of the industry it's trying to serve. "What I've seen over the years are times when big companies came lurching into the campus card business," he said. "They all thought the business was simply grabbing hold of the students and shaking a lot of money out of them and that the campus card business was a great way to get students to buy other products. Today, they're all gone. The college market moves slowly and it doesn't adopt new technologies really quickly. Colleges like to use techniques that are proven, and students are more sophisticated than these companies gave them credit for."
He compares CBORD's university clients to a three-legged stool representing "parents, students and administrators. If a new product or service doesn't fit the needs of all three constituencies, then it's not going anywhere."
That's what some of the larger companies that have now left the industry didn't see. "The marketplace needs to understand that when we implement a campus card system, our focus is on keeping that card safe, convenient, and easy to use. Any other services that tie into it are great, but they are secondary," he said.
Perhaps this recognition will be another of Mr. Lane's many legacies left to the campus card world. If anyone has dedicated his life's work to making campus cards secure, convenient, and easy to use, he's the man.