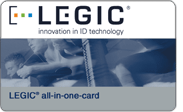 LEGIC provides robust suite of payment and security applications for students in Chur, Switzerland
By Andy Williams, Contributing Editor
While many U.S. colleges and universities have been hesitant to delve into the contactless world, European and Asian campuses have taken the opposite approach. So it is with the University of Technology and Economics (HTW Chur) in Chur, Switzerland. The college opted for a contactless campus card system based on chips supplied by LEGIC Identsystems Ltd., also based in Switzerland. The company specializes in the design and manufacture of 13.56 MHz contactless smart card technology, including ISO 15693 and ISO 14443 compliant read/write chip sets, security modules, and transponder chips.
HTW Chur specializes in high tech pursuits, so what better way to emphasize your philosophy than to offer your students and faculty a cutting edge, cashless … and contactless … environment?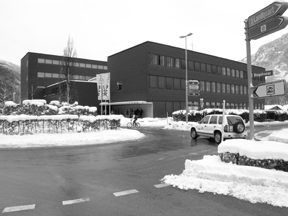 The range of courses offered by the HTW Chur covers six degree and three postgraduate courses, two Executive Masters of Business Administration and a wide-range of training courses. The college, according to LEGIC, specializes in the fields of tourism, entrepreneurship and commerce, telecommunications and electrical engineering, structural engineering and architecture design and computer science.
Two other Swiss companies, EVIS and Kaba, are also involved in the Chur project. EVIS, a LEGIC partner for more than 11 years, provides the project with vending solutions, access control systems, card personalization, hardware/software, cashless payment systems, POS terminals, and time and attendance solutions. Kaba specializes in security technology, such as locking cylinders, security locks, motorized cylinder locks and access control systems.
"We are a basic technology supplier," said Stephen Neff, LEGIC's vice president for sales and business development. "We supply transponder chips and people integrate our products into the finished product. Our technology products allow them to make the all-in-one-card system."
Utilizing this multi-function technology, the university has already issued more than 2,000 cards to students, staff, faculty, and visitors at HTW Chur. The cards serve as the students' ID, allow access to lockers (where student laptops are typically stored), provide cashless vending and copying, serve as the library card, and enable discounts at off-campus merchants. Museums and theaters also accept the contactless smart card, said Mr. Neff.
The college prints its own cards on site with a card printer from Zebra. This, said Mr. Neff, allows the school to personalize the cards and initialize the chip according to the area in which it will be used.
Payment applications are crucial to campus card success
Students are issued their cards when they enroll. Guests, visitors, and external users of HTW Chur facilities such as the library, can obtain a LEGIC smart card upon payment of a deposit. The student ID is used for payment transactions in the canteens, vending machines, and copiers and printers.
Charging stations - one in each of the two main buildings - allow students or faculty to add value to their card's e-purse with up to 300 Swiss francs (about US$240). "The student simply presents his contactless smart card to the charging station," says Mr. Neff, "inserts the money he/she wants to load on the card and after a few seconds the loading station confirms that the card has been recharged."
"One of the main advantages of this system," said Mr. Neff, " is that students only have to bring cash to school if they plan to recharge their electronic purse. They don't need cash for vending machines, the canteen, or copying machines."
When funds are spent - via vending or in the canteen - the transaction is forwarded to a central server via the campus' existing network. Thanks to the TCP/IP networking of all reading units, the card balances can be checked and (lost or stolen) cards can be blocked immediately if necessary.
"The balance is not stored in a back end system," said Mr. Neff. "The money is in the possession of the cardholder only. This increases the security and the confidence in the system."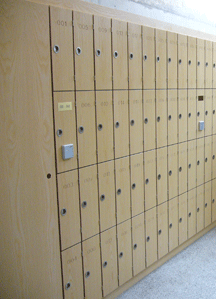 Physical security complements the financial offering …
Kaba technology is used for access control and the locks on the 800 lockers. EVIS provides the vending solutions, added Mr. Neff. Since it is a contactless card, a student need only tap his card against the locker's lock to open it.
While dormitory access is possible using the system, HTW Chur doesn't need that capability because it is a commuter school, said Mr. Neff. But the campus does have plans to expand the access control capabilities of the system. In the near future, officials plan to deploy locking systems on individual laboratory doors to guarantee greater security and convenience for the user.
One of the benefits of this particular LEGIC technology, the all-in-one-card, is that more applications and functional areas can be added later as the college's needs progress.
Mr. Neff provides the following example: "… a Chinese university, with more than100,000 LEGIC student cards, installed readers in dormitory showers that turn off the water automatically when the student takes his card away from the waterproof reader in order to save water and money. (Others have added) parking access or access to fitness centers."
"(HTW Chur) is very satisfied with the new all-in-one-card solution," said Mr. Neff. "The whole process is much easier and the students profit a lot from the increased comfort. Even the complexity for the card administration has been reduced significantly." And, he added, thanks to the central data administration and the university using its own printers, it can easily administer and replace lost or stolen cards.

Evangelizing contactless technology in the U.S.
LEGIC has installed its campus card solution in many locations in addition to HTW Chur. "There are more then 50 universities in Europe and Asia using the LEGIC contactless smart card technology already and more are opting for this technology every year," said Mr. Neff.
But, encouraging U.S. institutions to opt for contactless is a challenge. With offices in Chicago, and Dallas, LEGIC is doing what Mr. Neff calls "missionary work. We're working with campuses, going to suppliers, trying to sell them on using contactless technology."
In the U.S., LEGIC, which has offices in Chicago, Ill. and Dallas, Tex., is doing what Mr. Neff calls "missionary work. We're working with campuses, going to suppliers, trying to sell them on using contactless technology."
Of course, U.S. Government requirements, such as those included in FIPS 201 and the Department of Defense's Common Access Card, are helping generate contactless demand, he adds. "Four or five years ago, it (contactless) was a non-issue. Now we're at least getting invitations. It didn't happen overnight in Europe, either." Even so, LEGIC currently has some 70 million contactless cards in the field.
Contactless advantages for campus card systems …
He thinks contactless cards would be preferable at universities if, for nothing else, than for ease of maintenance. "Universities tend to incur quite a bit of vandalism (with items such as gum or coins) being stuffed into the slot designed for the contact card. In Canada's (early) ATMs, the slot was exactly the thickness of a processed cheese slice, (and vandals stuck them in) so they had to make the slot smaller. Contactless is almost vandal-proof which, I think, is its biggest advantage over contact."
Another big contactless advantage is, of course, its hands-free capability. "You can put your contactless ID badge into your pocket and walk by the reader. With a contact badge, you always have to take the card out of the holder and put it back again," said Mr. Neff.
Concludes Mr. Neff: "The most important thing for universities is linking access control with vending, restaurant and other applications. They have to be able to run independently of each other so the card becomes the network … you can obtain IT access as well as physical access. The biggest stumbling block is that many people don't believe it can be done."

Compare FIPS 201 Products
Research and evaluate FIPS 201 Approved Products and get the latest info on compliant credentialing systems at FIPS201.com.
Click to visit FIPS201.com
.