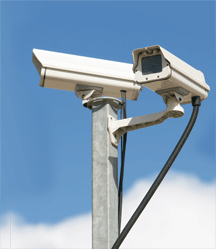 By Andy Williams, Contributing Editor
On-campus student safety is an even greater priority for many colleges and universities today. Blackboard, one of the largest campus ID systems providers, has noticed this trend and rolled out two new programs with student safety in mind.
The first program, Blackboard Connect, enables a campus administrator to log into just one system to send mass-notification alerts to the entire campus. The second, Blackboard Video Surveillance, enables the administrator to view live or recorded videos of multiple locations at once. Finally, the system will let administrators check transactions and finances at all the college's various facilities.
"Blackboard has been in the access control business a long time, and we were looking to round out that offering with two significant additions: video surveillance and Blackboard Connect, our mass notification solution," says Jeff Staples, senior director of marketing and business development for Blackboard.
Particularly with the addition of video surveillance, Staples says, Blackboard's 450 college and university clients can sign up for the complete security offering from one vendor.
"Universities historically had to conduct separate evaluations for the various components of campus security, ultimately implementing technology from multiple vendors and performing their own system integrations," says Russ Carlson, president of Blackboard Commerce, when the new additions were first announced.
"We feel that these two offerings combined with our door access product, constitute a significant opportunity for campuses throughout higher education."
He says the new programs have been in the planning stages in some form or another for about a year. The new programs are available immediately as part of the Blackboard Commerce Suite.
"At its core, the surveillance system manages live and recorded video," says Staples. "Campuses, as they look at establishing awareness of activities or potential problems on campus, will use the surveillance solution to monitor and analyze the video."
One of the selling points for the surveillance product "is that it's integrated with the Blackboard access control solutions," Staples adds. "Through one screen, an operator can be alerted to alarm conditions on a door, for example, a propped door, a forced door or invalid card swipe and respond by analyzing the video on the very same screen. In the event an operator is not monitoring in real time, that same alarm can trigger a recording of a video of the event and send the video clip along with the cardholder information for last attempted transaction to the appropriate party for follow up."
That video can be forwarded to any type of device that can playback video, such as a Windows mobile device, adds Staples. "It integrates with Blackboard's universal transaction system and it's available to all Blackboard clients," he says.
Because the video surveillance suite is software centric it's also easier to manage, says Staples. A college's biggest cost, however, would be camera installation if it doesn't already have video cameras positioned throughout the campus.
"We're at the crossroads of video surveillance where analog video surveillance still constitutes a majority of the cameras out there, but we're able to support more than 160 camera models from 30 manufacturers, analog as well as IP," says Staples. "In other words, we're not tied to a specific hardware solution. We also don't require proprietary storage. We can support DVR or NVR (network video recorder). Storage options are completely flexible.
"We provide a complete solution, whatever you need, what your requirements are," says Staples. The system is also cost competitive. "The fact that we are able to offer an integrated door access and video surveillance product is important to a client's total cost of ownership, but our platform flexibility in Blackboard Video Surveillance is also key. Our native support of over 160 camera models means many of the pre-existing cameras on campus can be leveraged with our new offering."
Other Blackboard Video Surveillance features include:
Mapping images to any authorized desktop on a continual or exception basis and storing them locally on network drives or DVRs.
Providing real-time customizable views of live pictures, with the ability to deploy an unlimited number of cameras across campus.
NTI Group acquisition facilitates mass-notification product
The second aspect of the new product is Blackboard Connect, which came through the company's recent acquisition of privately-held The NTI Group for $182 million in cash and stock. NTI was a leading provider of mass messaging and notifications solutions for educational and government organizations via voice, email, SMS and other text-receiving devices. "It's a multi-modal, mass notification solution," says Staples. "Because it is multi-modal, it leverages SMS, email and voice delivery of the institutions' critical messages. It is not carrier-dependent."
The acquisition moved Blackboard into the alert and notification market that one forecaster predicts will grow in the U.S. to about $1.2 billion by 2011. Formerly called Connect-ED, NTI's offering has been re-branded Blackboard Connect. It also gives Blackboard a presence in the K-12 market where NTI had already built a significant client base.
Staples says "numerous requests," spurred by last year's tragedy at Virginia Tech were received from Blackboard's clients seeking both a mass notification system and video surveillance monitoring.
Blackboard Connect can initiate automatic notification of events via email, PDA or text messaging including, if necessary, an attached video clip of the event, says Staples.
While there is no perfect solution to keep students safe mass notification to students and video surveillance certainly go a long way towards protecting a campus environment.