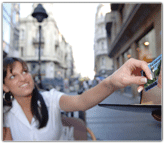 Programs flourish when multiple campuses share merchant network
Just a few short years ago, allowing a university's campus card to be used off campus was a no-no. Fears about losing precious on-campus income to merchants surrounding the campus prevented many universities from taking the step.
But as Jason Tiede, director of Blackboard's off-campus program, BbOne, says they now have become the norm. "It's unique if you don't have one. Besides, students want it. They want the expanded services, such as late night dining, weekend offerings, delivery and gas. It's not so much they want something that's physically away from campus, they want those services that a school otherwise couldn't provide on its own."
While there's no hard evidence to show that schools with an off-campus program have a competitive advantage over nearby schools that don't, it has become a nice selling point for campus card vendors. In addition, a vendor with an already established off-campus program in an area may find it easier to recruit other schools to join.
That's why off-campus programs are now part of many campus card vendors' menu of services and other companies are offering programs regardless of which vendor provides the college's campus card.
Off Campus Solutions (OCS) provides off campus programs for more than 60 campuses, regardless of campus card provider, says Greg Baker, president and chief technology officer at the company.
OCS is a subsidiary of Sodexo Campus Services. Sodexo manages on-campus dining and facilities services at more than 800 colleges and universities. Baker says that OCS supplies off campus programs to institutions with or without a Sodexo partnership though the majority of clients are Sodexo customers.
Schools are going off campus because students want the option and it can bring in revenue to the school, says Baker. Participating merchants like it because they obtain access to funds they may not have had access to in the past.
Campus card provider, CardSmith, serves multiple schools in several areas and the campus cards are all interoperable. As long as the merchant has the point-of-sale terminal and the campus has the CardSmith program in place it will work, explains Brian Farley, CardSmith's vice president of business development. "So if you're a Boston merchant and you have a terminal and you're around the corner from say Berklee College of Music, that single terminal will also accept ID cards from other campuses in the area," he says.
CardSmith's best-known multi-school operation is the six-college consortium in Boston called Colleges of the Fenway. It is an ideal example of how one card can be used on campus at multiple institutions as well as at a shared network of off-campus merchants. In addition to the six Fenway schools, CardSmith also serves five other campuses in the Boston area, says Donna Franklin, CardSmith's vice president marketing and communications.
The Colleges of the Fenway's card is a shared service program. The interoperability is communicated to students as a service for their convenience, says Franklin. While each school offers a different ID, each will work in a single terminal at the merchant location.
"When we have all those campuses in a given geographic area, it's easier to sign up other schools," explains Franklin. "With Campus Cash, each new campus we add automatically has access to our entire off-campus network."
CardSmith also supports a multi-campus community in Jacksonville, Fla. providing services to the University of North Florida, Jacksonville University and Florida State College of Jacksonville.
It's obviously more efficient for merchants, campus card providers and the universities to enable merchants to accept multiple cards. "How many acceptance posters can you put up?" asks Franklin. "With Campus Cash, you only need one."
Executives for both CBORD and Blackboard agree. "Having business relationships already in place between a local campus and merchant community make the conversations with nearby campuses easier," says BbOne's Tiede.
CBORD has successfully leveraged the strength of its off campus program to get new schools with a focus on 'off campus' to install CBORD's one card solution, says Shawn McCarthy, CBORD's vice president for wide area commerce. "We've had some good take-aways from competitors," he adds.
Another plus is having corporate partnerships with national chains like CVS and Chipotle. "We can leverage our relationships with national chains to very quickly bring off campus services to the university community," says Blackboard's Tiede.
Both CBORD and Blackboard got into off-campus programs by buying established companies. A wholly owned subsidiary of CBORD is Off Campus Advantage, which was purchased in 2007. "(It) services all CBORD schools for off campus requirements," says McCarthy. While the company has some 800 schools under its campus card umbrella, just 90 so far use Off Campus Advantage, says McCarthy.
Some of CBORD's multiple accounts include Boston, Washington, D.C., Texas, California and Minneapolis. "The largest concentration is in the northeast. The largest are the SUNY (State University of New York) schools," adds McCarthy.
BbOne, Blackboard's off-campus management solution, came about from the company's purchase of Student Advantage's SACash offering in 2003. With that purchase came 24 universities, which jump-started Blackboard's off-campus program.
There are about 500 institutions that utilize Blackboard Transact and of those, about 100 use BbOne, says Tiede.
BbOne has multiple accounts in five areas. Overlapping areas include Andover, Mass. (Phillips Andover and Merrimack College), Fairfield, Conn. (Fairfield University and Sacred Heart University), Atlanta, Ga. (Clark Atlanta University, Georgia Tech, and Georgia State University), Claremont Calif. (Claremont Consortium), and Greensboro, N.C. (High Point U and Guilford College), says Tiede.
Campus card providers agree that the number of colleges offering off-campus capabilities will continue to grow as will the number of merchants seeking access to the college crowd. "If I'm going to open a restaurant, one thing I've learned: open it next to a college," McCarthy says.