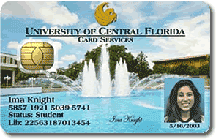 By Andy Williams, Contributing Editor
Joining a growing trend, the University of Central Florida in Orlando is allowing at least one off-campus restaurant to accept the college's campus card for payment. The venture is also serving as a test site for UCF's smart card supplier, Irish company SmartCentric, to trial its new off-campus card solution.
The McDonald's restaurant selected as the debut site is located across the street from the UCF campus. But more off-campus businesses will soon be able to take advantage of this UCF venture.
The reason was simple, explains the university's card services manager, Tammy Kidder. "We were asked if our UCF Card was good off-campus by many parents when they were putting money onto their students' cards."
McDonald's was chosen because it was close to the campus and, of course, is a popular eatery for students. Next up, said Ms. Kidder, will be another restaurant, Subway, which also happens to be one of the university's on-campus vendors.
"So far, we haven't had to go off-campus to sell merchants on using the card. Everyone has contacted me," she added.
What helped generate an off-campus vendor waiting list for the university was a sign McDonald's placed on its marquee announcing its acceptance of the UCF Card.
But Ms. Kidder is in no rush to blanket the off-campus area with vendors. "We're going to take baby steps," she said. "We are deliberately moving a little cautiously to make sure there are no issues. McDonald's has worked very well." A spokesperson for the locally-owned McDonald's said sales "have been better than expected" since the restaurant first started accepting the card in early June.
Ms. Kidder said there are more than a dozen vendors asking to accept the card when UCF is ready to expand the program. "Those are just the ones I've already spoken with," she said.
Most of the requests have come from restaurants, but a major chain supplying office, print, and copying services has also expressed interest, she said.
And off-campus use may not just be restricted to businesses surrounding the college. UCF serves a major metropolitan area and "many of our (45,000) students live at home," said Ms. Kidder. "So it would be logical for them to be able to use the UCF card at any of the restaurant chains associated with the UCF Card."
By fall, she hopes to have about a half dozen off-campus vendors. "Reception has been outstanding, but right now not everyone is even aware that their card is good at McDonald's," she added. Once more students return in the fall, they'll all be notified, probably by e-mail, of which businesses will accept their card.
The university charges the vendor a relatively low three percent transaction fee. "We didn't want to seem exorbitant," said Ms. Kidder. "We want to make sure the vendor is happy, and we don't want to charge too much that the vendor has to raise his prices. We don't want students affected monetarily."

One company that's closely watching this project is the provider of UCF's SmartCity® card, SmartCentric, headquartered in Dublin, Ireland, with offices in the U.S. and the Commonwealth of Independent States.
"While this is the first off-campus project in the US for SmartCentric," said the company's CEO, Kieran Timmins, "I do not expect any problems. The technology we're using is tried and tested."
Added Ms. Kidder: "We're setting the precedent in the U.S. for taking the chip card off-campus with SmartCentric."
"The SmartCity Acquirer software is designed to be up and running 24x7x365 across multiple time zones," said Mr. Timmins. "Neither geography nor distance nor time hold any special issues. We could, for example, have a terminal sitting here in Dublin, with transactions being collected and processed back at UCF."
LinkPoint 9000 terminals from KeyCorps are mostly what's in use at UCF, using the SmartCity Acquirer software. "SmartCity Acquirer is not tied to one terminal, however," said Mr. Timmins. "We built in support for multiple terminals. We also tried to protect existing investment by some of our customers by supporting the obsolete Verifon 1250."
McDonald's has four terminals and support for these devices is provided by UCF. That support department could grow as more off-campus vendors are added, said Ms. Kidder.
"Most of the support calls have been about running the equipment," she said.
Transactions at McDonald's are settled "much like credit cards," she added. "The transactions are sent to our server on campus and the next day our transaction processor processes them and creates a report. This report is sent to UCF's finance and accounting department. They then pull the money from our (the UCF Card program) funds pool account and electronically deposit the funds in the vendor's account."
It takes two to three days for the money to make it back to the vendor.
As to projected income from this project, it's a little early to tell. "This will really depend on how quickly we decide to take on vendors," said Ms. Kidder.
This fall is apt to be a hectic time for UCF's Card Office, not only notifying students of the new off-campus uses for their card, but also because of another new venture the college started up a couple months ago, again with SmartCentric.
"UCF has web revalue now," said Ms. Kidder. "Students or parents can use their debit or credit cards to reload their UCF cards via the internet." That too, has taken off. "Last month alone we had $62,000 put on the chip (during the slower summer session). I can't imagine what the fall will be like."
Busy.
---
Additional resources:<,/b>
Visit SmartCentric on the web at www.smartcentric.com
Visit the UCF Card on the web at www.ucfcard.ucf.edu