The pay-for-print solution stands alone or integrates with Blackboard, CBORD, Nuvision, more
By Andy Williams, Contributing Editor
Forty years ago, a new automobile cost about $3,500 and a printed page–at that time using a daisy wheel, dot matrix, or copying machine–cost about 10 to 15 cents. Today, the price of cars has more than quadrupled, but that same printed page of much higher quality–costs the same.
GoPrint Systems' Steve Haber's point–that he makes when visiting with college students–is simply that the pay for the print and copying process has evolved tremendously over those 40 years but the price has not. "When I was going to college, paying a dime or 15 cents for a printed page was the single biggest bargain you could ever come across," he said. "I ask students to tell me one thing they can still pay the same thing for 40 years later. And I have little trivia contests in our company to find something that costs the same."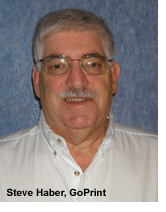 Mr. Haber, GoPrint president, created his company 10 years ago. "I was hiring myself out as part-time COO and I ran across a company making print utility software. They were developers for Hewlett Packard. I came in as a CFO and within a couple of years I was president of the company. In 1997, I left to form GoPrint Systems (a print management company) and began to build a network printing solution using card readers for libraries and colleges. I literally took a year and we created a whole new product from scratch. I hired programmers, but I designed the concept, the look and feel and its key components."
While developers typically sell through resellers, Mr. Haber didn't want to do that. "I wanted a direct relationship with our customers, so I developed over the top servicing. We live and breathe it every day."
GoPrint can provide its customers the software, hardware, including computers, and touch screen monitors. "It's a full on-site turnkey service," he said. "If any component ever fails for any reason, we replace it overnight, freight-free with a plug and play device. They simply plug in power and they're up and running. It's all cost-free for the life of the service contract."
Middle Tennessee State University was GoPrint's first client. "It has had every upgrade since," said Mr. Haber. The school has the company's software running in libraries and computer labs. "They bought everything from us," he added, "including custom security kiosks."
The newest release fights "wasteful network printing"
Last year, the San Ramon, Calif.-based company introduced its new GS-4 product–an enhanced, automated and scalable pay-for-print management solution equipped with a host of customer-requested advancements and new features.
The GS-4 is designed to help campuses recover costs associated with what it calls "excessive and wasteful network printing," said Mr. Haber. The GoPrint solution is server based and supported on Windows, Linux, Macintosh X, Novell, Sun Solaris, and Thin-Client platforms with a web enabled control center. GoPrint offers both a release station and non-resident client workstation popup option for easy release and or payment of print jobs. He says that implementation of GoPrint products can result in customer print cost reductions of 30% to 50%.
All of the GoPrint software is written in Java. "That gives us the portability for Macs, Linux and Windows. We wanted to be multiple platform-driven."
The program is also certified to work with some of the major campus card systems–CBORD, Blackboard, NuVision, ITC and various payment systems, such as debit or stored value, cash acceptors, user quota accounts, online transactions and one-card systems. In addition, it supports PayPal and other credit card gateways for self-serve funding of user accounts with a credit card. Use of credit cards to add value to a user account is supported from any web accessible workstation.
GoPrint currently services more than 200 colleges across the country plus one university in Japan and two U.S. Air Force bases in Germany. "They (the Air Force bases) found us on the Internet. They loved our product and wanted it for their libraries because they needed a secure pay system for their printers," said Mr. Haber.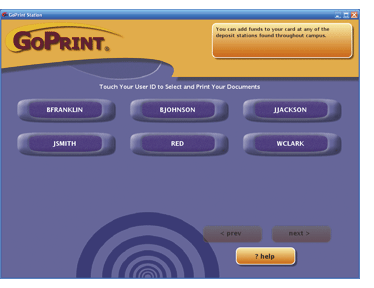 Creating an intuitive, game-like user experience
He said when he initially designed the software, he wanted something that was student-friendly, "that they would love, like a vending machine or a game."
The result is "a simple three screen release station. "I'm a student at a workstation in a library. I hit print at my work station and the job is directed to the GoPrint server, where it's paused. The release station, which has a game-like user interface, is where (I) go to release that job. Typically that release station is located near a cluster of printers. It's like walking up to an ATM."
At the touchscreen (designed for rapid access and to support students with disabilities) the job is selected and priced according to the print rules built into the system. "The student clicks on the jobs they want to print and the third screen comes up and lists the amount … requests the student to insert their card or choose another payment method such as cash or account number depending on how the system is configured."
But jobs can also be released directly from the workstation, he adds. "Hit print and up comes this Web interface dialog box which acts as the release station. The user selects the jobs he wants to print. In this case, he has to use a student account. Our system supports purses. I took this idea from chip cards where they were offering multiple purses. We have soft purses … so schools can give students individual quotas that can only be used for labs … or individual departments could give out individual quota accounts."
He further explained it this way: "If you're printing out your class notes, it prompts you for payment. Now you can choose how you're going to pay. You know the science lab gave you a student quota. You scroll through the purses until you come to science and charge it there."

Extreme customer focus facilitates quick response to user needs
GoPrint employs just 14 people, including three developers, four customer support representatives, and the rest in sales and administration.
"Here's another little secret," he added. "When you send an email to support at GoPrint, I am copied on every single one, both incoming and outgoing."
Like the Avis car rental ads used to claim, he considers GoPrint as "one of the other guys. One of the benefits of not selling through a reseller is you can add specialized programming features. If you're dealing with resellers, it might take eight months to get the changes you need made. We can get it out fast."
This example of GoPrint being able to act, or react is one of the company's main advantages, said Mr. Haber. "I can set a print rule that you pay 10 cents a page or half dollar. I can set something that every third page in color is charged a 15% premium or every Thursday from midnight to 4 a.m. you can receive a 50% discount. These are just some examples of the power built into the algorithms."
"Our job is to build a great package of tools and then allow the customers to use those tools most efficiently as they grow; we're always looking five years out," said Mr. Haber.
By then, the average price of an automobile may be approaching $50,000 or more, but it's likely the cost of a printed page will still be hovering around the 10-cent mark.
---
Additional resources:
For further information, visit www.goprint.com.