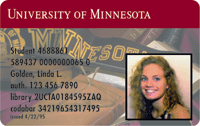 by Ted Sander, Food Service Director, University of Minnesota
The University of Minnesota, a CBORD OmniAccess user, is one of the largest universities in the United States, enrolling more than 35,000 students on two campuses in the metro Minneapolis/St. Paul area. Approximately 6,000 of these students live on campus. We have Residence Halls that are as much as 10 miles from each other. The University operates 8 traditional Residence Halls (6 with Dining facilities), 3 apartment style complexes, 3 Convenience stores, and 19 "Retail" locations. With such a broad range of facilities, it was not in our interest to compete with ourselves by making our points ("FlexDine") program available to a variety of vendors, but services that could enhance our students on-campus experience are worthy of consideration.
There has long been a demand for "after hours" delivery services, and a wide variety of vendors providing that service from various off-campus locations. With the growth of our FlexDine program, we recognized an opportunity to enhance the services provided to our students by contracting with existing off-campus vendors. We wrote our request for proposal to include a number of factors––such as being able to serve all of our Residence Halls, limiting service to prime periods of demand (evenings and weekends), and (of course!) to be able to obtain a fair commission structure. All community pizza vendors were invited to submit a proposal, but in the end it was a local company, "Davanni's Pizza and Subs," that was able to satisfy all the criteria.
Starting its third year now, Davanni's provides services from two locations: one located just off of our West Bank campus, that delivers to all Minneapolis locations, and a second store, which serves our St. Paul campus. They can only accept FlexDine on orders for delivery to our specified Residence Halls. They cannot accept it from walk-in customers, nor for delivery to other on-or off-campus locations. They have agreed to limit the transactions to food items only, to preserve the contractual relationship the university has with a different beverage vendor. Each location is equipped with a dial-up Lyric or Encore terminal from CBORD. Students call to place their order, and provide Davanni's with their student ID number. Davanni's transacts the points on the reader, and then processes the order for delivery.
At the point of delivery, the driver verifies the ID number from a student's "UCard." Students are not allowed to use their points for tips, only for direct food purchases. This was of initial high concern from all vendors during the proposal stage. Davanni's has verified that students always seem to have a few dollars to spare, and that their drivers have not suffered loss of income because of the program. If anything, the increases in their deliveries have benefited the drivers! The high point of sales, to date, was last January, with almost 1,700 deliveries, averaging $15.80 each.
In general, the program is very well accepted, with little downside. There has been some adjustment needed on the part of the OmniAccess staff to accept infrequent trouble calls on late evenings and weekends; these consist of simple issues with operation of the Lyric or Encore. At times where there have been larger systems problems, it has usually been Davanni's that notifies us first––allowing us to intercede before there is major impact on all of our other operations! We have noticed a dramatic increase in the purchasing of additional FlexDine since the inception of this program, and also a reduction in the amount that was left over at the end of the school year. While we can't say that one caused the other, we have noted that by offering more ways to use the program its usage at our on-campus locations has been enhanced.
We receive almost constant requests to expand the program to other off-campus vendors. At this time, we are only evaluating those that can clearly be seen to offer an additional enhancement to the program, not "more of the same."