Leading payments processor, Heartland Payment Systems, joins the ranks of campus card providers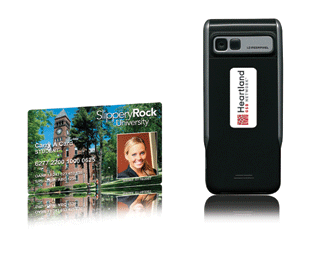 By Andy Williams, Contributing Editor
Contactless technology is coming to the 8,600-student strong Slippery Rock University in Pennsylvania. But it won't be a card. It's coming via cell phone, thanks to a small tag not much bigger than a postage stamp.
When Slippery Rock's students arrive for classes this fall, they'll be greeted with a new campus card and an accompanying 13.56MHz contactless token designed to stick to the back of any cell phone.
Both tag and card are being delivered by Heartland Payment Systems, the sixth largest payment processor in the world. It has been processing Slippery Rock's credit and debit card transactions for the past 10 years, so it seemed a natural fit when the university decided it wanted to introduce a new technology for the college's campus card. Dr. Robert Smith, the university's president, wanted to involve the cell phone in the new program because of its ubiquity among students.
Barry Welsch, manager of IT priorities for Heartland and the project manager for the Slippery Rock implementation, is also vice chairman of the SRU Foundation Board. He recalled that one day Dr. Smith, "wrote me a letter asking if I knew of any products that could make their current on-campus Rock Dollars program (the university's declining balance program) more robust" while enabling off-campus merchants to accept the card.
As Dr. Smith explained later: "We want to leapfrog the current technology and go to the cutting edge, and we want to add value to our student's experience at Slippery Rock. We believe this is the future and want to be educators of our students in the management of this technology…to take a responsible role in helping them learn to manage it."
Once the scope of the initiative was developed and deliverables were identified, the university solicited competitive bids from a variety of potential vendors. With its advanced technology and visionary approach to the future of campus payments, Heartland earned the right to be Slippery Rock's exclusive provider of this service.
Dr. Smith added: "We needed a partner who was courageous enough to bring it to the U.S. and work with us on the introduction of this application. We knew we couldn't do this by ourselves, and frankly, there wasn't anyone we could have more confidence in than Heartland to do this for us."
Mr. Welsch consulted with Heartland's chairman and CEO, Bob Carr, and the two decided Dr. Smith's request was very feasible. "He (Dr. Smith) wanted to leap past the current mag stripe technology … and give students exposure to new technology they will be seeing when they leave the university. He also wanted to raise the image of the institution," said Mr. Welsch.
"It was Mr. Carr who suggested contactless," said Mr. Welsch. "We talked about using the cell phone as the access device because it's the most commonly carried item by far."
A student focus group drove that point home. "We asked the students several questions: 'How many of you have at least one dollar in change in your pocket?' Only four of about 50 in that group had at least a dollar," recalled Mr. Welsch. "About 75% had their student ID cards. But every single student, except one, had a cell phone. And that student had lost his the day before. It was very clear to us that a cell phone goes with a student everywhere. Mr. Carr told me later that students know they've lost their cell phones four times quicker than if they've lost a wallet."
To make this happen, the most obvious choice would have been near field communication, a technology developed several years ago by chip makers NXP and Sony that gives cell phones RFID capability, allowing them to be read by contactless readers. But the technology is still new, and not yet widely available in the U.S. So Heartland went the next best step: producing contactless-enabled tags that can be affixed to the student's cell phone.
Why tags? Heartland and SRU got some reinforcement for this decision from the same focus group. "Another thing quite interesting we learned," said Mr. Welsch, "is that students said when they visit with family members and friends and someone pulls out a credit card branded with a university name rather than a vanilla Visa card, they felt envious. Students were really excited about the fact that students from other universities won't have this. President Smith loved this idea."
How does it work?
So, students, faculty and staff this fall – about 10,000 of them in all– will be receiving a half inch wide by 1.5 inches long contactless token with a strong adhesive backing they can attach to their cell phones. It then works like any contactless card, meaning that it can communicate with the reader without physically touching it. The readers have lights that indicate whether the tag is being read or not.
"We tested it on the outside of the phone, and you can scan within an inch and a half. When inside the phone, you need to be about an inch closer," said Mr. Welsch. He suggested that some students may want to remove the phone's battery cover and insert the tag there.
If a student changes phones, he can remove the tag and reattach it to the new phone. If the tag won't come off, the student can apply for a new tag.
The tag "has a very durable exterior. It can't be scratched, and it seldom will show signs of wear," he added.
Heartland is also issuing new student ID cards since the company will, for the first time, be processing the student Rock Dollar accounts. Before, Heartland processed only the traditional credit and debit charges students and parents use to pay tuition, room/ board and buy books, Mr. Welsch said. "We've not had anything to do with Rock Dollars. It's something the university has maintained on campus with proprietary readers and terminals."
The Heartland-issued ID cards, however, are still equipped with mag stripes rather than contactless chips. Dual technologies mean making sure the university has readers that can handle both. "Everything we're building – the laundry, vending machines, merchant-attended POS terminals – all will have readers that can read the contactless token" as well as the mag stripe cards," Mr. Welsch continued.
"As far as we can tell, this dual technology is unique. It's the first application in a higher education institution in the U.S. to go this way."
Once the new cards are issued, Heartland will transfer the old Rock Dollar balances to new accounts. In this manner, students can seamlessly migrate from their prior cards to the new system without losing deposited funds or having to maintain two accounts.
"On Track Innovations (OTI) is supplying the tags, and we manufacture the readers through our micro-payments division," said Mr. Welsch. That division includes longtime campus card reader manufacturer Debitek, a company Heartland purchased in 2005. "Heartland has re-engineered the (Debitek) technology," added Mr. Welsch, "bringing it up to state-of-the-art."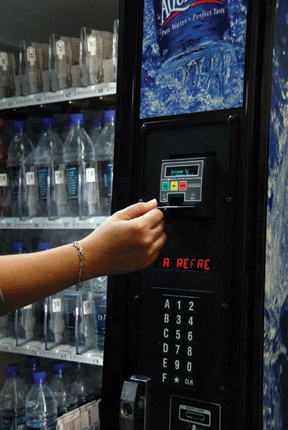 Taking Rock Dollars off campus
The second phase of the project is recruiting merchants off campus to accept Rock Dollars. Initial reaction has been positive, reported Mr. Welsch, stressing it's a winning combination for both the university and the merchants. The university doesn't have to process merchant accounts or cut them checks, and merchants get paid daily.
To no one's surprise, the first merchants to sign up were restaurants. "We're also looking at supermarkets, retail clothing stores, a shuttle service and nail salons," said Mr. Welsch.
Before, merchants were paid monthly. There were no off-campus merchants, but still, the on-campus bookstore and foodservice providers had to wait for their money. "Under our system, we process the transactions nightly and generate an ACH deposit to them the next day, exactly the same time as credit card (payments)," he said. Merchants can purchase or rent terminals, starting at $25 a month. The transaction fee varies depending on the amount of the purchase, but averages about 1.5%, plus 25 cents per transaction.
"We do not use proprietary terminals," noted Mr. Welsch. "The merchants like that. They only need one terminal to accept credit, debit or Rock Dollars."
Dr. Smith said the most "perplexing problem" has been the university's insistence to provide greater protection for the students by requiring a PIN when they use their contactless tokens. That's not something merchants usually expect from someone paying with a debit card, specifically at restaurants. "This is creating a challenge," added Dr. Smith.
For on-campus use, that's not an issue since all vendors have a PIN pad. But some off-campus merchants don't currently have a PIN pad. Mr. Welsch said Heartland hopes to have this problem alleviated shortly. Heartland's readers/terminals all have PIN pads, but, said Mr. Welsch, there are also other packages available that include PIN pads merchants can use. Bottom line: If a merchant wants the student's business, he/she will need to be able to accept a PIN as part of the transaction.
For smaller transactions, such as those performed at vending machines, no PIN is required.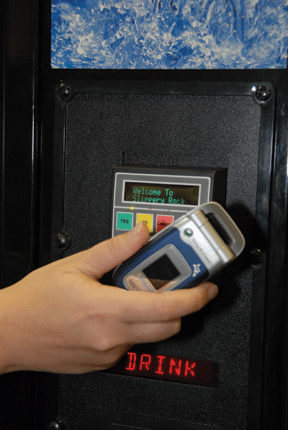 Managing your account on the web
Another advantage to Heartland's program is that students can go to a web site to check their balances or their transaction history, said Mr. Welsch. The web site option is new. Before Heartland's involvement, students could only utilize a reader to find out their balances.
Students who lose their cards or tag-enabled phones can visit the same web site to get their accounts frozen until a new card and tag can be issued. They can also contact Slippery Rock's card office and receive support through a toll-free number. "The web provides 24/7 access for cardholders and doesn't limit students to having to visit the administrative office during normal business hours to have a freeze put on their accounts," said Mr. Welsch.
"One of the other great features isn't so much contactless but the whole web-enabling structure," added Dr. Smith. "The individual can review his/her account and charges – as well as reload the card from the web or via phone. It's more than just a chip. The whole concept is somewhat revolutionary for us."
All accounts are maintained in an FDIC-insured bank, Mr. Welsch emphasized.
Changing the way financial aid is delivered to students
Another big change is the way students receive financial aid. "Nearly two-thirds of Slippery Rock's students are the first generation (in their family) to go to college, so financial aid plays a big part," said Mr. Welsch. "When financial aid comes in now, the university will take out tuition and room and board and distribute the excess to students."
In the past, this excess was distributed by check, but now that money can be direct deposited into the student's Rock Dollars accounts. "We've gotten quite a few calls from students already excited about the new system," said Mr. Welsch. "All that's been released has been the financial aid form with a new check box allowing for the money to be direct deposited."
Additionally, on- and off-campus paychecks can be deposited directly into the same account.
Giving something back
Another feature involves charitable giving. Remember that 1.5% transaction fee merchants have to pay to accept the student's Rock Dollar card or contactless token? Heartland doesn't profit from it. The money goes back to the students or the charity of their choice.
"We are rebating back to the students through the Give Something Back Network," said Mr. Welsch. Students will be able to go online and select their favorite charity to have this money donated to or they can have it credited to their own account.
"That's another important feature about our system that the university liked. Universities struggle to get their students to give something back down the road when they become successful. Slippery Rock is trying to build that thinking in their students. The Slippery Rock Foundation will be listed as the first charity they can donate to. Students will at least see the concept of giving back."
A new player in the campus card market?
Mr. Welsch hopes Slippery Rock is just the beginning for Heartland in the campus card business. "We're looking at doing this at other universities. It will be a product offering under our campus card product line" in the company's micro-payments division. The company, which is traded on the New York Stock Exchange, provides credit/debit/prepaid card processing, payroll and payment services to 150,000 merchants – including restaurants, hotels, and retailers – and 300 colleges throughout the U.S.
What will determine whether Slippery Rock University's card program is successful or not?
"We're going to judge it by the number of merchants we sign up. Obviously we also want to sell them credit/debit, and payroll processing – as well as remote check deposit services," said Mr. Welsch. "We will judge the success of this project on the merchant participation and the future of selling or renting additional readers to the university."
Dr. Smith likes what he's seen so far. In fact, he has been a guinea pig, of sorts. "They gave me one (a contactless tag), and I've gone around using it. Since it was Heartland's money on an experimental card, I had a great time," he laughed.
"We're going to see where this goes," he added, "but from a branding standpoint, we couldn't be more thrilled. Heartland is out there encouraging all these retail establishments to accept these Rock Dollars, and the merchants are signing up. That means they're looking for a Slippery Rock patron."
He said the contactless tag concept has also created "quite an international buzz. This kind of reputation for us is, to borrow the MasterCard line, 'priceless.'"