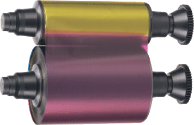 There was a time when all you needed for a print job was a black nylon ribbon and a dot matrix printer. With color came more options, and now with the ability to print directly to cards – no matter if it's smart, ID or debit – the choice of which print ribbon to use has become a little more confusing. Options now include dye sublimation and thermal transfer types as well as, simple monochrome ribbons.
---
Most printer manufacturers are more than willing to help you find your way through the printer ribbon labyrinth. Many times, the choice is made for you depending on the type of job.
"People should be looking for the ribbon that will suit best what they are willing to print, text only monochrome thermal transfer, which can be black, blue, green or red," says Jean-Charles Pichon, sales manager for the U.S. and Canada at Evolis Card Printer based in France.
"We supply both dye sublimation color ribbons and monochrome thermal transfer ribbons," says Pichon. "Dye sub color ribbons will be used for any application requesting the printing of a color background such as a gym membership, ID card with company logo, or when a picture is needed."
Fargo Electronics, an HID Global company based in Minnesota, also provides both dye diffusion thermal transfer (dye sub) and resin-only ribbons (thermal transfer) "to give flexibility to our customers depending on the application," says Kevin Graebel, Fargo's product marketing manager. "A full color ribbon is capable of producing crisp, vibrant pictures and backgrounds on a one-to-one level of personalization. When only a name and barcode are required, resin ribbons are an economical way to customize a card."
Pichon says that monochrome thermal transfer ribbons are used mainly for applications where only text or barcodes are needed, "such as with basic access control, library or gift cards. Those ribbons are used in combination with pre-printed cards."
Zebra Technologies, Vernon Hills, Ill., supplies thermal transfer and dye sublimation ribbons used in card printers for several markets, including financial services, retail, hospitality, education and transportation. Applications include membership cards, employee and student ID cards, access control and time and attendance, says Ram Ramaprasad, director of product management at Zebra Card Printer Solutions. "The most common ribbons widely used today are our YMCKO (short for the basic colors yellow, magenta, cyan, black and overcoat) TrueColour ribbons that are specifically designed for optimum performance," he says.
A lot has to do with the type of colors needed, says Andy Matko, team leader for UK-based Magicard, a division of Ultra Electronics Card Systems. While Magicard provides both color and monochrome ribbons, color ribbons can "include YMCKO for single-sided printing, and YMCKO for color front, black reverse double-sided printing," says Matko. "Monochrome ribbons are not just black, but are available in various colors such as gold, silver, blue, red, white and others can be created on demand."
In other words, Ribbons come in all flavors, says Matko, "available to suit color or monochrome printing, and single or double-sided printing. Most importantly, people should only buy approved ribbons, as these that have been tested for good print quality and resistance to long-term fading and scratching."
"Within each printer type, there is a range of ribbons for each use, depending on if they need full color or black printing on one or both sides," adds Graebel. "Additionally, Fargo offers special ribbons, such as our F panel ribbon, that allow users to add a fluorescent image as an incremental level of security."
A main prerequisite, obviously, is first determining what you want to print. "If they are looking at printing a full-color background and picture they should use a color dye sublimation ribbon, Pichon says. "Evolis also has the half-panel color ribbon for volume applications. Since, for instance, a government application will be printing cards in huge volumes, the only variable color information might be the picture. The best way to go is to use pre-printed cards since the color background is fixed, and leave a blank spot for the picture. The Evolis half panel will enable printing the pictures and full monochrome characters for text and a barcode, but the length of color ink on the ribbon (the most expensive part of the process) is limited, so the cost is cut by 47%."
The cost for full-color printing which "allows you to print any type of graphics on the card using 16 million colors," Pichon says, is about 32.5 cents per card. This is for one side of the card and excludes the card's cost. "The half panel ribbon allows you to print a limited color area when using pre-printed cards, and the cost per card drops to 18.75 cents. The monochrome ribbon is really cheap, 0.0088 cents per card, but the limitation is monochrome printing only, text and barcodes."
Adds Mako: "The normal manufacturer's suggested retail price to print a single-sided color card is 37 cents per print, for black only it's as low as 1.3 cents per print."
For any printer, as Graebel points out, "Ribbon pricing varies according to ribbon type and the respective printers they are designed to work in." For example, while some ribbons are a little more expensive on a per-image cost, "they are much easier to load. Most often, a printer is selected for a particular application and then the choice for ribbon is based upon card design and the degree of need for customization and the appearance of that customization."
Ribbons on rollers are another option. Both are in use today, with cartridge-based print ribbons usually reserved for the lower-end models and those with ribbons on rollers-including both output and take-up rollers that have to be threaded in the printer-used in the higher priced printers that do more and produce products that last longer.
Many Magicard printers rely on printer ribbons using rollers, not cartridges, says Matko. "Our latest product, the Magicard Enduro, comes with a simple drop-in ribbon, made up of two rolls holding the supply and take-up. We also provide a drop-in cleaning roller with each ribbon," Matko says. These have an advantage over cartridges, he contends. If a ribbon breaks during printing it is very easy for the user to rewind the ribbon onto the take-up spool. Some cartridge-based systems can be difficult to re-wind. There's also less environmental plastic waste than for a cartridge.
Evolis, too, still provides ribbons on rolls which "can easily be popped in and out," says Pichon. "Cleaning rollers are still part of the printer and not a consumable which enables us to cut the cost of consumables," he adds.
Zebra's cartridge ribbons are designed for its Value Line and roll ribbons are designed for performance and security line printers, says Ramaprasad. The security type printers are used to produce driver licenses or national ID cards where a long shelf life is important, he adds.
He said Zebra's less expensive printers "are commonly used in point of sale applications where counter top real estate is at a minimum while our Performance Line card printers are used for higher volume applications such as a service bureau, student IDs and access control."
Zebra's cartridge ribbons are easy to load as well, Ramaprasad says. For example, "our new I Series technology ribbons are available in cassettes to allow for easy load and go process. The majority of our ribbons include a cleaning roller to facilitate and promote maintenance of our printers for a consistently high quality print."
Matko says one advantage of roll ribbons is that they "offer a higher number of prints than cartridge-based ribbons, and are therefore often less expensive. Cartridge versus rolls is not the issue. The issue is how easy is a ribbon to load, and how many prints does it offer me."
Fargo tries to make the loading as simple as possible, Graebel says. "Fargo's C30 and DTC400 ribbons are preloaded into cartridges for the easiest ribbon loading possible," he adds. "The cartridges feature an integrated cleaning roller so the cleaning roller is essentially replaced every time a new ribbon is loaded. Fargo's HDP5000 re-transfer printer has a reusable removable ribbon cartridge with color coding which simplifies ribbon loading."
Security is another concern, particularly if you're producing ID cards for access control. Matko says many of the Magicard ribbons "now use RFID security. For specific needs, this can be tailored to a customer, so that only their protected ribbons can be used for their project."
Some of Zebra's ribbons do include RFID as well, but for a different reason. It "helps the customer by automatically adjusting the printer/driver to the correct setting for the ribbon in the printer. The customer does not have to make any adjustments to the printer, it is simply drop and go," says Ramaprasad.
With so many printing options, including types of ribbon, color, and even the printer itself, what's a person to do? Fargo's Graebel probably sums it up: "Ribbon choice is driven by printer selection; printer selection is based upon user needs. While there are similarities between customers in each market segment-higher education, government, membership-some card issuers within a segment may prefer to use economical resin ribbons and others in the same segment may choose to print full color images for their identification cards. Ribbon cost is ultimately dependent upon ribbon type and the printer selected."