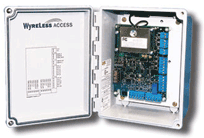 Recognition Source's WyreLess Access™ group is pioneering wireless communication for door access readers. And the company doesn't see this as a niche market application. It's going for something much larger and, so far, it seems to be paying off. With claims of up to 80% reduction in installation time, less customer disruption, and, most importantly, a savings in dollars, the future looks bright for both wireless access and Wyreless Access™.
"There are many benefits of WyreLess Access for virtually everyone who touches this product line," said Lester LaPierre, national sales manager for Wyreless Access developer Recognition Source, St. Charles (near Chicago), Illinois.
The company's products are designed to wirelessly control interior or exterior doors, gates, elevators – just about any kind of access portal.
"By eliminating wiring from the door to an access control panel, Wyreless Access solutions can significantly reduce customer disruption, reduce installation times by up to 80%, and save hundreds of dollars per door versus conventional wired solutions," said Mr. LaPierre. "This benefits end customers with higher value solutions, reduced disruption, and higher security. They're faster to install, simpler, more reliable."
He added: "The whole benefit to the integrator is that he can get in and do the job quickly and the end customer can get back to his normal life."
That's why integrators love it, he added, "because by reducing installation time up to 80%, they can improve efficiencies, handle more projects and improve cash flow. It also reduces their reliance on outsourced talent (e.g. pulling wires, re-plastering, repainting). It is simpler to plan and manage projects, controls costs and there's a greater probability of bringing the project in on time."
For the end user there is less disruption. "You don't need environmental barriers during installation, such as in hospitals, because there is no need to move the ceiling tiles to run wire. It also means people don't need to work odd hours to do installations."
To take it a step further, you can have pre-assembly off site. You can take the door off its hinges, take it out back, drill a few holes, mount the lock hardware and modular electronics components, and remount the door. "This keeps the office environment clean and quiet, which isn't possible with wired alternatives," added Mr. LaPierre.
He said customers have saved more than $1,000 per door using Wyreless Access products. "It's not just for retrofitting. It's a good solution for almost every door you're going to encounter."
The company's most popular solution involves an combined reader and lock unit at the door and a panel interface module at the control panel. The Modular Integrated Reader Lock takes the place of everything needed at the door for online, real time access control. So, only one device has to be installed. The 128-bit signals are encrypted between a door and panel interface module.
The readers permitting access "support all formats of HID and Indala proximity cards and most smart card formats and biometric templates," said Mr. LaPierre. "Our wireless encrypted data stream can support bit counts of up 255 bits."
How secure is wireless access control? As Recognition Source's president and CEO, Fred Conforti, commented during a presentation at the ISC West show in Las Vegas, Nevada earlier this year: "It is easier to knock down a door or go through a wall than it is to crack a wireless system."
"We've been shipping our products for over three years to thousands of locations, including universities, hospitals, corporations, airports, water treatment plants, marinas, elevators, parking garages, financial institutions, government agencies, municipalities and military installations," said Mr. LaPierre.
"The university market is one of our biggest customers because of the density (and number) of their doors," he added.
William Conk, senior manager of housing facilities at the University of New Hampshire, reported saving about $50,000 for real time dormitory access control for 40 doors. And at Biola University near Los Angeles, California, the company secured 230 doors in one dormitory alone, said Mr. Conforti.
"It all boils down to value. Most customers embrace Wyreless Access solutions for exactly this reason," said Mr. LaPierre. "Some embrace it because their buildings are of historical significance, have asbestos in the walls and ceilings, or the walls are stone or solid concrete. Wireless provides the easiest and most cost-effective method to solve these requirements. Even in new construction, many customers have saved over $1,000 per door versus conventional wired solutions. Most Wyreless Access installations are from $1,500 to $2,000 per door."
Wyreless' battery-powered products, include the Modular Integrated Reader Lock (MIRL), the Wireless Portable Reader (WPR), and Wireless Exit Kit (WEXK), which can support all formats of HID and Indala proximity cards, and Mag Stripe cards, he said. Special order readers include Mifare, DesFire, and iClass. Locally-powered products, such as the Wireless Reader Interface (WRI) and Wireless Universal Strike Interface (WUSI), can use almost any off-the-shelf reader with a Wiegand output, he added. These include long-range proximity readers from HID, Indala, and AWID and biometric readers from Bioscript, and IR's Recognition Systems. Wyreless can also match its system with specialty readers like Barantec's ruggedized units and PIN-Prox readers from a variety of suppliers, and smart card readers from HID, Integrated Engineering, and others, he said.
One problem with wireless technology, as any cell phone user will testify, is the possibility of interference. Wyreless has addressed that as well.
"Our products operate in the 900 MHz band and utilize spread spectrum technology. With 15 channels to choose from and over 65,000 addresses per channel," said Mr. LaPierre, "there are nearly a million unique addresses per device. In addition, we have a feature called dynamic channel switching, which seeks an open channel automatically to avoid interference."
One of Wyreless' more popular products, he said, is the Modular Integrated Reader Lock, or MIRL, which, while reducing the cost, can also be installed in an hour. "It incorporates everything needed, including the hardware, all combined in one."
He added: "We've done very dense applications where we've had several hundred units in one building (such as Biola University). We have a whole variety of other products, such as a gate application solution which eliminates the need to trench as well and which saves thousands of dollars."
Recognition Source was founded in 2000 as a spin-off from the Pittway Systems Technology Group that is now part of Honeywell. Mr. Conforti, the key founder, was the former Pittway Systems Technology Group CEO and president.
As Mr. Conforti explained during his Las Vegas presentation: "Wireless is not just a niche solution (as in parking garages). It is faster, better, and cheaper."