Some of the contactless world's best new products were on display at the HID Partner conference in San Diego in October. On display were at least thirty contactless offerings from companies around the world. HID Connect, the company established to help partners of HID Global in their efforts to bring supporting products to market, held their iNNOVATION awards competition. Winners included products that enable wireless physical access control, converge physical and logical access, identify a vehicle and its driver at long range, and facilitate easy creation of contactless applications and products.
AVISIAN Publishing's editorial team served as judges for the awards. To evaluate the twenty entrants and determine the awardees, a scoring system was developed by the judges based upon the following measures of 'innovation:'
Products designed for use with iCLASS or proximity scored higher than existing products that added support for the iCLASS or proximity acceptance
Products that were proactive (designed to deliver new functions) scored higher than those deemed reactive (necessary to continue the success or growth of a company's existing offering)
Products deemed likely to have a significant impact on a market scored higher than those with lower potential for market impact
Products were scored based on their uniqueness or level of innovation
"The field of products was exceptional making our selection process challenging," said Chris Corum, Executive Editor of AVISIAN Publishing and one of the award judges. "The ultimate winner, the AIR ID Converter from RF IDeas, scored high in all categories and really defines innovation."
"As an OEM module, it facilitates the launch of new iCLASS-enabled products … In fact, a number of the other products in the competition rely on the AIR ID Converter," he added. "Plus, it enables integrators and end issuers to rapidly build custom applications that capitalize on the HID credential for use beyond physical security into logical access and multi-application environments."
The iNNOVATION 2006 event provided a great showcase for emerging contactless solutions. Said Debra Spitler, HID Global's executive vice president of HID Connect, "it is rewarding to see partners develop solutions to support end-user requests … that leverage the use of existing HID credentials to solve business problems."
---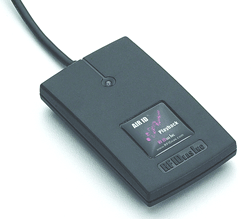 First Place:
AIR ID Playback Converter
RF IDeas, Inc.
Accepting the award: Greg Gliniecki, Vice President
RF IDeas AIR ID Playback Converter permits users of HID's iCLASS read/write readers, such as the RW400, to quickly deliver solutions. It is currently in use in truck scale, manufacturing and kiosk applications interfacing to backend systems. According to Mr. Gliniecki, "the converter completely removes all software development tasks and allows OEMs and end users alike to quickly bring out full solutions for nearly all applications in as little as an hour."
The AIR ID line opens iCLASS to any operating system, including Windows, Unix, Linux, Macintosh as well as embedded applications, enabling support for existing applications under these environments. The converter expands the RF Ideas line beyond the PC, to non-desktop and outdoor environments. The AIR ID Playback converter is available today in USB or RS-232. The USB converter outputs as keystrokes while the RS-232 output ASCII characters.
Second Place:
Nedap Transition Booster
NEDAP AVI
Accepting the award: Gorm Tuxen, Business Development the Americas
Nedap's AVI (Automatic Vehicle Identification) Boosters are in-vehicle reader transmitters, that allows a driver to use a standard building access credential such as an HID prox, iCLASS, ISO 15693, and ISO 14443 card for vehicle access. The card's output is 'boosted' distances up to 33 feet and can be read at speeds in excess of 125 Mph. The Combi Booster adds an imbedded vehicle ID to the personal credential ID, enabling identification of both the vehicle and its driver. Visit www.tuxen.us/nedapavi for more information on driver based vehicle access.
Third Place:
Sig-Tec Convergence Solutions
Sig-Tec
Accepting the award: John McGuire, Regional Director
Sig-Tec's Convergence software enables both logical and physical security using iCLASS cards, proximity cards, biometrics, and tokens. Added to the company's prior solutions that addressed logical access security, print security and remote desktop access security is a physical security based on HID's Vertex controllers and iCLASS credentials, Omnikey readers, and Sargent door locks. According to Mr. McGuire, the solution is extremely scalable and cost effective enabling convergence solutions within the reach of small and mid sized organizations.
Honorable Mention:
Wireless Access Management Solution (WAMS)
OSI Security Devices
Accepting the award: Derek Trimble, President
The WAMS solution provided end-to-end (door to host) wireless communications using OSI's Omnilock battery powered reader/lock units and HID credentials. Combining battery operated lock mechanisms with the installation and communication ease of wireless cuts the costs and disruption of retrofitting access control environments. The user gets the functionality of a software-based system at a lower cost with little or no interruption to their business. With no controllers required, no modifications to doors, and no electrical needs at the door, the system is easily added to and can be removed and re-installed in another location.