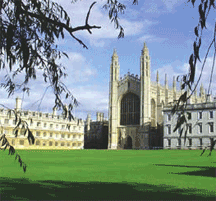 With the increasing demand for security, access control is an increasingly important campus card function in Europe as it is in the rest of the world. One Spanish company is capitalizing on this rising need with a cost-effective and innovative door control system.
Salto Systems, located near Bilbao, Spain, focuses on just one area: building access. Salto can take a college's existing contactless smart card and, with a few tweaks, make it capable of managing every door on the university's campus.
Marc Handels, vice president of marketing and sales, said its most well-known clients currently are Cambridge and Oxford universities in the UK. But the company services about 40 colleges, across Europe and in Asia.
Salto's door control system is ideal for colleges because it doesn't cost a lot to install, yet it can handle hundreds of doors, said Mr. Handels. Instead of hardwiring every door, or connecting every door to an online system, Salto lets the smart card serve as its "messenger."
"We have made a bridge," he explained. "We do online doors, but we limit those to a minimum. Most of the other doors (are controlled by) what we call stand-alone electronic locks. These locks have no wires to a network; so they'll work on their own. That means installation is cheap."
Offline doors don't talk directly to the system. However, with Salto's virtual network–a bridge between the online and offline doors–the company has found what it calls "the missing link that has always been the difficult part when attempting to manage several hundred doors. Normally, you would have to use a portable programmer and go door-to-door to update the readers," said Mr. Handels.
Yet, if all those locks are offline and stand-alone, how can one control and manage them in a timely manner? "That's where the key card technology plays an important role," said Mr. Handels. "We link the stand-alone doors to the online system. But instead of linking them by hard wires, or having to use a portable programmer to update each door, we let the user's contactless card update the system for us. Simply by using the card and opening doors, (the user or card) becomes our messenger between the door and system."
For example, if a student graduates or an employee is terminated, that information is entered into the system. When a card user enters an online door, his card is updated. Then, every time that card accesses an offline door, it updates that part of the system, said Mr. Handels.
"In the case that a card is no longer valid, it gets immediately eliminated. The next time it reaches an online door, it is immediately locked out," Mr. Handels added. "If that card doesn't go to an online door, all the other cards will be informed that the card is no longer valid. (Then these cards will 'spread the news' to the offline doors through normal use) and the system is updated that way."
"(Our cards) use several technologies. On the contactless side, we use Mifare, Desfire, ISO 15693 and we're looking into HID's iCLASS. We only use high frequency contactless cards that are very secure because the information is kept on the card," he added.
What makes Salto's system attractive to universities is that it will work with a college's existing card program. "We can provide them with a little piece of software that allows them to put the Salto sector on those cards," said Mr. Handels. "A student can go to the student center and load Salto applications on the (existing) card," he said.
What about colleges still using mag stripe cards? "We have nothing against mag stripe, except they're very easy to copy. One of the key elements that has made us so successful with universities is that we use very high security ID media, like contactless smart cards which cannot be copied or cloned," said Mr. Handels. "If some college still has mag stripe readers, we can provide the university with a contactless smart card with a mag stripe on the back."
Salto, which recently opened a U.S. office in Atlanta, Georgia, started five years ago "from scratch," and has since installed some 200,000 doors, said Mr. Handels.
---
Additional resources:
To visit Salto on the web, click here.