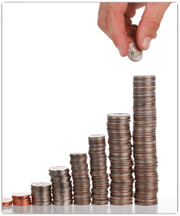 Two financial institutions see double-digit increases
By Chris Corum & Andy Williams, AVISIAN Publications
College Banking partnerships are alive and well despite a lousy economy. Last year was actually a pretty good one for banks doing business with college campuses in the U.S. In fact, according to CR80News' annual College Bank Survey, two reported hefty double-digit increases.
Participating in the survey were U.S. Bank, Wells Fargo, Wachovia, PNC Bank, TCF Bank, Commerce Bank and Heartland Campus Solutions/CNB Bank (new this year).
The group as a whole (except for Heartland which had just one institution from 2007) had a net gain in 2008 of 11 campuses, up two over the preceding year. This gain equates to a growth rate of 11% year over year. Include Heartland's nine campuses for 2008 and last year's net gain jumps to 19%.
Campus card bank partnerships: '07 -'08 comparison
| Bank | '07 total | '08 total | % inc. |
| --- | --- | --- | --- |
| U.S. Bank | 30 | 37 | 23% |
| Wells Fargo | 24 | 24 | 0% |
| Wachovia | 16 | 16 | 0% |
| PNC Bank | 14 | 17 | 21% |
| TCF Bank | 10 | 11 | 10% |
| Commerce | 4 | 4 | 0% |
| Heartland/CNB | 1 | 9 | 90% |
| Total | 99 | 118 | 19% |
That figure might have been higher, but financial services provider Higher One did not participate in this year's survey so the company's results are not part of the 2008 totals.
Recording the biggest gain, both in numbers and percentage increase was U.S. Bank, which grew from 30 in 2007 to 37 in 2008, a 23% increase. That compares to a 7% increase and a plus two in campuses added in 2007. PNC Bank ended the year with 17 college campus partnerships, a 21% increase over the preceding year. But when compared with the bank's 11 figure in 2006, it has seen a 55% increase over two years.
TCF Bank picked up one institution in 2008, going from 10 to 11.
Wells Fargo and Wachovia remained steady serving 24 and 16 campuses respectively, but with the pending merger, the two could become the largest university bank provider with 40 campuses, surpassing even traditional bank survey leader U.S. Bank.
The only other bank from our 2007 survey, Commerce Bank, remained the same at four institutions.
"It was a good year for us in terms of growing new partnerships," says Whitney Bright, U.S. Bank's vice president of Campus Banking. Of 2008, she says the bank "saw increased interest in banking ID programs at community colleges." That accounts for much of the bank's 23% growth in 2008 since five of the new additions were two-year schools, either community colleges or technical institutions.
"Last year was on par with our averages and was certainly better than 2007," says Bright. "We have a very long sales cycle. It typically takes us 12 months to go from first time talking to someone before we have a signed deal."
States served
by campus card financial partners
Commerce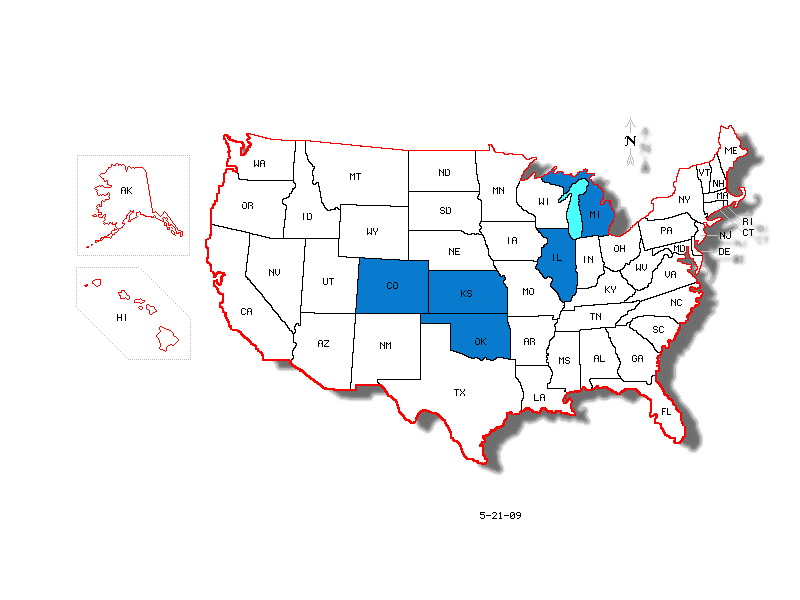 Click on the map to see the full size image.
Heartland/CNB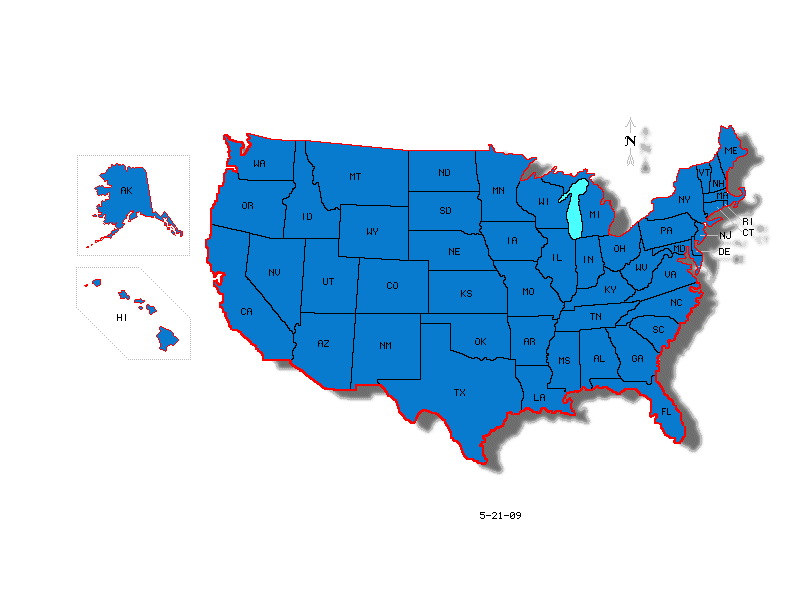 Click on the map to see the full size image.
PNC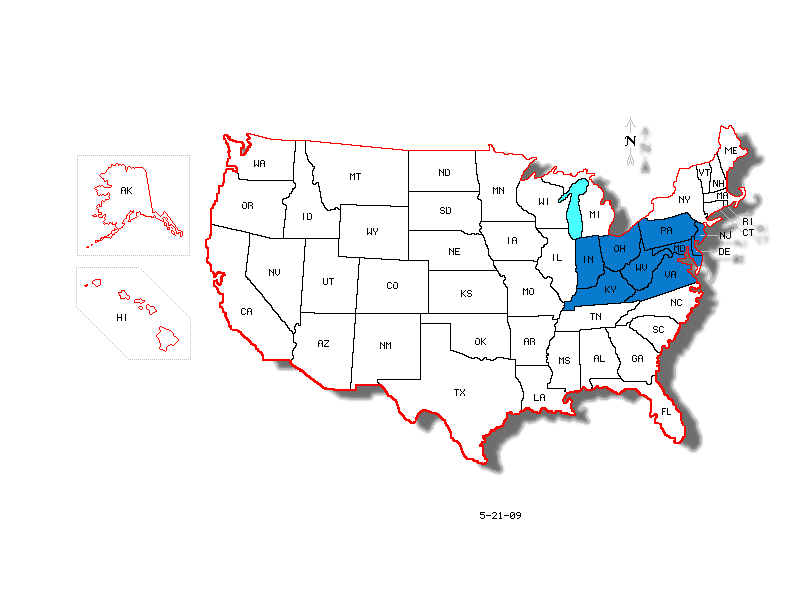 Click on the map to see the full size image.
TCF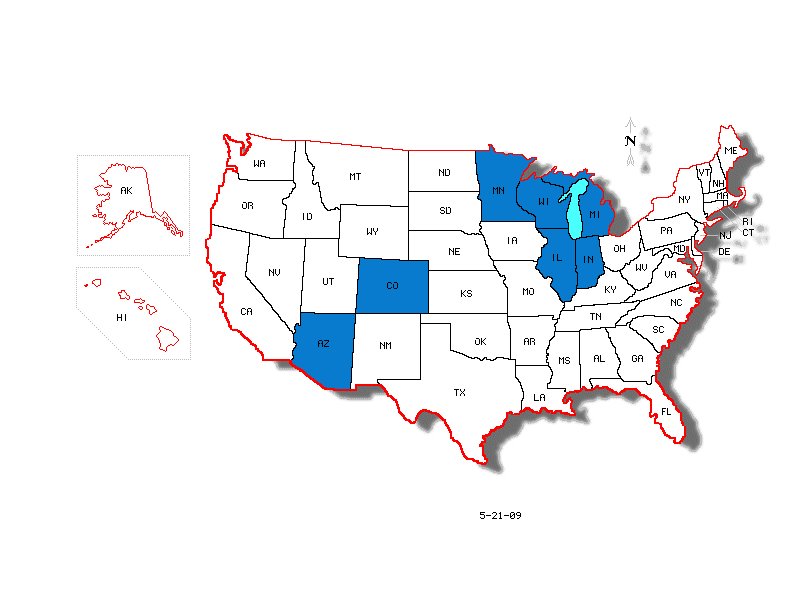 Click on the map to see the full size image.
U.S. Bank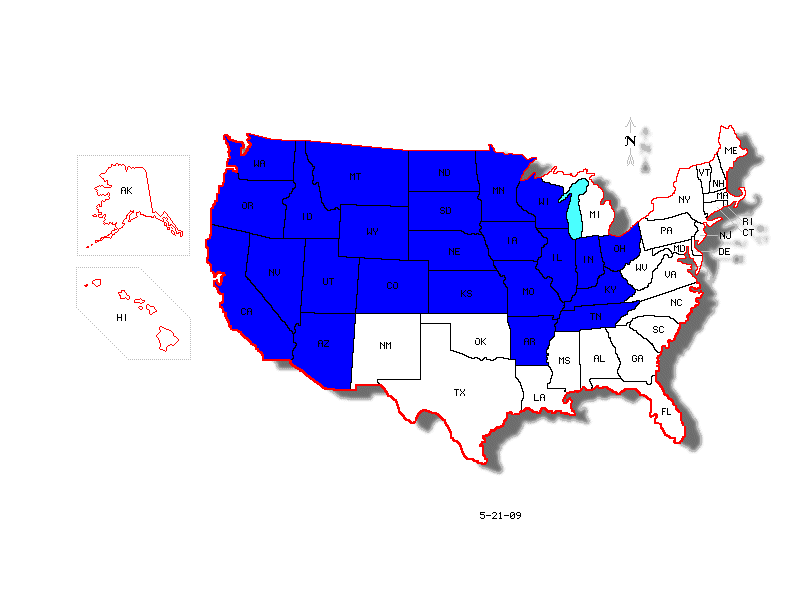 Click on the map to see the full size image.
Wachovia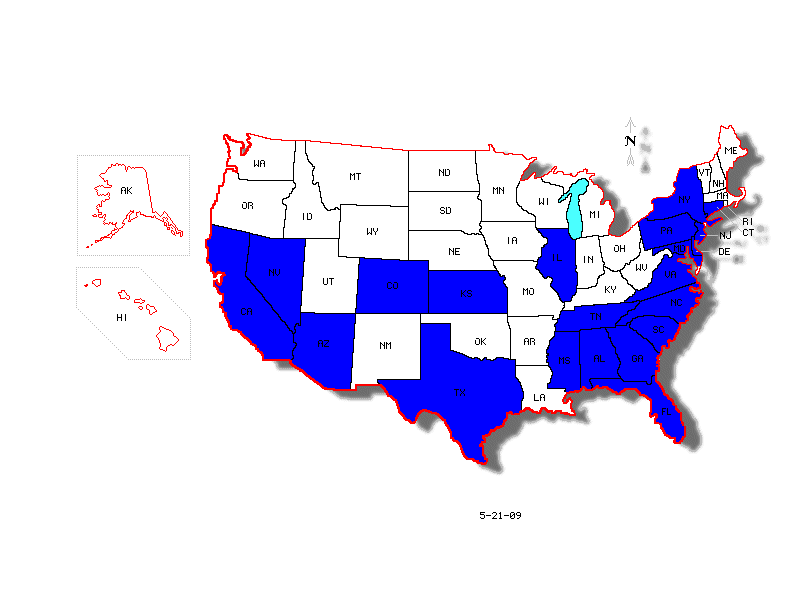 Click on the map to see the full size image.
Wells Fargo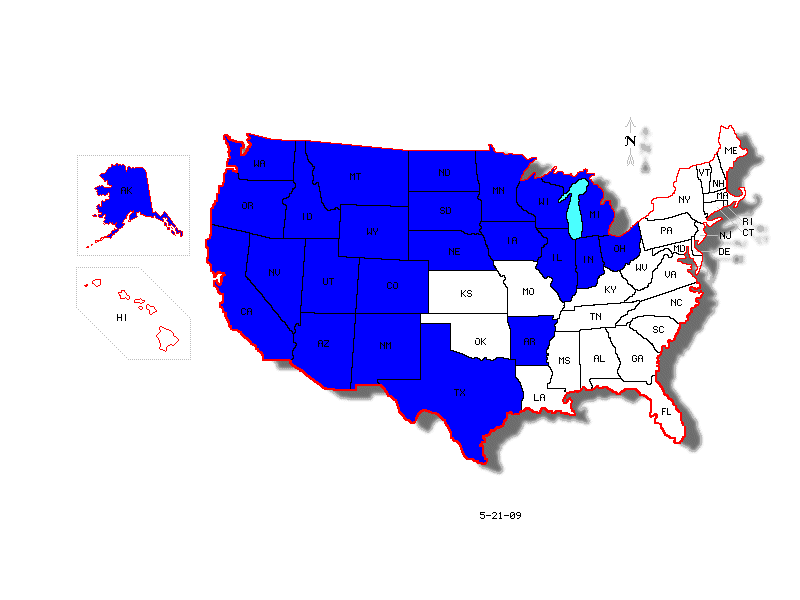 Click on the map to see the full size image.
Bright says two opposites combined in 2008 that helped the bank grow more clients. "On one side, you had the banking industry having so much turmoil and trouble causing some universities to be apprehensive about partnering with a bank, but on the other side, as the economy continued to have a downhill slide and as schools faced increased pressures on budgets, they were looking for additional sources of revenue and bank partnerships can provide that."
An even better sign than increased partnerships is that "we have not lost anyone. Most of the contracts are in the five-year range. Once we have a partner for five years, they're pretty happy with us and re-sign," says Bright.
Wells Fargo's net zero gain was a result of not renewing two schools while signing up two others. It added Front Range Community College in Colorado and California State University, Stanislaus, Calif., says Kevin Duncan, Consumer Deposits Group for the bank's Campus Card Services.
The bank has also expanded into another state, Arkansas, "so now our retail banking footprint extends to 24 states," he adds. He also points out that "these numbers are solely for Wells Fargo and do not include numbers/information based upon the pending merger with Wachovia," and its 16 campuses.
PNC Bank, which gained three new campuses, is bullish on the university market, says Lorraine Morgan, PNC's marketing vice president for University Banking. "The number of schools which see value in having a banking services partner is growing," she says. "More schools than ever see a banking services relationship as a key to helping them meet commitments to the financial wellness of their students and meet the growing demands for student services. The financial aspects of a banking services relationship are also compelling in the current economic environment."
Another growing area is the interest in campus ID cards linking to bank checking accounts. "PNC expects 14 or more (of its campus clients) to be linking up by the end of 2009 versus nine in 2008," she says.
Don Becker, assistant vice president for Student Banking at Commerce Bank, says that while his bank didn't gain any new clients in 2008, it has expanded into two more states, Oklahoma and Colorado. "We continue to have successful One-Card banking relationships with the four universities (the bank serves) and continue to operate full-service branch locations at Kansas State University and Missouri State University."
Becker echoes what many campus banks advertise nowadays, a "commitment to help our student customers develop solid habits so they become savvy financial consumers."
To accomplish this, Becker says Commerce works "closely with our university partners to provide the best products and services as well as a level of convenience that younger consumers have come to expect. For example, we've created customized micro-web sites for our university card partners and a web learning center for money management."
U.S. Bank, Wells Fargo and others offer similar services.
Newbie Heartland Campus Solutions began serving the campus card industry in 2007 following the acquisition of General Meters. The company reports 2008 figures of 9 campus banking partnerships, up from one the preceding year. Unlike the others in the survey, Heartland Campus Solutions is not a bank but rather a division of payment processing company, Heartland Payment Systems. The company offers banking services via its partner, Enid, Okla.-based CNB Bank, as a core component of the campus card offering.
One new trend that first surfaced following our 2007 survey continued into 2008.
U.S. Bank's Bright noted that more schools are now asking for Visa- or MasterCard-branded ID cards (debit only), "because it does create a true one card. Students these days want to have a card to make purchases online or go to restaurants to make purchases. More schools also want the convenience of that card to be issued instantly on campus."
Another new trend, mentioned by PNC's Morgan, is a move towards mobile banking. With a mobile phone's technology increasing, she says PNC introduced Mobile Banking last November. "It enables students to send text requests for balance information, receive low balance alerts and perform other services," she says.
Though the overall economy may be struggling and the financial industry in turmoil, campus card bank partnerships are strong. Perhaps difficult times provide a true indication of the value of a service. Those that survive and indeed thrive must be providing real benefit for the parties involved.
Campuses organized by financial institutions
Commerce (4)
Fort Hays State University, KS
Pittsburg State University, KS
The University of Kansas, KS
Wichita State University, KS
Heartland/CNB (9)
Clearwater Christian College, FL
Colorado Christian University, CO
Concordia University of Wisconsin, WI
Harrisburg University, PA
John Carroll University, OH
Lebanon Valley College, PA
Reinhardt College, GA
Slippery Rock University, PA
Tompkins Cortland Community College, NY
PNC Bank (17)
Allegheny College, PA
Carnegie Mellon University, PA
Duquesne University, PA
Edinboro University of Pennsylvania, PA
Gettysburg College, PA
Indiana University of Pennsylvania, PA
Marymount University, VA
Penn State University – 18 campuses, PA
Robert Morris University, PA
Seton Hall University, NJ
St. Joseph's University, PA
Stevens Institute, NJ
Temple University, PA
University of Pennsylvania, PA
University of Pittsburgh, PA
University of Scranton, PA
West Virginia University, WV
TCF Bank (11)
DePaul University, IL
Eastern Michigan University, MI
Minnesota State University – Mankato, MN
Milwaukee Area Technical College, WI
Northern Illinois University, IL
Northern Michigan University, MI
St. Cloud State University, MN
St. Xavier University, IL
University of Illinois, IL
University of Michigan, MI
University of Minnesota, MN
U.S. Bank (37)
Austin Peay State University, TN
Benedictine University, IL
California State University Fullerton, CA
Case Western Reserve University, OH
Chicago State University, IL
College of Mt. St. Joseph, OH
Creighton University, NE
DeAnza Community College, CA
Drury University, MO
Foothill Community College, CA
Gonzaga University, WA
Henderson State University, AR
Iowa State University, IA
John Carroll University, OH
Johnson County Community College, KS
Kirkwood Community College, IA
Minnesota State University – Moorhead, MN
Missouri Western State University, MO
Morehead State University, KY
North Dakota State University, ND
Northern Kentucky University, KY
Northwest Missouri State University, MO
Northwestern University, WI
Ouachita Baptist University, AR
Pacific University, OR
San Diego State University, CA
St. Louis University, MO
Truman State University, MO
University of Central Missouri, MO
University of San Diego, CA
University of Wisconsin – Eau Claire, WI
University of Wisconsin – Oshkosh, WI
University of Wisconsin – Stevens Point, WI
Washington State University, WA
Waukesha County Technical College, WI
Wisconsin Lutheran College, WI
Xavier University, OH
Wachovia (16)
Clark Atlanta University, GA
Elon University, NC
Fayetteville State University, NC
Florida A&M University, FL
Georgia Perimeter College, GA
Guilford College, NC
Mercer University, GA
NC State University, NC
North Carolina A&T State University, NC
North Carolina Central University, NC
Phila. College of Osteopathic Medicine, PA
University of Florida, FL
University of N.C. – Chapel Hill, NC
University of N.C. ­– Greensboro, NC
Villanova University, VA
Virginia Commonwealth University, TX
Wells Fargo (24)
Baylor University, TX
California State University – Los Angeles, CA
California State University – Sacramento, CA
California State University – Stanislaus, CA
El Paso Community College, TX
Front Range Community College , CO
Mesa State College, CO
Midwestern State University, TX
New Mexico State University, NM
Riverside Community College District, CA
San Francisco State University, CA
Texas A&M University – College Station, TX
Texas A&M University – Corpus Christie, TX
Texas State University – San Marcos, TX
Texas Tech University, TX
University of Arizona, AZ
University of Nebraska – Kearney, NE
University of Nebraska – Lincoln, NE
University of Nevada – Reno, NV
University of North Texas, TX
University of Northern Colorado, CO
University of Texas – Arlington, TX
University of Texas – Brownsville, TX
University of Texas – Dallas, TX
University of Texas – El Paso, TX