Two years ago, CR80News conducted a quantitative survey of campus card banking partnerships in an attempt to put some numbers to trend . Our editors surveyed seven financial institutions that were determined to be actively involved in the market, offering banking services via the campus ID card. This month we endeavored to update this survey to provide a current picture of the market and investigate whether this often-discussed application is on the rise or decline.
As a whole, there has been significant growth in the number of campuses with banking partnerships. The seven surveyed institutions accounted for 58 total partnerships in 2003. This number has risen to 96 partnerships, an increase of more than 65% during the two-year period (or 30%-plus per year).
In the time that elapsed between our surveys, five of the seven financial institutions increased the number of partnerships served. The percentage increases ranged from 22% to 200% increase. Two institutions held steady with the same number of partnerships in both surveys. The following chart details the number of programs and the percentage increase by bank.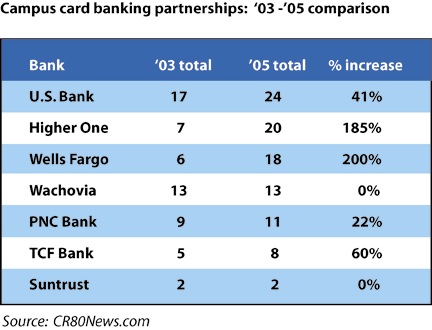 Only one partnership was ended during the period and none were traded between banking partners. Though this survey is not definitive empirical evidence, the astounding lack of turnover seems to suggest that campuses are generally satisfied with their partnerships.
One of the financial institutions, Higher One, has also added a number of campus clients that were not included on the list because they did not fit the strict definition as "campus card banking partnerships." While these installations did offer financial services via a institution-endorsed card, it was not make use of the official campus ID card. They are, nonetheless, worthy of note. At these institutions, a separate card is issued to enable students and institutions to benefit from the electronic distribution of aid and other payments. These thirteen institutions include: Kennesaw State University, University of West Georgia, Georgia Perimeter College, Texas Woman's University, Hillsborough Community College, University of North Carolina – Wilmington, Macon State College, Dalton State College, Gordon College, Savannah State University, Spring Arbor University, Siena Heights University, and Aquinas College.
There are a significant, though unknown, number of campuses that have banking partnerships with institutions not included in this survey. For example, Eastern Illinois University partners with First Mid-Illinois Bank & Trust and University of Kansas with Commerce Bank. Many other campuses offer banking services via their campus card in partnership with a local credit union. Thus, this survey is not meant to provide an exhaustive list of bank partnerships but rather suggest a direction and magnitude of the overall trend.
To this end, it seems that the campus card and financial institution partnerships via the ID card are continuing to grow in a positive direction. The following chart summarizes the results of the survey listing the campus card partnerships by bank. If your campus card program has a banking partner and is not included on this list, please take a moment and send us an email so that we can update the list.