Designing, creating and getting approval for a functional card office facility
By Andy Williams Contributing Editor
Space is usually a premium at most colleges and universities. So when Georgia Tech underwent an expansion of its card office a couple years ago, it realized it may need room to grow. James Pete, director of the Buzz Card Center, the name of Georgia Tech's campus card, a take on the university's Yellow Jackets nickname, compares a card office to what he calls "the Web effect. It will never get smaller, just larger and more complex as the years go by."
The main growth driver in 2004 was staffing. "We started with two in 1997 and we've now grown to eight," he says.
As Pete explained during a recent webinar sponsored by the National Association of Campus Card Users (NACCU), from 1997 to 2004, the office occupied a small space, about 958 square feet, which included a small server room. "The majority was dedicated to the customer service function," says Pete.
"When we renovated, we were only granted sufficient space, 2,081 square feet" for their needs at the time, he says. Even though space is always a premium at universities, he nevertheless recommends that those campus card offices contemplating expansion"lobby for office space for future positions and storage. Your program will never get smaller, it will only grow larger with each passing year."
As a result, even just three years after moving into the new space, "we are now having to transition our storage space into an office for our new associate director position. It will be difficult to successfully identify an alternative space for our storage and workbench needs," he added.
Established in 1885, Georgia Tech (officially Georgia Institute of Technology) is located in Downtown Atlanta on a 400-acre campus. It has an enrollment of 18,000 students, with about 50% living on campus.
The 2004 renovation cost the university $353,000, or about $81 a square foot. More than half, $200,000, was dedicated to development of a "systems room." The actual Buzz Card office construction cost was around $95,000.
"You will hit stumbling blocks throughout the process," Pete warned. "We started in 2001 and it took us a year to gain approval for our plan."
The plan actually came together in two steps. "We developed the systems room first and wrapped that up in 2003, relocating all our servers to the new space, he says.
It took card center staff another year to plan the renovation for the card office downstairs. Preparation is probably the most important. The card staff spent time developing a document that would later end up in the architect's hands. Some of the questions the staff answered: "How were we going to operate," how would they (students) enter, the movement and traffic flow. "That document became our framework," says Pete.
"We had some setbacks. We moved into a large conference room within the building to make certain the office renovation was completed before the first orientation group came in."
The old space became the entire customer service area. "We wanted (it) to be warm and welcoming, to lend itself to people coming in."
It features an open glass front–much like a retail store–which is easily visible by students congregating in the adjacent common areas.
When building or renovating your campus card center office, a key question should be: How many card production stations do you need? That's "one of the first things that impacts your customer area," says Pete. The more production stations, the quicker students can move through the process.
"On a busy day you could be producing 900 cards which we could achieve in eight hours. Our ratio is 300 cards per station. It also provides us with redundancy so we can fall back on other units."
He added: "The first time someone comes to get the card, it's their first time with you. You need to do it in a way that's effective to the customer, to leave a very good impression."
Pete uses a bank metaphor to describe the card office setup.
"Our counter was built to create three separate teller stations…Each station contains a card production station and storage for card stock, print ribbons, and forms," he says. "It allows us to give more time to customers."
The original plan was to include everything at each station, but lack of counter space forced development of a fourth station to deal with money. "We would rather have staff members focused with that customer and not have to move to another area to handle money," he added. "This has proven to be a problem during peak times. Staff continually need to get up and move about (and) cash controls are diminished since we can not designate a cash drawer per individual staff member."
Each card production station includes a printer and computer. "We purchased Dell Computers with an all-in-one CPU and monitor stand for our card production stations," says Pete. "The all-in-one stand alleviates the need to have a computer on the floor beneath the counter. Also, the computers can easily be transported to other campus buildings for remote card production events."
He says the card office's original plan "was to have all our card stock stored in a safe in our card office, but there wasn't enough space to house cash and the card stock. We went with a fireproof cabinet that's locked at all times. We keep a small amount of stock at each station."
The card office uses Datacard SP 75 printers at each station because the school has just begun issuing dual prox cards to faculty and students for building access.
"We are a corporate HID partner," says Pete. The company provides Georgia Tech with a"unique encoding scheme just for us. The printer includes a prox reader which automatically reads that number and automatically registers each card into our Blackboard Campus system."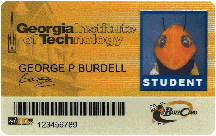 This alone has saved the campus card office much time. "What we did before integration, was we took the prox card and manually entered it into the Blackboard system. When you're producing thousands of prox cards, it's difficult to do that. We wanted to take staff members out of it. It has been fantastic."
Each station also includes a camera to photograph students. "We chose to have our customers sit down," he says. That made for more consistent pictures but also meant that picture-taking took longer. "This decision also determined the height of our customer service counter at 28 inches tall (but) eliminated any concerns about ADA (Americans with Disabilities Act) compliance," says Pete.
Since many students want to check their appearance for a photo which will probably follow them throughout their collegiate career, the card center has even provided a full-length mirror adjacent to the forms counter.
"On non-busy days we will allow them to look at their photos and have them retaken" if they're not happy with the first shot, added Pete.
Continuing with the bank comparison, the Buzz Card Center also has made it easier for students to complete their paper work by providing a separate counter.
"Our customers are required to complete card agreements, deposit slips, and other documents," says Pete. "We installed a counter across from our teller stations that allows customers to facilitate form completion." It also provides a place for customers to park their book bags and other personal items and includes built-in trash containers.
Since the Buzz Card can also serve as a declining balance vehicle, all cardholders are preassigned a declining balance account "regardless of whether they actually want one," says Pete. "The act of pre-assigning every customer a debit account as part of our process has been a great convenience for our customers and a benefit to the card center staff. Customers can choose when they would like to be a debit account participant by simply making a deposit. This prevents the need for the customer to return to the card center to set up an account at a later date."
Peak days
Orientation is held over a two day period and typically attracts 500-600 students, although before the Fall semester, that number is likely to grow to more than 900.
Despite new quarters, on those peak days the office still must utilize the adjacent common area in what Pete calls its "Disney Inspired carding process." That means "trying to keep you doing something at each stop."
It involves five stations: At station 1, the student completes the card agreement; at the next, he checks in; At station 3, the student has his picture taken and he then picks up his new card at station 4. At his final stop, he makes a deposit to his declining balance account. Only Station 3 is housed within the Card Center during those periods. "All other stations are set up in the common area," says Pete.
"We were very fortunate to have space adjacent to us, a student lounge. I recommend you look at available space outside your office because this space can be invaluable, allowing us to expand beyond our normal area on peak days," he added.
"One of the things we wanted to do is have it open and inviting and provide room for the busy time of year. If you can locate your card office adjacent to a common area you can use that common area as a queuing area."
Lessons learned
"We love our space and it works very well," he says. "Could we have improved? Absolutely."
He added: "One of the things we did not do is when we designed the front counter, we did not have space to put card production and point of sale (cash acceptance) together. We should have enlarged the front counter to accommodate all our equipment.
"Another lesson learned is that we do not have enough storage space. We're being creative right now and we don't order a lot of extra equipment."
Much of the card office's existing storage space was lost because it had to be converted into another office for a new staff member.
"We tried to plan but we knew this was the space we had, this was what we were getting. We knew when we moved in that we were at maximum capacity."
So it is that Georgia Tech's card center, after more than doubling its space just three years ago, is once more looking to satisfy its hunger for expansion. "We need to figure out our next move. If we add anyone else, we have to go somewhere. I don't know if that means we move up or what. We're just now seeing the need to add another position. We're not there just yet."