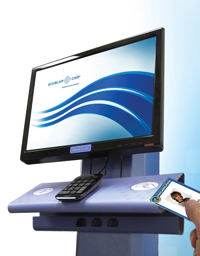 Student cards already serve attendance, access control
To use a transportation analogy, three separate tracks are coming together in Philadelphia to form a very interesting student ID and public transit solution.
On track number one, the Southeastern Pennsylvania Transit Authority is preparing to launch an open loop fare collection system that will enable commuters to pay for rides using a variety of different payment methodologies.
Student cards already serve attendance, access control
The Transportation Authority voted in November to award a $129.5 million contract to ACS Transport Group to install what SEPTA describes as a contactless open fare payment and collection system. The system will do away with tokens, paper tickets, and magnetic strip passes, opting instead to use devices such as cell phones, bank cards or prepaid cards equipped with contactless technology to enable riders to manage their transit fares more easily and make it so the transit agency no longer has to issue fare cards.
On track number two, the School District of Philadelphia has an established program that provides paper bus passes to students so they can take public transportation to and from school at discounted rates.
And on track number three, the company ScholarChip has been providing smart card attendance and identification technologies to the school district since 2006.
According to Maged Atiya, chief technology officer at ScholarChip, approximately 100,000 contactless Mifare cards have been issued to students at 70 district schools to manage building attendance and security, automate classroom attendance and record disciplinary events.
As these three tracks converge, the school district and ScholarChip are working with ACS to enable students' smart card IDs to work on the open-loop transit system, Atiya says. "Our system and the ACS system will work together in real time so that students can pick up their ID at the school and then use it on the bus," he adds.
The district has had a full-time employee spend half their time managing the paper transit pass systems for students, Atiya says. This won't be necessary once the new system is deployed since the systems will be linked and automatically reconciled.
The system will also be able to make sure the passes are only used for valid transit to and from school, Atiya explains. Since the ID will be programmed with the student's address it will not allow travel to other areas of the city.
The system is poised to move beyond smart cards and ID cards as well. ScholarChip is rolling out its near field communication (NFC) mobile phone application which will allow riders on the SEPTA system to use either their ScholarChip smart card or their NFC phone as a token. And the ScholarChip issuance system will be fully cloud based, potentially allowing community groups and other similar agencies to use smart cards on the public transport system.
SEPTA has said it expects to undertake its new payment technologies program in three phases: first a design and testing phase, followed by two implementation phases. SEPTA expects the modernized fare system to be complete within three years.
---
Who is ScholarChip?
New York-based ScholarChip was established in 2000 to provide Web-centric, cloud-based solutions for the education market. The company provides smart card IDs to the K-12 market and payment gateway and electronic signature solutions for Higher Education. Its K-12 smart card solution has grown into a security and multi-point attendance platform used by urban, suburban and rural school districts.
---
DC schools roll out smart IDs for transit
In 2011 Washington DC's Office of the Chief Technology Officer partnered with the District Department of Transportation to add the school transit subsidy program to the DC One Card. Rob Mancini, chief technology officer for the District of Columbia, says the transportation department approached his office about adding this program, which is a four-way partnership between the CTO, transportation, the school system and the Metro.
It will take 18 months to roll out, and will cover the approximately 14,000 students who participate in the Transit Subsidy Program.
The DC One Card replaces the current paper voucher system. "[It gives us the] ability to control eligibility and use of the program in a more efficient way," says Aaron Overman, acting associate director of the Progressive Transportation Services Administration at the transportation department.
With the analog system, there was no way to trace use of the program back to the student, says Overman. This made it possible for fraudulent use student transit subsidies. "Anecdotally we hear all the time about students graduating high school and taking a younger student's card," says Overman.
If students lost their transit pass, they also had to pay to replace it. Tying the subsidy to the card enables electronic trace back. If a card is lost or stolen, it can be turned off and the subsidy can be prorated onto a new card. "It lessens the burden of lost or stolen cards," says Overman.
Parents pay $30 per month per student for the transit subsidy. An adult fare is five to six times that much, says Overman.
Following a successful pilot in April 2011, the program expanded to all public high schools and middle schools at the end of 2011, with a mandate that all eligible students use a DC One Card for transit subsidies beginning on Jan. 1, 2012.
The next step is to add the city's 60 to 70 charter schools to the program. Overman says the office will implement a three-school pilot early in 2012.
Adding the charter schools provides challenges in that each charter school is run individually so the department of transportation will have to bring these smaller, individually run systems into one larger system.
Still they feel the effort is worthwhile, projecting an ultimate savings of 20% via the electronic transit subsidy program.