The 4th Annual CR80News survey suggests steady growth, more dominance among major players
By Chris Corum, Executive Editor
In early 2003 CR80News editors conducted the first-ever survey of campus card programs with financial institution partnerships. The goal of that initial study was to determine the extent to which colleges and universities were, via their official student ID card, offering banking services from accredited financial institutions.
That initial study identified 47 partnerships among our survey participants and has served as a benchmark enabling an annual review of changes and a means to extrapolate basic trends. For our 2006 study, we asked representatives of the financial institutions known to our editors as active providers of these services to update their client lists with both new and expired partnerships. The seven participating financial institutions reported 115 campus partnerships.
So what have we learned over the years? We have been adding banking partnerships at a fairly steady rate of about 17 per year since the study began four years ago. Interestingly, however, the quantity has not climbed as the base of actual partnerships has grown. Thus the percentage growth rate has actually declined over the years of study.
What can we conclude from this? Perhaps it suggests that there is little correlation between one partnership and addition of the next. Or is it possible that the growth is based on some fixed resource such as the banks' capability to spread the word and convince campuses to go from concept, through RFP, to implementation?
One general note … maturation among early and mid-stage campus adopters should be expected as many campuses have three or more years of partnership under their belts. Also there is a new range of alternative products (e.g. Higher One's Refund cards, PNC Bank's University Light program) gaining momentum.
2006 findings …
Once again in 2006, U.S. Bank tops the list with a total of 28 campus partnerships, nearly 25% of the total partnerships from the survey. Higher One and Wells Fargo are neck-and-neck for the number two position with 23 and 22 partnerships respectively. These three institutions are certainly the dominant providers today, accounting for more than 63% of our list's partnerships.
But three other institutions have extremely strong positions in their respective footprints. Wachovia serves 15 partners in the Southeast; TCF serves 10 campuses in the Great Lakes region; and PNC Bank serves 11 clients predominately in Pennsylvania.
Last year only one partnership ended among our survey participants. This astonishing feat was topped this year as not a single partnership ended between the two survey dates. Certainly this is in no small part a testament to the benefits campuses receive from these relationships. It is also likely, however, suggestive of the difficulties that can arise in changing banking partners. The lesson perhaps is leap … but look carefully at your available landing spots.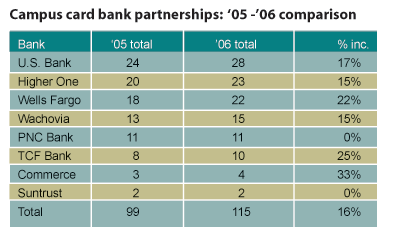 The importance of the footprint
A bank's footprint – the states that it serves via its network of branches – is key to understanding these survey results … and it is crucial to understanding your campus card program's potential suitors when it comes to banking partners. Banks entertain campus card partnerships within their footprint. So your location determines the banks eligible to respond to your RFP.
Here's an example of how this works. With certain exceptions, the West Coast is Wells Fargo territory when it comes to banking partnerships; the Southeast is dominated by Wachovia; and the Midwest is U.S. Bank country – though it faces stiff competition in states where TCF Bank's footprint overlaps (e.g. Minnesota, Illinois, Indiana).
Higher One is the exception to this rule. Because Higher One does not operate or rely on a branch network, they will offer their campus card bank partner services in any state. If you want a branch you won't get it from Higher One, but you can get a portfolio of card-based and online services that has landed the company in the number two spot on our list of total partnerships.
Following this investigation of footprints further, we examined the states served by our survey respondents. Nearly 50% of all states have three surveyed banks eligible to offer partnerships. Roughly 20% have two potential partners and just less than 20% fall into the footprint of just one survey participant. Only a very small number of states (seven) find four or five banks eligible to compete for their business.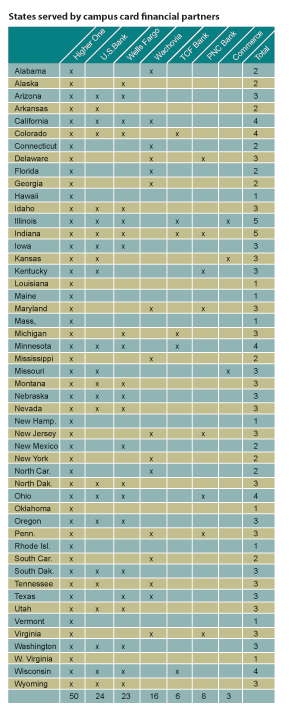 Changes in the services offered to campuses
An important trend that has emerged in recent years is the diversification of the partnership options offered to campuses. Several of our survey participants stressed that they were partnering with campuses in ways that did not include a position on the official campus card. These relationships did not fit our survey's strict definition of campus card partnerships and thus were not included in the results. Nevertheless, these different partnerships suggest an important trend.
Higher One has 27 college and universities using its refund services outside of the campus card. At these institutions, a separate account and debit card is issued to participating students. Financial aid and other payments from the campus are deposited directly to this account saving money for the institution and improving convenience for the cardholder.
PNC Bank has four campuses partnering through its University Banking Light program. This offering has no link to the campus ID card but does enable a campus to provide a financial account solution tailored to the needs of students.
U.S. Bank has an on campus branch at five institutions at which they do not have an accompanying campus card partnership.
What lies ahead?
More partnership announcements should be coming soon as several survey participants indicated that they were currently negotiating final contracts with new clients.
It is important to remember that our survey participants include the active seekers of campus card partnerships known to our editors at the time of data collection. There are numerous campuses served by a local financial partner and there are certain to be other regional banks providing services to one or more campuses that were not identified for the study. Additionally, just because a financial institution has not partnered with a campus in the past does not mean that it will not find interest in your campus' RFP.
If you are seeking a banking partner, begin by understanding which banks from this active partner list are eligible to respond to your bid. Investigate their typical offering. Talk to other banks that are active in your community to gauge their interest. Remember, your best partner may not be an active provider from our survey. Most importantly, know what you want from your partnership and understand what banks are able and willing to provide it. This is the key to getting your program the partner it deserves.
Click here to view a complete list of campuses and their banking partners from the 2006 survey.