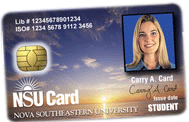 By Andy Williams, Contributing Editor, AVISIAN Publishing
Shackled by an outdated card program and its proprietary operating system, Nova Southeastern University (NSU) went looking for something bigger and better and, more importantly, a campus card that would enable the university to keep pace with technology.
With its 27,000 students, NSU, located in Fort Lauderdale, Florida, is the largest independent higher education institution in the southeast and the seventh largest in the U.S. Founded in 1964, the not-for-profit university has branch campuses in Miami and Dania Beach, with the Dania location housing the Oceanographic Institute, and what NSU calls "student educational centers" in Tampa, Orlando, Miami, West Palm Beach, and Jacksonville, Florida, Las Vegas, Nevada, the Bahamas, Jamaica, and Puerto Rico.
John K. Brueck, Jr., Nova's director of Campus Card Services, said it was a "pretty elementary decision" to seek a new card program. "We were handcuffed with our current program. We can't develop new applications or get new equipment because it's a proprietary operating system, and it was getting more and more expensive to operate."
Nova's current campus card would not have appeared to "outdated" to many observers. It was a smart card with a 1k and 4k chip as well as proximity capability and a magnetic stripe. The system offers physical access to buildings and parking lots on campus, acts as a library card, and functions for a host of payments. "Through the smart chip in a contact environment, users can pay at POS stations, use copiers, pay for print, laundry and vending," said Mr. Brueck.

Replacing the existing smart card system in pursuit of better functionality
But administrators felt constrained by the current system as they found it impossible to add functionality. In addition, they have several different cards –five in all – that are utilized for different functions. That was another reason the college needed change. Administrators wanted a single card – a true one card system.
He said the university "wanted to offer our students superior service. We needed to have a partner that could develop new applications and new opportunities, something that would ease the student experience and positively affect the way students move about campus. It made sense, then, to move to a larger card system that would offer more functionality."
The college tasked Siemens Corporation, to start exploring what was available and what would work. "Siemens was already established providing infrastructure on our campus," said Mr. Brueck. That included the college's security system, including access control and cameras.
"We looked at various vendors based on where we wanted to go with our card program. Siemens identified SmartCentric Technologies International Ltd. as the best fit and reached agreement with the company to provide the smart card system."
SmartCentric Technologies, based in Ireland, has successfully installed campus card programs, based on its SmartCity system, at about 15 universities, mostly in the U.S., including schools in Orlando and Tallahassee, Florida. SmartCity is a multi-application smart card-based system that includes stored value, loyalty, gift cards, logical access, physical access, biometrics, car parking and ticketing.
"Nova wanted a system that would give them the flexibility to grow their programs," said SmartCentric's CEO, Kieran Timmins. "They're not just buying for today, but tomorrow."
The partners – Siemens and SmartCentric – also had to take into consideration the university's "complex requirements," said Mr. Timmins. "Nova has very diverse campuses … the main one in Fort Lauderdale, one in the Carribean, etc."
We are working very closely with Siemens," said Mr. Timmins. "Siemens is on the ground doing project management, requirements analysis, and working with Nova to make sure the networks … the technical architecture is in place."

Big plans for the new system
Every student – whether at the main campus, in the Bahamas, or in Orlando – receives a student ID card from NSU. However, it depends on what's available at the specific campus as to what else the card can be used for, said Mr. Brueck.
"The ultimate goal is to take the applications on our south Florida campus, such as pay for print, and grow the applications, where prudent, to extend them to our other campuses," Mr. Brueck added. "There might not be a need for a meal plan at Las Vegas but you might have web revalue. One of the other things is to have the ability to grow our program outside North America, to be able to do business in different currencies at the cash value stations. For example, the cash revalue stations in Jamaica would accept Jamaican dollars. If we open a campus in Europe, it would accept euros."
This parallels with what Mr. Timmins says is "the concept behind SmartCity … not every card holder has to have the same profile or even the same size card. In the old days of smart cards, everyone had the same card. Now we can select very precisely who will need what."
The SmartCity One Card., utilizes both contact and contactless technologies, Nova's phase one applications will include student, faculty, and staff ID cards; cashless purchases at POS, vending machines, pay for print, meal plans; a web-based card revalue and card holder portal; and access control. The access control portion will incorporate both physical and logical applications and will use biometrics where needed.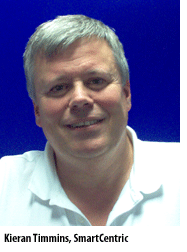 The biometric portions, said Mr. Timmins, will be match-on-card. "When you do biometric authentication, you're authenticating against the card, not a database."
Mr. Timmins said the new system is planned for early 2007. "There is a significant amount of work that needs to be done, not the least of which is support for the Siemens Card operating system." Siemens will be supplying the chip and the card, he added, "with SmartCentric supplying the software."
The card will be a combi-card with prox and an embedded 64 k contact chip from Siemens on the card. "Biometrics (for physical access) can go on either the contact or contactless portion. The contactless portion of the card will support prox technology so the existing investment in prox readers will be maintained," he added. "We'll be taking out existing readers on laundry and vending and replacing with our own readers. In the initial phase we're aiming to replace what they have today: vending, laundry, POS, pay for print.

Moving to the future
Web-based revalue will allow cardholders to look at the value on the card and where it was used. There are also plans for logical access, but I'm not sure which phase this will fit into. Next will be e-ticketing and off-campus use. Digital certificates (the ability to digitally sign documents) is also on the list of possibilities."
"We want to go with single sign on and digital certificates, but whether we move in that direction or not, we're currently evaluating," added Mr. Brueck. The card-based digital certificate program would primarily be used at the university's health care center.
As to moving off campus, it will come, but not right away. "We know we're going off campus," said Mr. Brueck. "There's a lot of interest from retail food establishments with what we're doing and students want to be able to pay for services off campus. Web revalue will help with that functionality." That's one of the reasons the college is planning to place up to four purses on the card.
In the e-ticketing phase, NSU cardholders will be able to pay for event tickets over the Internet and load the ticket to their NSU card, making entry to NSU's University Center (opening in August) easier on the patron, said Mr. Timmins.
The initial rollout will be 30,000 cards. "We're going through workshops with them at the moment to determine what will be in phases 1, 2, 3, etc."
"We're looking at doing what's right," said Mr. Brueck. "We're taking baby steps. We're being methodical and not growing beyond our britches too quickly. We feel very comfortable with Siemens and SmartCentric. We look at this as a partnership but also as a family because we're going to be working very closely with them."
---
Additional resources:
To visit the NSU card program on the web, click here.
To visit SmartCentric on the web, click here.