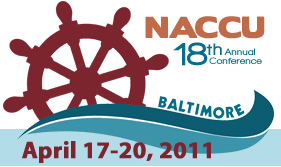 Present at the National Association of Campus Card Users (NACCU) 18th Annual Conference, April 17 – 20, 2011 in Baltimore, Maryland. It is the most important event in the campus card industry and its quality relies on the presentations made by industry professionals like you.
The deadline for proposals from institutional members and corporate members is Monday, October 4, 2010. The proposal should include the session title, description and learning outcomes. Educational Sessions are 60 minutes in length and should include time for questions.
If you are interested in presenting, please visit http://www.naccu.org/2011/callforpresenters.htm for more information or to submit a proposal.