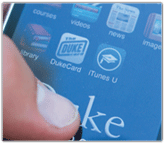 iPhone app, off-campus payments take DukeCard to the streets
Duke University students have been using mobile devices to check their DukeCard account balances for years, but a newly launched iPhone application simplifies access to the card program's site and makes it easier to perform a range of functions, says Matthew Drummond, director of the campus card office at Duke.
Previously, the DukeCard Office had a mobile-friendly version of its web site that could be viewed on smart phone browsers, but the functionality was limited.
Duke saw what Stanford University had done with its iPhone app and decided to do the same, Drummond says. In October 2008 Stanford rolled out its app featuring the university's course catalog, calendar, real-time animation on the campus map and live scores for Stanford basketball games. A group of Stanford students had developed the application and founded Terriblyclever Design, which was later acquired by Blackboard.
Duke worked with Blackboard to create its app, Drummond says. It features a course catalog, directory, calendar, news and videos. There is also a spot for the DukeCard functionality.
"We wanted to provide a campus card section of that Duke mobile application," he says. "Students can login with their university net ID and they can view their balance, view their last seven days of transactions and add funds to their account without ever getting out of line."
Students can also use the map feature to find the nearest dining hall, Drummond says, or they can find the closest print center and see how busy it is or check the status of their print job.
It also has an interactive map that provides directions and public transportation routes, Drummond says. The app was recently updated to include information on when a bus would be arriving at a specific stop.
Drummond says they do not currently plan to add Android or Blackberry support, but students can still access the DukeCard office through the mobile Web site on those devices.
Taking payments with the mobile phone
Another new DukeCard feature eases the ordering and payment processes for off-campus food delivery.
Previously students would call in food orders where they would be entered into a PC and a four-part receipt generated. Upon delivery the student would sign the receipts–one copy would go to them, one with the driver and another to the school's finance office, explains Drummond. Each week the restaurant would submit its receipts and they were manually checked against those submitted to the finance office, a time consuming process.
The system has been automated so that delivery drivers can electronically confirm payments via a mobile phone, Drummond says. Instead of having to call orders in, students can now email orders.
When the driver shows up with the delivery the student enters his ID number and PIN on the mobile device, Drummond says. The entire process is electronic and no paper is needed. Students can also tip with the new system, something they were not able to do in the past.
Airport shuttle services are also using the mobile devices so students can use their DukeCard accounts when heading home, Drummond says. The entire transaction, from entering the ID number, PIN and receiving verification, takes 15 to 30 seconds.
With this strong foundation of phone-based applications and services already in place, the DukeCard seems to have a very mobile future.