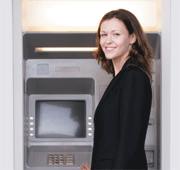 A word to describe the state of campus banking relationships in 2010 is stagnation. According to CR80News' latest survey of financial institutions, the number of campus card and bank partnerships remained virtually unchanged from 2009 to 2010.
Overall growth in 2010 was less than five percent, by far the smallest increase since 2003 when CR80News first surveyed the financial institutions that actively work with higher education to offer banking services as a part of the campus card program (note: only relationships that integrate the official university-issued ID card as a banking card are considered for the survey).
From that first survey, five institutions have been active providers of these services via campus cards. PNC Bank, TCF Bank, U.S. Bank, Wachovia and Wells Fargo account for more than 80% of the partnerships identified. The acquisition of Wachovia by Wells Fargo completed last year, reducing the "Big 5" to the "Big 4." It also firmly cemented U.S. Bank and Wells Fargo as the top two players in the campus card/banking market with nearly 65% of relationships in their control.
Bank partnerships: 2009 -2010 comparison
| Bank | '09 total | '10 total | % change |
| --- | --- | --- | --- |
| Commerce | 4 | 3 | -25% |
| Heartland/CNB | 17 | 22 | 29% |
| PNC Bank | 15 | 17 | 13% |
| SunTrust | 3 | 3 | 0% |
| TCF Bank | 8 | 6 | -25% |
| U.S. Bank | 46 | 47 | 2% |
| Wells Fargo | 42 | 43 | 2% |
| Total | 135 | 141 | 4% |
But despite the Wells Fargo and Wachovia combo, U.S. Bank managed to hold onto a slim lead in total number of partnerships.
The tandem of Heartland Campus Solutions and Central National Bank & Trust (CNB) almost doubled the number of relationships jumping 89% from nine to 17 in 2009. In 2010, it maintained healthy growth, adding five more client institutions for a 29% increase.

Both U.S. Bank and Wells Fargo added one additional number to their total. Wells Fargo kept all its campus clients from the 2009 survey while adding just one, while U.S. Bank lost five prior clients but added six to its roster.
The aggregate number of schools served among the seven banks surveyed jumped just seven or 5% in 2010. That compares to a year over year increases of nearly 20% in both 2008 and 2009.
This is the second year that TCF's numbers dropped. In 2009, the bank fell from 11 to eight campus clients, and in 2010 the bank lost another two clients leaving it with six. One of the clients, Northern Michigan University, left TCF for a partnership with Wells Fargo.
Commerce Bank lost one school, falling from four to three when Wichita State opted to discontinue the banking option on its campus card.
PNC's acquisition and integration of National City Bank in 2008 hasn't yet been felt but the purchase did enable "us to nearly double our retail presence across 15 states and create new opportunities to grow university banking at PNC," says Nickolas Certo, PNC's senior vice president, university banking.
Wells Fargo's banking footprint still covers 39 states while U.S. Bank serves campus card clients in 25 states, one more with the addition of New Mexico. TCF, PNC, Commerce and SunTrust have far smaller footprints ranging from five to eight states. The relevance is that banks can only offer campus card partnerships in those states in which they have a retail bank presence.
Was it the economy?
The economy might have had an effect on the slow growth rate in 2010, but new bank regulations likely had an even greater impact.
Don Becker, Commerce Bank assistant vice president, student banking & university cards, believes "regulatory threats are a much greater concern when exploring these partnerships. I think regulatory changes are the greatest threat to on-campus banking partnerships," he adds.
The impact of these new regulations "is likely to be entirely negative and many banks' debit card income could be eliminated," says Becker.
Whitney Bright, vice president, general manager, U.S. Bank, agrees that regulatory reform is affecting campus/bank relationships. "Like other banks, we are in the process of assessing the impact of recent regulatory shifts. We believe that there are likely to be changes in how banks approach campus banking partnerships," she says.
Fred Emery, vice president and general manager, Heartland Campus Solutions, believes that because of the publicity about credit card reform and the fees some banks charge, "this concern has caused some campuses to move slower before adding a banking relationship to their card program."
One bank sees the new regulations as an opportunity. "It has been a difficult environment for several years, but now schools are facing an almost unprecedented economic challenge," says PNC's Certo. "In many ways, this has made more schools than ever open to introducing a university banking program on their campus."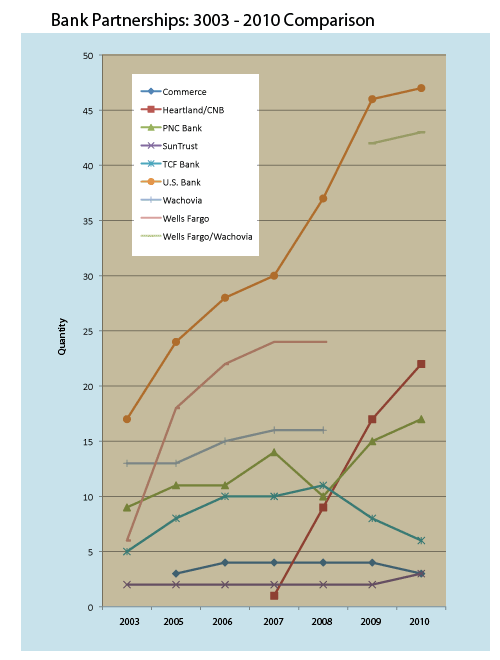 Campuses with bank partnerships (2010)
New campuses in 2010 italicized.
Commerce (3)
Fort Hays State University, KS
Pittsburg State University, KS
The University of Kansas, KS
Heartland/CNB (22)
Bastyr University, WA
Clearwater Christian College, FL
College of the Holy Cross, MA
Colorado Christian University, CO
Concordia University of Wisconsin, WI
Harrisburg University, PA
Hillsborough Community College, FL
Florida Coastal School of Law, FL
John Carroll University, OH
Lebanon Valley College, PA
Manhattan College, NY
Mississippi Delta Community College, MS
Mount Holyoke College, MA
North Central Missouri College, MO
Northwest Florida State College, FL
Palm Beach Atlantic University, FL
Pittsburgh Technical Institute, PA
Reinhardt College, GA
Slippery Rock University, PA
Tompkins Cortland Community College, NY
University of Massachusetts Lowell, MA
Waukesha County Technical College, WI
PNC Bank (17)
Allegheny College, PA
Arcadia University, PA
Carnegie Mellon University, PA
DePaul University, IL
Duquesne University, PA
Edinboro University of Pennsylvania, PA
Grove City College, PA
Indiana University of Pennsylvania, PA
Marymount University, VA
Mercyhurst College, PA
Mount St. Mary's University, MD
Penn State University–18 campuses, PA
St. Joseph's University, PA
University of Cincinnati, OH
University of Delaware, DE
University of Pennsylvania, PA
University of Pittsburgh, PA
SunTrust (3)
Florida State University, FL
Mary Baldwin College, VA
University of Central Florida, FL
TCF Bank (6)
Eastern Michigan University, MI
Northern Illinois University, IL
St. Cloud State University, MN
University of Illinois, IL
University of Michigan, MI
University of Minnesota, MN
U.S. Bank (47)
Austin Peay State University, TN
Benedictine University, IL
California State University–Fullerton, CA
California State University–San Bernardino, CA
Capital University, OH
Carroll University, WI
Case Western Reserve University, OH
Central Washington University, WA
College of Mt. St. Joseph, OH
Colorado State University–Pueblo, CO
Concordia University Chicago, IL
Creighton University, NE
Drury University, MO
Gonzaga University, WA
Henderson State University, AR
Iowa State University, IA
John Carroll University, OH
Johnson County Community College, KS
Kirkwood Community College, IA
Metropolitan State College of Denver, CO
Milwaukee Area Technical College, WI
Minnesota State University–Moorhead, MN
Missouri Baptist University, MO
Missouri Western State University, MO
Morehead State University, KY
North Dakota State University, ND
Northern Kentucky University, KY
Northwest Missouri State University, MO
Northwestern University, WI
Pacific University, OR
Saint Louis University, MO
San Diego State University, CA
San Jose State University, CA
Seattle University, WA
Southwest Minnesota State University, MN
St. Cloud Technical College, MN
Thomas More College, KY
Truman State University, MO
University of California Davis, CA
University of Central Missouri, MO
University of San Diego, CA
University of Wisconsin–Eau Claire, WI
University of Wisconsin–Stevens Point, WI
Washington State University, WA
Waukesha County Technical College, WI
Wisconsin Lutheran College, WI
Xavier University, OH
Wells Fargo (43)
Baylor University TX
California State University–East Bay, CA
California State University–Los Angeles, CA
California State University–Sacramento, CA
California State University–San Francisco, CA
California State University–Stanislaus, CA
Clark Atlanta University, GA
El Paso Community College, TX
Elon University, NC
Fayetteville State University, NC
Florida A&M University, FL
Front Range Community College, CO
Georgia Perimeter College, GA
Guilford College, NC
Mercer University, GA
Mesa State College, CO
Midwestern State University, TX
Minnesota State University–Mankato, MN
New Mexico State University, NM
North Carolina State University, NC
North Carolina A&T State University, NC
North Carolina Central University, NC
Northern Michigan University, MI
Riverside Community College District, CA
Texas A&M University–College Station, TX
Texas A&M University–Corpus Christie, TX
Texas State University–San Marcos, TX
University of Arizona, AZ
University of Florida, FL
University of Nebraska–Kearney, NE
University of Nebraska–Lincoln, NE
University of Nevada–Las Vegas, NV
University of Nevada–Reno, NV
University of N.C.–Chapel Hill, NC
University of N.C.–Greensboro, NC
University of North Texas, TX
University of Northern Colorado, CO
University of Texas–Arlington, TX
University of Texas–Brownsville, TX
University of Texas–Dallas, TX
University of Texas–El Paso, TX
Villanova University, VA
Virginia Commonwealth University, TX