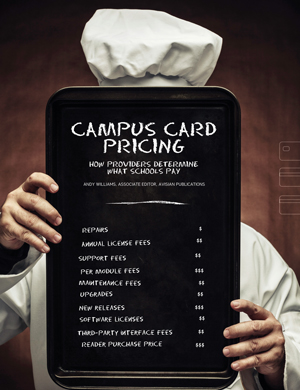 How providers determine what schools pay
From cloud-based services to software delivered on-site, colleges and universities have a myriad of options for handling their card programs.
Understanding the ways in which the different vendors determine their fees is essential to making informed buying decisions.
While the systems from campus card providers serve similar needs and offer similar services, the manner in which they charge for these services can be very different. It's not a one size fits all pricing structure for any of them. Most frequently pricing depends on size of student population and what functions the school opts to deploy.
"What card providers are offering is basically a consulting service," says Fred Emery, vice president and general manager at Heartland Campus Solutions. "We're recommending services to meet their needs and the needs of their students. Our goal is to give them the flexibility to create the best solution at a competitive price point. It becomes a partner approach between vendor and campus."
Cloud-based CardSmith's subscription fee includes an all you can eat approach for transaction processing, applications and customer support, says Brian Farley, CardSmith's vice president of business development. "There are no separate fees for different tiers. You get what you need."
Enhancements and upgrades are included in CardSmith's subscription fee. "We're about to roll out a mobile application service. We don't say you have to pay more to access that application, you just get it," says Farley. "You buy that with your subscription. You never have to upgrade your version of the software, and you never have a gun to your head that says to upgrade or else."
Heartland charges on a per module basis, says Emery. "This allows campuses to choose the modules they utilize and then expand and add to the system as they see fit."
For example, you could start out with the company's dining module and financial services module and later add access control. "It's all done in a modular fashion that provides flexibility and keeps costs down," says Emery. This, he adds, allows the client to budget accordingly.
Little has changed with CBORD's licensing policies over the years. "From the very beginning in 1975, we licensed software with an initial licensing fee and then an on-going licensing fee that covered software versions as well as maintenance and support," says Read Winkelman, CBORD's vice president of sales.
CBORD adjusts its software prices as the Consumer Price Index changes, says Winkelman. "In some versions–ones with smaller upgrades, like from 3.2 to 3.3, we have modest fee increases. That's not a major version," says Winkelman. "But if you're going from 3 to 4 that's generally a major upgrade that would include significant new features added to the product."
CBORD's pricing model also varies according to the product. "In our quotes the customer can see the investment needed year one and can see what the annual fees, if any, will be," adds Winkelman. "For hardware, we have a price and an annual maintenance fee."
Additional fees may apply to modules that are added on over time. "And, if hardware peripherals, or third-party software will be needed as part of the system, fees for these applications/modules may be applicable as well," says Winkelman. "For CBORD, the key is ensuring the customer can see this price information ahead of time."
Allison Duquette, vice president of global sales and marketing for Blackboard Transact, says the company's annual license fee includes support and maintenance. "That also includes ongoing research and development for one all-inclusive price," she adds.
The license fee also covers new releases of the product, says Duquette. "If we move to an entirely new platform the annual license fee will simply transfer," she adds.
When first approaching a campus, Blackboard wants to know the number of students and what the school wants to accomplish with the card system. From there Blackboard will let them know the types of services it can offer and at what cost, says Duquette.
Size matters
CardSmith's subscription fee is based on a school's population. "We establish that (price) up front," says Farley, "and the primary driver is how many people are at the school."
Blackboard has eight pricing tiers covering schools with less than 2,000 students to schools with more than 150,000 students. The annual fee is based on the number of students to be covered by the service, says Duquette.
Heartland also bases its module cost on the number of cardholders. "Software modules are licensed in year one and year two we charge maintenance/licensing on that module at 15% a year," he explains. This annual maintenance/license fee includes upgrades to software, 24/7 support and access to user groups.
"We charge a lower price for smaller institutions. The software is designed to handle any size population. There are a couple ways we can scale it, based on cardholders and then scale it down for smaller institutions," says Winkelman.
Multi-year licenses
Blackboard offers its clients the opportunity to sign for up to five years making it easy for the campus to determine expenditures over time, Duquette adds. "We try to be very transparent when working with our customers," she says. "We're showing them the five-year run rate. If they want to lock in for five years we're delighted to do that."
CardSmith also offers up to a five-year contract for its clients. "It may not be the same price for all five years but they would know what their price is going to be," says Farley.
Menu of choices
The common denominator for all of CardSmith's programs is transaction management, beyond that, it's À la carte. "Customers can just choose the transaction service and a lot of them do," adds Farley. That includes the core necessities for a campus card program, including dining, bookstore, vending and copy machines.
The only other programs CardSmith sells separately are cardholder care and card program marketing services, explains Jay Summerall, CardSmith's president. "For pricing purposes, operations management and off-campus merchant program management are included with our core transaction management service," he adds
CardSmith also offers a package deal covering all of the modules in what it calls its "total management solution."
CBORD's annual fee is based on the products the school licenses. "Some customers are doing just door access, some just meal plans, others are doing both," says Winkelman. "As there are so many applications, this works better for us because it allows customers to license what they need when they need it."
The fee also covers support. "Our thinking is that the customer should have a single point of service experience. So, annual fees are aimed at achieving this goal. In addition to 24/7 help desk support, annual license fees also cover versions, patches and some upgrades," says Winkelman.
With Heartland, modules can be chosen À la carte with discounts based on the number of modules a university orders, says Emery. Its four base modules include the core functions most clients utilize: dining/meal plan; building access; financial (vending and debit); and recreation and events (equipment rental and event management). Additional modules such as parking and Web-based account management are also available, says Emery.
Heartland went with the module model in order to give schools choices. "If we put them all in one software piece you would have clients purchasing things they don't need," Emery says.
At its simplest, Blackboard has two modules, the basic module covers commerce, retail capability and account management. "The basic module includes dining, vending, laundry anything that's using Blackboard readers," says Duquette.
Blackboard's security module covers building access. Campuses have a choice of what technology they want to deploy.
"Typically a customer will start with exterior doors in a few buildings, then they may work their way up to interior doors," Duquette says.
Understanding the total cost of ownership
Across the vendor landscape, there are a variety of options for systems and a variety of pricing models. The key for campus decision makers is to gain a full, thorough understanding of the upfront costs to obtain and deploy a program … as well as the ongoing costs to maintain and grow it.
Only when all the various components–purchase prices, licenses and ongoing fees–are understood can a campus make an informed decision on a system's total cost of ownership.