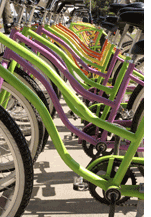 Bike sharing programs at university campuses aren't exactly new. And the one that students at MIT in Boston have been operating for two years isn't high tech despite its university being synonymous with cutting edge developments.
But the goal of these students is to take the program high tech, eventually linking it to MIT's card program. While the program is called TechBikes, a more accurate term, according to one of its co-founders, Danny Shen, is "a no-tech communal bike" program … at least for now.
"It's a work in progress," added Atif Quadir, one of the program's other co-founders who was a graduate student and an adviser to freshmen in 2003 when the subject of a bike share program came up.
The bike share program brought Mr. Shen, Mr. Quadir, and other students together in 2003 to form a club operated solely by MIT students.
The birth of TechBikes …
"The inspiration was the larger issue of conservation of resources," said Mr. Quadir. "But the main reason, was that while there are a lot of forms of transportation around MIT – shuttles, the MTA, etc. – there was a gap in transportation services for on-demand and off-campus travel. We have a pretty long campus, about 1.5 to 2 miles, so we felt there was a specific transportation niche that wasn't being filled."
A long-term goal is to attach the bike program to the MIT ID card – which is used, like many campus cards, to check out library books and to gain access to dorms and offices. That could encourage greater use of the program, said Mr. Quadir.
Currently, a student goes to the front desk of MIT's east campus dorm and a staffer signs the student in and loans him a bike. The student pays a nominal deposit that is refundable when the bike is returned. Students must return the bike in a day.
The bike share project is based on the Zip Car program, a national franchise that rents cars by the hour. But the comparison stops there, because Zip Car costs money and it is the goal of MIT's bike share program to keep it free. Of course that means the club has to seek out sponsors or other grant money.
"We're applying to get some money from the dorm itself; to buy maintenance materials; we're also applying to the Deans for money and we've submitted an application to the Undergraduate Association, a group of students," said Mr. Shen, an MIT senior. "We're seeing if we can get some help from MIT's transportation department, which covers shuttle buses."
Said Mr. Shen: "The next step is to introduce some elements of technology and we're working right now to set up a hub at the athletic center. We have about 20 users right now; we have two to three bikes depending on repairs."
As to student response to the program, Mr. Shen notes, "we have had some pretty positive responses. It costs them nothing to use the bike. They can email to determine availability. They can rent it for a day."
The bikes won't win any beauty contests. "We didn't want them to be too shiny," said Mr. Shen, "otherwise they'll get stolen. He estimates it will take 100 bikes to cover the entire MIT campus. "We figure we'll need eight to ten hubs, with each hub equipped with four to ten bikes."
Next steps in the bike share program …
If the first version, the one in use now, is the "no-tech version," the next iteration could be euphemistically referred to as the "some-tech" version, said Mr. Shen. This is what he's working on now and involves a computer system in which people are registered. Students will be able to check availability and the club can track rental status and usage. "With that we can get card swipes working with a computer-based system," said Mr. Shen.
The next version, what Mr. Shen calls the "full-on system," will be an automated bike checkout station. "Giving you an idea of when that will happen is tough. I know I won't be around, but we have juniors coming up we can pass the torch down to," said Mr. Shen.
As to integrating the system with the MIT ID card: "We've talked to the card office, generally about what is needed to get their system integrated. And while we know the card office can give us a system that authenticates who the user is, we don't know if it will tell us if the user is okay and we don't know whether the registered users end up on our system or theirs."
He said another possibility, if their system isn't ideal, is "to set up our own card system. We could register people based on whatever card they have – credit card, MIT card, and issue our own cards."

The MIT card office weighs in …
Dan Michaud, MIT's campus card manager, said it would be possible to link TechBikes with the university's card system. "It depends on what they want to do. Right now we do the Zip Cars, which is handled through the parking office. We have a program where you can create a Zip Car account. Anybody who has an account can be given access to the garage and be able to rent one of the cars, but this is more of a function of our parking and transportation, and the Zip Car account is linked to the person's credit card."
Mr. Michaud said there are actually two separate parts that the students should consider: "The financial transaction process and access control." As to the latter, "the easy way is to put the bike in a room with a card reader."
Another possibility is to attach a card reader, controlling a solenoid device, to the bike rack. Metal pins would go through the wheel "and if we can get a solenoid to retract those pins, then the system is doable. But you're creating something that isn't available now."
He said students should also be able to go to a web site and type in their id number to check the availability of the bike. The transaction could then be handled through MIT's TechCash system which debits the student's account."
Bottom line, according to Mr. Michaud: TechBikes is feasible. "It's all eminently doable. You just have to line up the right people."