Understanding who pays, who gets paid, and how to make sure your cardholders win
ATMs are a convenient and quick source for cash. But they also can be expensive if you're using an ATM that is not owned by your bank. For a college student on a budget ATM fees, even at $1 or $2 a pop, can add up. Understanding the various types of ATM fees, including foreign fees and surcharges, can help campus administrators select the best bank partner to serve their students via the campus card program.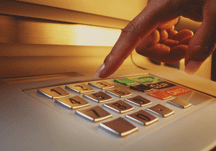 ATM fees explained …
ATM fees are usually levied when you attempt to use your bankcard at an ATM machine owned by another bank. Typically, your own bank will charge you a fee, called a "foreign fee," to cover the costs they are charged directly when you use an ATM owned by another financial institution. Additionally, the bank that owns the machine may charge a fee, known as a "surcharge fee," for using its ATM. In essence, when you don't choose the ATM carefully you may be paying two fees for a single transaction.
The first thing to consider are the parties involved in an ATM transaction: the cardholder's bank, the ATM network, and the ATM owner. Each of these parties incurs costs when a cardholder uses an ATM. It is only logical that each of these parties levies fees to cover their costs and make money.
When a cardholder uses an ATM that is owned by their bank, the transaction is called an "on us" transaction. No other bank or ATM owner is involved in the transaction so only the ATM network and the cardholder's bank are entitled to fees.
When a cardholder uses an ATM that is owned by another bank or private ATM owner, the transaction is called a "foreign" transaction. In such a case, all three parties incur costs and thus levy fees. The ATM owner has the costs associated with deploying and maintaining the machine, the network uses its infrastructure to route the transaction, and the cardholder's bank must approve and moderate it.
With "on us" transactions, the costs are most often absorbed by the cardholder's bank as a service to their customer. Foreign transactions, however, typically result in two separate fees to the cardholder.
First, a fee called a surcharge is levied at the time of the transaction. This fee is detailed on-screen at the ATM, usually taking a form such as, "the owner of this ATM charges a $1.50 fee for use of the device." The cardholder is asked to accept or decline the fee and, subsequently, the transaction. This fee is shared between the ATM owner and the network.
A foreign transaction also commonly results in a second fee assessed by the cardholder's bank. This fee appears in the monthly statement and is designed to cover the expenses that the cardholder's bank incurs during the transaction. This fee is set by the cardholder's bank though a portion of it is shared with the ATM owner.
For years there have been consumer complaints that ATM owners were, in essence, double-dipping by surcharging and sharing in the foreign fee collected by the cardholder's bank. There were pushes to ban surcharging brought from many levels (in fact, surcharging was not allowed in the early days of ATMs).
The reality, however, is that this it is the surcharge that has enabled ATM deployment to proceed to the extent it has occurred. Without surcharges, it would be difficult to make money deploying and operating the devices. The surcharge has changed this and created a major business in ATM operation. This has led to significant convenience–with an ATM on almost every corner. Consumers can avoid fees by using devices deployed by their bank, but they can also benefit from the convenience of ready access if they are willing to pay the additional fees.
Evaluating ATM networks for your campus card program
"Students love to use ATM machines, but they hate to pay fees," says Whitney Bright, vice president and general manager for U.S. Bank Campus Banking. She suggests that ATM availability and fee structures should be one of the issues a college examines when evaluating a potential bank partner. Not only should the college ask the bank if it will provide ATM machines on campus (that should be a given), but what kind of network does it have beyond the campus.
Will students be able to access ATM machines–without paying a fee–when they go home for the summer? "As you're evaluating a potential banking partner, you should look for one with a large ATM network," Ms. Bright advises colleges.
"When we partner with a school like Northwestern University, with students who come from all over the country, they want to be able to use their U.S. Bank account tied to their WildCard when they go back home, thus avoiding fees," she said.
But, it's not always that simple. The on-campus bank may not have branches or ATMs in all communities. That leaves the student with limited options: Open two accounts, one back home and one on campus, or sign up with a bank that has branches in both locations.
Or, choose door No. 3. Even though your on-campus bank may not have a branch back in your hometown, it could be a member of a network that specializes in offering surcharge-free ATMs.
Surcharge-free ATM networks
U.S. Bank chose that option last year when it purchased Genpass, owner of the MoneyPass Network (www.moneypass.com), a system of more than 7,000 surcharge-free ATMs. In addition, the student checking account at U.S. Bank waives the first four foreign ATM transactions per month giving students and option to use MoneyPass ATMs with zero fees across the country.
"This is a big advantage for students who want to use their account with no fees anywhere they travel in the country," said Ms. Bright.
The bank's membership in the Moneypass network adds another 7,000 ATMs that U.S. Bank customers can access, even if there isn't a U.S. Bank in their hometown. The bank also operates some 5,000 ATMs that its customers can already use fee-free.
MoneyPass isn't the only surcharge-free network, or even the largest. That honor goes to Allpoint (www.allpointnetwork.com), which offers some 32,000 ATMs. Another is NetBank (www.netbank.com/bankingcardsatm_free.htm) which has the nation's second largest bank-operated ATM network.
Alliance One (www.atmallianceone.org/AllianceOne) is a nationwide group of select-surcharge ATMs in 37 states, Puerto Rico and the District of Columbia. Alliance One is a nationwide cooperative group of credit unions, community banks and thrifts that have joined forces to let their cardholders access each others' ATMs without having to pay ATM surcharge fees.
Student-friendly ATM fees should be a part of a sound bank partnership
"If you're considering a banking partnership with your campus ID, look at the many different things that can make a bank partnership successful with the university long term," Ms. Bright advises colleges. A surcharge-free ATM network can go a long way towards keeping your students happy, while saving them money.