What began as an idea among several college students who grew tired of standing in food lines at campus eateries, has, four years later, expanded into an online food ordering system operational at several colleges. It was the brainchild of some Cornell University students who thought it might be possible to bring food ordering online.
It was, and is, and Webfood is the result. Last year, The CBORD Group, Inc. in Ithaca, NY, bought Webfood and in the process, also brought along several of the company's creators.
Peter Krebs, now senior systems developer for the Webfood Team at CBORD, recalls the concept's creation.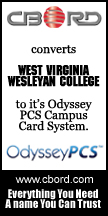 "We were students at Cornell, myself and partners and in 2000 we kept running into lines at the Cornell campus eateries, particularly at peak times. We wondered if there was a concept by which we could bring food ordering and production online," he said. "We approached Cornell's then dining director, Nadeem Siddiqui. He challenged us to come up with a product, so we developed one."
While Mr. Krebs' major is in structural engineering, "I've always dabbled in computers," he said.
"After three or four months we took it back to the dining director who helped refine the product. At that point, he told us it was something Cornell was interested in, but he needed us to become a company. In May 2000, we incorporated and signed a contract with Cornell that December. We continued development until we had something that we knew would work."
That development process took some 15 months and it wasn't until March 2002 that Webfood began at Cornell with a small group of students and one eatery, Bear Necessities.
"Once Cornell was satisfied we could serve those students," added Mr. Krebs, "we expanded that semester until we were up to 850 users. We're now up to 4,300 users and we've handled 48,000 orders since March 2002."
Enter The CBORD Group, a provider of campus card, cashless, and foodservice management systems for the college and university, corporate, and healthcare markets.
Bruce Lane, CBORD vice president and one of its owners, said he ran across Webfood last year "on my way home when I stopped by Cornell to grab some food and heard a couple students talking about one kid getting his order really fast by ordering online. None of us like to wait in line; students in particular are cranky about waiting in line."
Last fall CBORD acquired Webfood. Besides the Bear Necessities Café at Cornell, students at State University of New York (SUNY) at Cortland can now order their food online, with Trinity University in San Antonio, Tex., Penn College of Technology, and New Hanover Regional Medical Center in North Carolina to follow this fall.
"By bringing the Webfood Online Ordering Service under the CBORD product umbrella, CBORD is able to offer existing and potential clients an even greater convenience for their dining customers," said Mr. Lane. "Webfood results show reduced waiting times and improved customer satisfaction, thus improving overall throughput and operational efficiency. Combine that with Odyssey PCS's reputation for excellence…and you have…a campus card system that now allows students a real web-based convenience." (Odyssey allows campus cards to be reloaded via the Internet.)
"We hope to eventually offer interfaces between Webfood and other campus card systems as well," Mr. Lane added.
Webfood, said Mr. Krebs, works like this:
You first have to register as a user. Once you're authenticated, you log in. The program asks where you want to eat, then when, since dining halls have different schedules. Then you're shown a list of available stations, i.e. grill, deli, pizza, etc. The Webfood menu is as flexible as your facility's menu, but it's meant for convenience type operations. It would not be applicable in a buffet scenario. For example, you may select a hamburger; then you're given a choice of cheeses and other toppings, such as bacon.
"The real power of the system is that the menu is as real time as your cook makes it out to be," said Mr. Krebs. In the kitchen is a computer interface that allows the facility to control what's available. So, if the eatery runs out of tomatoes, the cook can click on tomatoes, and they're no longer visible on the toppings menu or for any menu item that uses tomatoes.
Once the order is placed, you can choose when you want to pickup the order or if you want it delivered.
"The order is stored on our server until just before it needs to be prepared," said Mr. Krebs. When that time comes, the order is printed out on a thermal label. "These labels are picked up by kitchen staff who use the tickets just like any other, except the labels indicate when an order has to be completed. At locations like Cortland, which have Odyssey PCS integration, the label will also indicate whether payment has been processed." At Cornell, payment can't be made online; it has to be done at time of pickup or delivery.
"We're averaging about 20,000 orders per academic year at Cornell," said Mr. Krebs. Another benefit of Webfood for the dining establishments is that "the overall average ticket price has increased about seven to eight percent."
Added Mr. Lane: "You've cut out at least 50% of the cashier labor time by having ordering occur remotely. Students spend a lot of time on the computer and on the Internet. As they're thinking about the next day–usually about 2 a.m.–they can place their order and the system waits until the proper prep time to notify the kitchen," he added. "It's not just a shopping cart program. It's very targeted at the particular needs of both the consumer and the foodservice operator."
A "server farm" off campus–basically a room full of computers acting as servers–handles Webfood ordering, said Mr. Lane.
"The whole concept behind Webfood is that it's a double win," he said. "The customer gets to order the way he likes to order, which is by the Internet; or he can sit in the back of a classroom and use his web-enabled cell phone to place his order. The second win is the operator can process more people through their operation. They only need to work on getting the food made and handing it over to the customer."
Webfood is also available to off-campus merchants, said Mr. Lane. "Webfood offers a tool for CBORD to offer off-campus merchants a way to be on the web and receive the same benefits of remote/self-order entry as any other operator."
The off-campus merchants receive their orders via a fax machine. "The servers that host the Webfood service are managed and maintained by CBORD," said Mr. Lane. "At the proper time the order is sent to the computer or fax."
While the cost to the client is based on the number of eateries utilizing Webfood at a college campus, Mr. Lane said the process is not expensive. "We've designed the service to be easy and cost-effective. It's really priced so the university pays based on the business generated."
The average transaction time is just 35 seconds, said Mr. Krebs. "But the real beauty of Webfood," added Mr. Lane, "is that a lot of those transactions are placed when the facility isn't even open. The foodservice operation is taking orders when it's (staff is) not even awake and the orders only come out at the appropriate moment for just-in-time preparation."
---
Additional resources:
Learn more about Webfood on the web at www.webfood.com