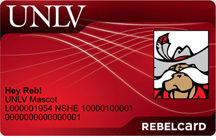 Wells Fargo was awarded a contract with the University of Nevada, Las Vegas to provide financial services for the RebelCard, a multi-function campus ID designed to provide students, faculty and staff a single card to use for a variety of purposes on and off campus.
Starting this month, RebelCard holders can use their card for access to Wells Fargo and Wachovia ATMs, off-campus PIN-debit card purchases, campus facility access, library services, and meal plans. RebelCash purchases can still be made on campus for printing and copying, dining, bookstore purchases, laundry, and vending.
RebelCard holders who link their cards to Wells Fargo checking and savings accounts will have access to Wells Fargo Online Banking and Wells Fargo Mobile Banking. Also available to RebelCard holders: Bill Pay, Direct Deposit, Account Alerts, and access to more than 12,000 Wells Fargo and Wachovia ATMs in 39 states – including over 200 in the Las Vegas area.