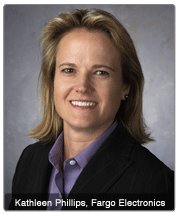 Part of the AVISIAN Publishing Expert Panel series to be published throughout December 2006
Kathleen Phillips, Vice President, Sales and Marketing
Fargo Electronics
While the implementation of HSPD-12 has been the card-related news to watch in 2006, its effects will be felt in other areas as well throughout 2007.
HSPD-12 mandates the badging of all federal employees and contractors under guidelines formed by the National Institute of Standards and Testing. While this is a landmark move for the federal government, the impact of established standards for smart card credentials on state government, university and corporate markets will have a more far-reaching effect.
For the first time, mid- to large-card program managers have a comprehensive template to guide them in designing and implementing a secure smart card credential program. The NIST standard provides all the criteria program managers should evaluate when creating their programs. While not every feature of the NIST standard may fit their individual programs, the standard provides a thorough checklist for consideration.
Two highlights of the NIST standard are important for other markets:
A detailed vetting process that includes background checks and the authentication of 'breeder' documents, such as birth certificates and passports.
The establishment of a credential that is difficult to counterfeit and a structure to prevent the creation of unauthorized credentials.
The impact of the NIST standard, in combination with more readily available, off-the-shelf smart card software applications and overall lower technology card prices will make a higher-security smart card program more reachable for mid to large corporations, state agencies and universities.
And while HSPD-12 was conceived to address security issues, the impact of productivity and efficiency will be seen in applications such as local area network logon, email signature, Web portal usage, etc. Market leaders who demonstrate a return on investment to private sector customers will see a higher adoption rate of their smart card solutions.

Compare FIPS 201 Products
Research and evaluate FIPS 201 Approved Products and get the latest info on compliant credentialing systems at FIPS201.com.
Click to visit FIPS201.com
.