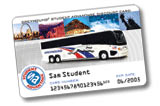 Student Advantage LLC, a subsidiary of The CBORD Group, has just sweetened the deal for its traveling student cardholders by improving its already existent partnership with Greyhound Lines.
With the new improvements, it doesn't matter if you're heading back to school or traveling with friends on Spring Break, the student cardholders will now save 20% on Greyhound fares, as well as 40% on PackageXpress shipments.
This exclusive offer allows college students to conveniently purchase Greyhound tickets with Student Advantage discounts online and offline through a fully integrated marketing program. As part of the agreement, students can also purchase co-branded Greyhound Student Advantage Cards at hundreds of Greyhound locations, as well as through the company's Web site.
With the money you save, you can buy that beanbag chair you've been wanting for your dorm room.