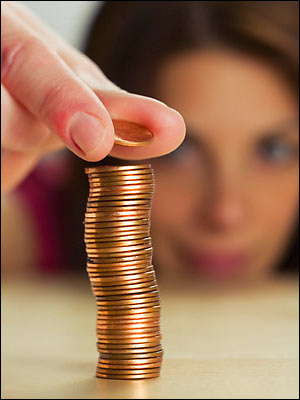 Banking partnerships increase in 2011, though slightly
Campus card bank partnerships, like many financial service offerings, are having a tough time as increased regulation makes it harder for banks to turn a profit and make programs attractive to schools. Despite this challenge, 2011 saw some growth in the number of programs and several banks did see their numbers increase.
The biggest issue for banks with campus partnerships is how to make money. As regulators clamp down on fees banks can charge cardholders and merchants, the profitability matrix has changed. The pendulum has shifted forcing banks to focus less on fee income to make the business case and more on the long-term value of the customer relationship.
## Campus Card Bank Partnerships: 2010 - 2011 Comparison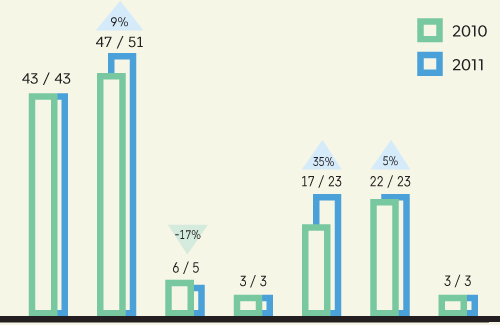 From left to right: 1. Wells Fargo 2. U.S. Bank 3. TCF 4. SunTrust 5. PNC Bank 6. Heartland 7. Commerce
---
## What have new regulations done for banks?
New regulations are playing a role in a bank's ability to do business, and they will likely have an even larger impact in 2012 and beyond.
The biggest change is the Durbin Amendment, named after Sen. Richard Durbin (D-Ill.). The rule was an amendment to the Dodd-Frank Wall Street Reform and Consumer Protection Act of 2010.
In effect since October 2011, Durbin caps the interchange and transaction fees banks can charge merchants to accept debit cards. Banks were charging up to 44 cents per transaction but the amendment slashes that nearly in half, to 21 cents plus 0.05% of the transaction (2 cents average). Issuers can charge an additional penny if they have approved fraud-prevention standards in place.
Durbin fee restrictions only impact banks with more than $10 billion in assets, banks considered large under the regulation. Smaller banks with assets less than $10 billion can continue to charge merchants at pre-Durbin rates.
"Banking regulations have affected the financial model previously used by many banks for campus cards," says Bill Norwood, Heartland Campus Solutions' chief architect. "The Durbin rule hit the large banks hard reducing interchange revenues significantly," he says.
Heartland offers banking services through its partner Central National Bank (CNB), Enid, Okla., which falls below the Durbin asset cap making it exempt from fee limits.
How important is fee income to an institution's desire to pursue campus card partnerships? "It's important to any financial service provider trying to work with campus card programs," says Norwood.
The new regulations, coupled with a down economy, are causing both banks and campuses to postpone expansion.
"The Durbin Amendment greatly reduced our revenue from debit cards and that makes investment in new campus partnerships and new card technology more difficult," comments Don Becker, assistant vice president, student banking and university cards at Commerce Bank.
Norwood agrees. "The tough economic times have forced campuses to examine why they are implementing or expanding their card programs and if the expansion or implementation requires sizeable capital investments, some schools have elected to push back in hopes the economy improves," he says.
In addition, reduced profitability has led banks to tighten up on revenue share to campuses, making conditions ripe for a stalled market.
According to Whitney Bright, vice president, general manager of campus banking for U.S. Bank, new regulations have certainly made the campus banking environment more challenging, but this has not deterred the institution's interest in such programs. "We continue to aggressively pursue new partnerships that are beneficial for the students, the campus and U.S. Bank," she says.
PNC, which has seen an increase in campus clients, has seen renewed interest in campus cards from schools. "We have seen an up tic in the level of interest by universities and colleges for retail banking services programs, including ID features," says Nickolas Certo, senior vice president of university banking for PNC Bank.
Christina Castro, TCF's vice president and region manager, says new regulations haven't impacted the pace of new campus card and banking partnerships for TCF. Fee income is only one factor in a campus banking partnership.
## Growth in campus banking partnerships
While finding it more difficult to turn a profit, banks are still plowing ahead with new campus partnerships. According to CR80News' 2011 bank partner survey, overall campus growth in 2011 among the seven banks surveyed was 8%. There were 152 campus clients reported in 2011 by the seven banks compared with 141 the previous year. That 8% growth rate is double the 2010 growth of 4%, but it still falls far short of the 20% growth in both 2008 and 2009.
Four of those seven banks–Heartland/CNB, PNC Bank, U.S. Bank and Wells Fargo–account for 93% or 141, of the 152 colleges being served. (Note: only relationships that integrate the official university-issued ID card as a banking card are considered for the survey.)
---
States Served By Financial Partners

Wells Fargo
U.S. Bank
TCF
SunTrust
PNC Bank
Heartland
Commerce
---
U.S. Bank is still leader of the pack in terms of number of campuses served. It grew by four schools and now handles 51 campuses. That's a 9% increase over its 2010 figures. The other bank that represents a hefty number of schools is Wells Fargo, which serves 43. That's the same number the bank served in 2010. Still that doesn't mean the bank didn't garner new clients. It just lost a few as well.
Pittsburgh-based PNC Bank added seven to its campus total. The bank now serves 24 campuses, compared with 17 in 2010.
Heartland/CNB added one to its roster, growing from 22 to 23 schools. Both Commerce Bank and SunTrust held steady each serving three schools. TCF Bank lost one client in 2011 and now stands at five schools.
Geography
Wells Fargo's banking footprint covers 39 states while U.S. Bank serves campus card clients in 25 states. PNC can now serve campuses in 16 states, a sizeable jump from the seven states reported in 2010.
Much of this increase can be attributed to PNC's acquisition of National City Bank in 2008. PNC spent two years integrating those banks into its network, which added six states. PNC also added branches in New York and bought branches from Flagstar Bank, bringing PNC's footprint up to its current 16 states. PNC is also in the process of acquiring the U.S. banking assets of Royal Bank of Canada. The sale is expected to be final in March 2012, which would add three more states.
TCF, Commerce and SunTrust have far smaller footprints ranging from five to eight states.
Changing to suit the market is important in the campus space and sometimes that means budget cuts, says Norwood. "Between budget cuts and reduced campus staff, all are looking for ways to do more with less," he adds.
Conclusion
Tough times can bring positive results. In the case of banking services for campus cardholders, 2011 may result in more competitive offerings and a renewed focus on client service.
"The ability to competitively price banking products and services remains a key factor in our bank's long-term success with campus partnerships," Becker says. "Young consumers look for value in the marketplace and I believe banks who can deliver that value in convenient and innovative ways will continue to see success on campus."
In addition to remaining price competitive, customer service and satisfaction is crucial for banks to retain student clients as they mature into profitable lifelong clients.
With shrinking revenue from fees PNC has adapted its strategy for the campus market, Certo says. "The key driver of a successful banking program is the generation of new customers. Individual retail bank customer profitability has been impacted across the board by regulatory changes and the prevailing interest rate environment," he explains. "In the face of these changes PNC Bank has taken steps to manage its costs and the way we go to market at universities and colleges."
---
Campuses With Bank Partnerships
Commerce (3)
Fort Hays State University, KS
Pittsburg State University, KS
The University of Kansas, KS
Heartland (23)
Bastyr University, WA
Clearwater Christian College, FL
College of the Holy Cross, MA
Colorado Christian University, CO
Concordia University of Wisconsin, WI
Harrisburg University, PA
Hillsborough Community College, FL
Florida Coastal School of Law, FL
John Carroll University, OH
Lebanon Valley College, PA
Manhattan College, NY
Mississippi Delta Community College, MS
Mount Holyoke College, MA
North Central Missouri College, MO
Northwest Florida State College, FL
Palm Beach Atlantic University, FL
Pittsburgh Technical Institute, PA
Reinhardt College, GA
Slippery Rock University, PA
St. Thomas Acquinas, NY
Tompkins Cortland Community College, NY
University of Massachusetts Lowell, MA
Waukesha County Technical College, Wa
TCF Bank (5)
Northern Illinois University, IL
St. Cloud State University, MN
University of Illinois, IL
University of Michigan, MI
University of Minnesota, MN
U.S. Bank (51)
Austin Peay State University, TN
Benedictine University, IL
Bethel University, MN
California State University, CA
California State University, CA
Capital University, OH
Carroll University, WI
Central Washington University, WA
College of Mt. St. Joseph, OH
Colorado State University, CO
Concordia University Chicago, IL
Creighton University, NE
Drury University, MO
Gonzaga University, WA
Hamline University, MN
Harris-Stowe State University, MO
Henderson State University, AR
Iowa State University, IA
John Carroll University, OH
Johnson County Community College, KS
Kirkwood Community College, IA
Metropolitan State College of Denver, CO
Milwaukee Area Technical College, WI
Minnesota State University Moorhead, MN
Missouri Baptist University, MO
Missouri Western State University, MO
Morehead State University, KY
Normandale Community College, MN
North Dakota State University, ND
Northern Kentucky University, KY
Northwest Missouri State University, MO
Northwestern University, IL
Pacific University, OR
Saint Louis University, MO
San Diego State University, CA
San Jose State University, CA
Seattle University, WA
Southwest Minnesota State University, MN
St. Cloud Technical & Community College, MN
Thomas More College, KY
Truman State University, MO
University of California Davis, CA
University of Central Missouri, MO
University of Missouri Kansas City, MO
University of San Diego, CA
University of Wisconsin-Eau Claire, WI
University of Wisconsin-Stevens Point, WI
Washington State University, WA
Waukesha County Technical College, WI
Wisconsin Lutheran College, WI
Xavier University, OH
Wells Fargo (43)
Baylor University TXCalifornia State University-East Bay, CA
California State University-Los Angeles, CA
California State University-Sacramento, CA
California State University-San Francisco, CA
California State University-Stanislaus, CA
Colorado Mesa University, CO (formerly Mesa State University)
Clark Atlanta University, GA
El Paso Community College, TX
Elon University, NC
Fayetteville State University, NC
Florida A&M University, FL
Florida International University, FL (new)
Front Range Community College, CO
Georgia Perimeter College, GA
Guilford College, NC
Mercer University, GA
Midwestern State University, TX
Minnesota State University-Mankato, MN
New Mexico State University, NM
North Carolina State University, NC
North Carolina A&T State University, NC
North Carolina Central University, NC
Northern Michigan University, MI
Riverside Community College District, CA
Texas A&M University-College Station, TX
Texas A&M University-Corpus Christi, TX
Texas State University-San Marcos, TX
University of Arizona, AZ
University of Florida, FL
University of Nebraska-Kearney, NE
University of Nebraska-Lincoln, NE
University of Nevada-Las Vegas, NV
University of Nevada-Reno, NV
University of North Carolina-Chapel Hill, NC
University of North Carolina-Greensboro, NC
University of North Texas, TX
University of Northern Colorado, CO
University of Texas-Arlington, TX
University of Texas-Dallas, TX
University of Texas-El Paso, TX
Villanova University, VA
Virginia Commonwealth University, VA
PNC Bank (23)
List not provided at request of institution.
Quantity verified as accurate by editorial staff.
SunTrust (3)
Florida State University, FL
Mary Baldwin College, VA
University of Central Florida, FL