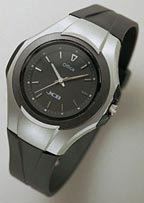 Combine a watch from Casio, a contactless chip from Sony, and a suite of applications from JCB … and you get a payment and security token far cooler than your typical employee ID badge. Credit card giant JCB is testing the new wristwatch with a group of employees in Japan with plans to roll the product out commercially in 2005. The watch uses JCB's "Offica" solution suite that includes touchless payment, access control, and other employee-related administrative functions. Previous Offica 'tokens' include cards containing Sony's Felica contactless chips as well as mobile phones containing the chips.
JCB to Launch 'Offica Watch' with Casio; Latest Contactless Solution Trial Underway
Tokyo, Japan, June 10, 2004 - (JCN Newswire) - JCB, a leading international credit card brand, today launched a 2 month site trial of its new wristwatch Offica corporate solution. The 'Offica Watch', in cooperation with Casio, contains employee ID, access control and cashless payment functions. Twenty-five JCB employees will use the Offica Watch instead of the current Offica card to access the JCB tower in central Tokyo, make purchases at company restaurants and stores, and carry out a variety of administrative functions.
"This watch will improve convenience and user-friendliness for the wearers, as they don't have to take something out of their pocket or purse to open a door or pay for coffee. We think this has particular advantages in environments such as manufacturing plants or amusement parks where people should be hands-free and not have to carry a lot of things around." said Mr. Yuichi Momose, Executive Vice President and General Manager of Strategic Market Development department at JCB. "We'll be launching this solution commercially early next year, after a review of the 2 month live trial."
The introduction of a wristwatch-based solution incorporating a suite of contactless chip functions is a first for Japan, and follows the trial of JCB's innovative Mobile Offica. Mobile Offica is a mobile phone based corporate solution through mobile phones in cooperation with NTT DoCoMo at the beginning of this year. Both Mobile Offica and the new Offica Watch utilize Sony's FeliCa contactless interface chip.
The corporate environment, with a limited range of equipment and infrastructure, allows for faster, easier implementation of chip-based information and payment technology in media such as Mobile Offica and Offica Watch. JCB is committed to developing solutions that provide superior functionality via the most suitable media - conventional plastic cards, mobile phones, key chains or PDAs.
JCB's Offica solution offers corporations a diverse and flexible menu of functions including access control, network authentication, employee identification and attendance tracking, and cashless purchasing at the office. A major advance over conventional, prepaid applications, Offica's postpay function links to the employee's own JCB brand credit card.
*Felica is a registered trademark of Sony Corporation.
About Casio Computer Co., Ltd.
Casio Computer Co., Ltd. is one of the leading consumer electronics companies in the world. Since its establishment in 1957, Casio has been supplying revolutionary products based on original ideas and advanced technology that contribute to society through improving people's lives. "If it is not original, it's not a CASIO" is our way of thinking, and that tradition continues in all our new innovative product development and offerings, including calculators and timepieces, digital cameras, mobile phones, musical instruments, LCD TVs, and digital office equipment. CASIO's activities are driven by a relentless pursuit to deliver innovative products with advanced digital technology, offering product and performance refinement while reducing size and power consumption.
About JCB Co. Ltd.
JCB is an international credit card brand and the largest card issuer/acquirer in Japan. JCB launched its card business in Japan in 1961 and began expanding overseas in 1981. Its merchant network includes 11.4 million merchants and spans 189 countries and territories. JCB cards are now issued in 18 countries and territories, with 49.6 million cardmembers. As part of its international growth strategy, JCB has formed alliances with more than 320 leading banks and financial institutions globally to increase merchant coverage and cardmember base. JCB's corporate philosophy of "Service from the heart," a commitment to responsive, high-quality service, continues to guide it as it creates the future together with its customers, merchants and partners. For further information, please visit the JCB Co. Ltd. home page at: www.jcb-global.com/english