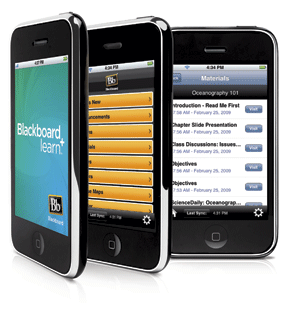 University campuses have gotten smaller, not in terms of physical layout, but in the time it takes to reach out to a student. Land line telephones are old news as students are tethered to their cell phone. The challenge for many college administrators today is how can they put that cell phone to work for both students and the college.
In the wake of tragedies at universities around the country many have deployed emergency alert systems that text or email students if there's a problem on campus. But there are other ways to take advantage of the mobile device that may be seen as "cooler." And if you're going to dive into this area, why not do it with one of the most popular phones around, at least for the college-age student, the iPhone. It has even led to the development of a cottage industry of applications, anything from help in managing finances to tracking where the stimulus dollars are being spent and how they're being used.
In Palo Alto, Calif., home of Stanford University, developers of an iPhone application called iStanford 2.0 hopes one day to see the iPhone replace the campus ID card. The entrepreneurial Stanford students have already produced a suite of iPhone applications that access the university's course catalog, campus map and other resources.
The application suite was rolled out in October and has already garnered national attention, including winning the $10,000 grand prize for AT&T's "Big Mobile on Campus" contest for best smart phone application. One of the student members of the firm said he hopes to see the iPhone replace student identification cards in the future.
But with projects of this magnitude, baby steps are needed. Blackboard Inc., which provides various software and services to colleges and universities, has also dipped its toe into the iPhone application market.
Blackboard has tapped the power of the iPhone, giving students one more way to easily access their grades, course assignments and more.
Blackboard's Learn offering is in use at 2,000 higher education institutions as well as K-12 and government and corporate entities. "It's an online education platform whose primary purpose is to manage online course delivery for institutions," says Greg Ritter, Blackboard's director of product management.
While some institutions rely on Blackboard Learn for delivering curricula entirely online, "most institutions use it in some sort of blended approach, like Georgetown will offer classes face to face but will also have a Blackboard site to extend the classroom beyond four walls," says Ritter.
The company earlier this year released a free iPhone and iPod Touch application, available from Apple's iTunes store, that enables students to access course information wherever and whenever they are. Students accustomed to logging in to their institution's Blackboard Learn platform every day can now tap in to mobile learning opportunities by receiving updates and alerts on grades, assignments, tests and other information.
The iPhone application follows the earlier release of a Blackboard Learn extension that interacts with the popular social networking site, Facebook, enabling users to access academic information within the Facebook interface.
"Millions of students every day log into Blackboard and into Facebook and it just made sense to bring the academic information to places where users already are," says Ritter. "The amount of time they (students) spend in Blackboard Learn is dwarfed by the amount of time they spend in Facebook or on their iPhone," adds Ritter. "We wanted to make sure they had the ability to get information about what's going on in their course without having to leave Facebook or their phone."
Why the iPhone?
Blackboard went with the iPhone because it offers a "robust" platform to application development, says Ritter. As to other smart phones, like the Blackberry, Blackboard has no plans to support them. The "market is pretty much scattered" with other smart phones, he adds.
Whether Blackboard Learn will extend its iPhone application beyond accessing course work and keeping up with grades, the company isn't saying. "We're always exploring the opportunity to improve or enhance our offerings to users," says Matt Maurer, Blackboard's director of public relations.