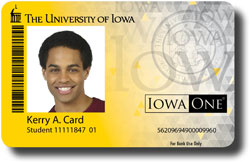 The University of Iowa is rolling out a new version of its Iowa One card that integrates electronic door access using proximity technology.
The school recently changed the banking vendor it uses for the card, which also serves as a debit card, and decided the time was right to include a prox chip on the new card to control door access. The change means students, faculty and staff no longer have to carry separate cards.
"There's a convenience factor in having so many functions on a single card, Laurie Lentz, director of treasury information systems for the University of Iowa, said. The card, she added, is something students carry with them "all the time."
A switch to the new card isn't mandatory right now, Lentz said, but university officials eventually want everyone to have the new Iowa One card, as electronic building access is upgraded and added to more campus facilities.
Switching to the new card is free, but there is a $25 charge for students to replace a new card if it's lost or stolen. Faculty and staff aren't charged for a lost or stolen card.
Read more here.