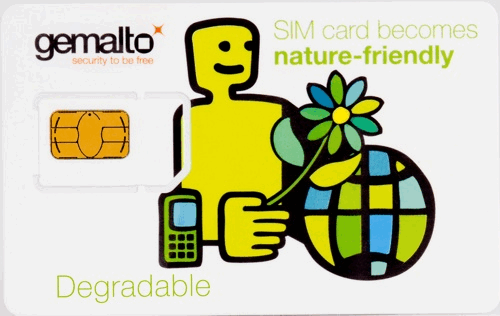 Gemalto launched a bio-sourced degradable smart cards. The card body is made from renewable material, is recyclable and compostable, and can be incinerated without emissions of toxic fumes.
Gemalto also offers packaging made from recycled paper and vegetable inks that significantly reduce the product's environmental impact. Gemalto's bio-sourced smart cards will be ready for mass production in the first quarter of 2010.
This innovation breakthrough answers a long-standing demand from banks and operators around the world. To meet this market need, Gemalto offers a bio-sourced smart banking card and a bio-sourced SIM card, each compliant to the industry standards in their respective sector. At Cartes & IDentification this year, Gemalto will be presenting both products on its stand.
The bio-sourced smart cards complement Gemalto's portfolio of eco-friendly cards, made from paper-based materials for short-term use, for example scratch cards, as well as Acrylonitrile Butadiene Styren and Polyethylene Terephthalate Glycol based products, a chlorine-free alternative to PVC cards. The company opted for non-chlorine polymers in the late 1990's and today, adopting material stemming from agro-products is a major step forward in promoting sustainable solutions for card vendors and end users alike.