If Horizon Software International is doing its job, you're probably not going to hear much about it. That's not to say it's flying under the radar, but the work it does is not something you'd notice. Its most popular commodity, in fact, is meant to be a behind-the-scenes product. Its name pretty much defines itself: BOSS, or Back Office Software Solutions.
It currently is handling universities, hospitals, retirement homes, and corporations requiring food service management, although it started out much smaller, both in market share and in terms of its customers–kindergarten through 12th graders.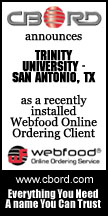 The privately-held company, located in Loganville, Georgia, about 40 miles northeast of Atlanta, got its start in 1992 by Bob Williamson, who is still its CEO. "He had dealt with back office systems for 25 years, handling central distribution, order processing, etc.," said the company's vice president of marketing, John Tatham.
Basically, BOSS is a system to help food service operators manage their inventory, their order processing, menu planning, centralized distribution and their central kitchen, he said.

"Using his expertise, we dealt specifically with K-12 for the first few years." The company doubled, tripled, quadrupled in size, explained Mr. Tatham and "we decided that the type of service K-12 needed was a back office and a point of sale system. There wasn't a lot of competition (in K-12) and we quickly became a leader."
Fastlane was developed in 1998 and, according to Mr. Tatham, " it became the industry leader for K-12 point of sale. We're across the board geographically. We literally have schools from Fairbanks, Alaska, all the way down to Monroe County (Key West, Florida).

In 2000 Horizon started branching out into other vertical markets. "That's when we got into higher education, health care, and the military," said Mr. Tatham. "We took our POS expertise and tailored our products for each of those markets."
Getting product to the market
What has helped the company grow is its success with the big three food service companies–Aramark, Compass, and Sodexho, said Mr. Tatham. "It helped us push sales in all those verticals, including colleges and universities."
Added Josh Jackson, Horizon's head of customer service: "Most of our university customers have come from those three big management companies. 85% of universities are managed and we've gotten a significant amount of business from those three management companies."
But Horizon also deals with the smaller food service management companies, such as Gourmet Services at Alabama State University, Montgomery, Alabama, and Williamson Hospitality at Gwynedd Mercy College, Gwynedd Valley, Pennsylvania.
Institutions can also deal directly with Horizon. "Colleges do purchase from us directly, software, hardware, training, etc.," said Mr. Tatham. "It's a user-friendly system, very affordably priced in comparison to the competition."
"At colleges, we handle as many as 17 different lines of food service pieces across campus, from catering, Domino's Pizza, Subway, convenience stores. Even some book stores use our software," said Mr. Tatham. "We go all the way down to one-line units, anywhere from a small community college to a large school."
For example, on a student meal plan, "our software tracks that plan, how much money the student has used. He can also apply money to the account," said Mr. Tatham. "We also have campus-wide vending and an interface with payroll for billing if a small school allows students to have a charge account."
Horizon offers input devices, from barcodes, prox readers, mag stripe cards. "We produce the pin pads and, for example HID produces the prox readers," he added. The company's products interface with most major manufacturers, he said. "We don't make the readers ourselves, but we'll work with anyone out there. One of our partners is IDenticard which has a door access piece we interface with."
Horizon pushes value in its products. "We have the most affordable product out there for higher education," said Mr. Tatham. "We compare favorably (to most of the other systems) but we're more open on the hardware end, we can interface to a lot of different systems."
Products for Higher Education
Two specific systems from Horizon, designed for the higher education market, include the Z Line Point of Sale hardware and the IQ Point of Sale system.
The Z Line includes a finger imaging device, a PIN pad, and a desktop POS terminal and a handheld one. "Some use an out of the box terminal but we have a couple of variations," said Mr. Tatham. "We offer an IBM solution or we have another solution that is basically our POS terminal that we've created with a Dell CPU."
The IQ POS includes a touch screen-based POS "that is very user friendly, very comparable to our competitors," added Mr. Tatham.
Regardless of the system, "it was designed with the latest Microsoft development technology and tools," he said.
Horizon can also make available, if needed, student cards, though it's not a main focus. "We're not into making money off the cards per se," said Mr. Tatham. "We have partners that can produce those cards."
"Our biggest asset in college market is that we can accept data from just about any system," said Mr. Jackson. "Our biggest niche is this…multiple importing and exporting (of food service data) and tracking student purchases."
With its ability to interface with various card systems, "we're developing a system where they (students) can charge their card online with a credit card. We've gotten away from the stored value concept. Basically, the money gets added to their account," said Mr. Tatham. And it doesn't matter whether it's a prox card, iClass (HID's contactless technology), mag stripe or bar code.
But Horizon does believe in the one card concept. "You've got all these systems; if that student had to have four or five cards, it would be a pain in the neck. The idea is to have one unique identifier so the customer only has to carry one card."
Explained Mr. Jackson: "From a card standpoint, we have a card masking system where we can read a majority of the systems out there and can mask out those numbers we don't need. That's why we can interface with so many different vendors. We take the info we need and mask out the rest. If we get two different cards–for example, some colleges change their cards every year–we can still accept the different formats. There can be five different cards at one campus but as long as the ID number is on those cards, it wouldn't matter what kind of card it is."
Why come to Horizon? "Price and our outstanding customer service department," said Mr. Tatham. "We say that when you call our customer service department, you'll be connected with tech support in less than five minutes, but it really has been less than 2 minutes. We've got live, knowledgeable staff providing support 24/7."
But get past all this, and you're still back to one simple question: How fast does that food service line move? And that is what Horizon, with its POS systems, wants to help its customers improve.
---
Additional resources:
Read a case study on the installation of Horizon's Fastlane POS system in the Atlanta-area public schools
Visit Horizon Software on the web