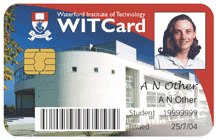 By Andy Williams, Contributing Editor
Campus card programs in Europe are starting to accelerate, thanks in part to creation in 2003 of the European Campus Card Association. While Europe is often in the forefront of card usage in areas such as transportation and secure payments, it has lagged behind the U.S. when it comes to campus cards.
Eugene McKenna, general manager of auxiliary services for Waterford Institute of Technology in Ireland, and president of ECCA, suggests a possible cause: the 2002 failure of a large campus card company in the U.S., Cybermark, "sent shock waves throughout Europe," he said. "Adding to that were the failures of several pilot projects in Europe."
Other sources suggest less reactionary and more pragmatic reasons for Europe's lag behind the U.S. in campus card implementations. While the desire for administrative efficiencies are common in both regions, key differences traditionally included the U.S. need for financial aid distribution, the more profit-oriented auxiliary service sector in U.S. colleges, and the extreme degree of competition for students that has always existed between institutions in the U.S. Beyond that the sheer size of institutions in the U.S. (e.g. state systems with 60+ schools and 1 million-plus students, individual schools with more than 100,000 students) led to a more lucrative business opportunity for vendors.
But all that seems to be changing as Europe moves more rapidly to campus card solutions. Evidence of this, according to Mr. McKenna, can be found in the growing ECCA membership. Currently at 40 institutions, it is expected "to double in the next few months," he said. "We're still in the very early stages."
He said many university campuses across Europe are starting to introduce campus cards. "They're becoming an important key at campuses."
Many, he said, are using magnetic stripe and/or contactless cards linked to a back-end office database. "In Europe there are not many systems where money is stored on the chip. There is no big driver behind that at the moment," said Mr. McKenna. "The way (European) campuses are wired up, the back office seems suitable to a campus environment."
Waterford's WITcard, (www.wit.ie/witcard) serves 10,000 students and is, according to Mr. McKenna, one of the biggest installations in Europe. "Across the UK there are a number of card systems, but there are only two or three applications on each card."
There was also a tendency among colleges, he added, to go with mag stripe, "but in recent times, Mifare (Philips' contactless technology) seems to be the technology of choice. We're using that," he said of Waterford's card. Vending, building access, and e-purse, are among the card's applications. "The latest application is our web revalue where you can load from any bank directly onto our card," said Mr. McKenna.
Another application, pay-for-print, "is a huge profit center for us," he added. "Students do a lot of printing off the web. About seven to eight years ago, printing was 25% and copying was 75 % (of total reprographics volume). That has almost reversed itself. There is a huge demand for printing. That's where a campus card system can generate a profit."
"All of our card services are managed by auxiliary services. It's more profitable. I feel we have a very good model unique to us and many of our institutions."