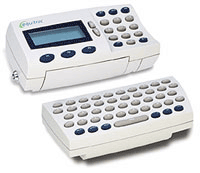 Trying to account for every piece of paper running through your copiers and printers could be a lesson in futility … particularly for colleges dealing with multiple constituencies, each with different printing needs and different ways of paying for the services. Equitrac, Inc., a Plantation, Florida-based company, has been handling those document accounting functions for the corporate world, primarily law firms, for more than a quarter century. In the past half dozen or so years, the company has moved into the higher education market and is now on its third version of a software product designed specifically for colleges to help them control their copying and printing costs.
Equitrac's vice president of technical marketing, Chris Wyszkowski, explained: "Document accounting is all about monitoring and managing the costs associated with document activity, output and input, scanning, faxing, printing. It's about cost control and cost containment. As in any vertical, such as the education market, document accounting could provide them (universities) with a revenue source."
Twenty-five years ago, "Equitrac was helping law firms, assisting them to bill their clients for all kinds of documents. Over the past five to eight years, we took what we learned from the legal market and began applying it to other markets," said Mr. Wyszkowski.
He said Equitrac, in the delivery of accounting systems for legal firms "developed a wide range of relationships with equipment manufacturers (e.g. Ricoh, Xerox). We became recognized as the world-leader at providing document accounting. So, it was actually our manufacturing partners who engaged us to build solutions for the education market so they could sell their modern copiers and enable schools to manage these copies. That's what created the opportunity and we've continued to build on that."
A specialized system was needed because colleges needed the ability bill the various constituent groups appropriately.
At a law firm or corporation, you have one set of constituencies, the employees. But, said Mr. Wyszkowski, "At a university, you have a few groups of people using it; students, who might be on a quota or payment system; staff, who use the printers and copiers as a part of their job with the costs being allocated to a specific department, and faculty, who might have a set number of free copies and need it for their course work…"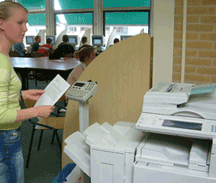 Unveiled at the National Association of Campus Card Users show in March, Equitrac Express 3, includes several new features, such as allowing students to preview their documents and to send their jobs to any "device group" printer. For example, Mr. Wyszkowski explained, a student sends a print job to the system. He is told how much it will cost him. He agrees with the cost (there are several payment methods, including stored value on a card specifically set up for the print program, or through his campus or credit card), okays the job, which is then placed in a print queue. The student can then go to any printer in the "device group" to retrieve his job.
"Express 3 is really focused on allowing different constituencies – student, faculty and staff – to have access to the same device but with different billing requirements depending on who they are," said Mr. Wyszkowski.
"Our product will work for virtually any size campus. We have a small campus edition, used by small campuses or a single department with a single server. We also have a suite version that's scalable to large organizations, with multi-server deployments, encompassing campus scenarios with thousands of printers and tens of thousands of users," he added. He estimates Equitrac solutions are currently in "hundreds of colleges."
The new version also offers a "significant set of improvements from an IT standpoint. It supports all the major operating systems, Windows, Novell, Unix, Linux, Macintosh. And no matter the type of infrastructure, you can integrate it into your print environment," he added.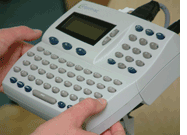 By enabling campus-wide billing integration, Equitrac's Express also eliminates the need for separate printers and copiers for students, faculty and staff, allowing schools to more efficiently assign device resources across campus.
Equitrac will also work "with backend campus card solutions. We have an existing interface with Blackboard and we're investigating adding interfaces for Diebold and CBORD," he said.
This business has been growing steadily as document production becomes an increasingly larger output at a business or university. "In some organizations, it's a fariy high expense item. If you can control it and save 25% off your document processing, that can be quite a significant savings," said Mr. Wyszkowski.
---


To read about Equitrac's solutions for higher education on the web, click here.