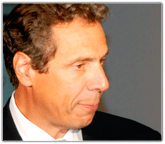 New York Attorney General investigates credit card partnerships, deals
A statewide probe into deceptive credit card marketing practices targeting students on New York college campuses could create headaches for the credit business, but it might be good news for campus card companies.
That's what industry leaders are hoping will follow an investigation launched in August by New York Attorney General Andrew Cuomo, says Lowell Adkins, executive director, National Association of Campus Card Users. The attorney general's office sent letters to 300 schools statewide requesting copies of any exclusive contracts they have with credit and debit card companies.
"It's probably going to work in favor of our part of the industry because we really don't deal with credit," Adkins says of the probe. "There's only maybe a handful of schools that do their campus cards via credit, and even then it's not a credit card."
Because most campus cards contain declining balance, debit or prepaid accounts, students and their parents are more likely to view these as financially responsible options, he says. But concerns surrounding the fees charged by some of these programs remain an issue for some.
"The thrust of the attorney general's concern is that kids are getting these (credit) cards relatively easily and building up a lot of debt," Adkins says.
Cuomo's letter to NY institutions highlighted the level of this debt and the problems it causes students and graduates:
"The average college student graduates with nearly $4,100 in credit card debt, on top of an average of $20,000 in loans … Credit card debt has been found to slow students' progress toward obtaining a college degree, as some students become forced to drop out of college and obtain full-time employment to meet their debt obligations. High-interest credit card debt limits graduates' career choices and threatens students' employment prospects, since many employers check applicants' credit scores during the hiring process."
The attorney general's inquiry builds on a nationwide investigation Cuomo launched in 2007 examining the student loan industry. The new investigation could yield mixed results for banks, which often have significant presence in the credit card world but are also gaining a presence with campus card programs.
"I think even the banks would say in response to all this that kids need better education about the use of payment methods in general, including credit cards," Adkins says.
Financial literacy push
At least one school system has already jumped on the attorney general's bandwagon, Adkins says. When Cuomo's letter went out, it included a call for schools to adopt policies to help students avoid getting saddled with credit card debt before graduation.
Less than a week after receiving the request, the State University of New York (SUNY) system announced a decision to adopt with the attorney general's code of conduct to reform credit card marketing on campus. SUNY enrolls nearly 465,000 students on 64 campuses statewide.
"By agreeing to adopt these reforms, SUNY has demonstrated its commitment to protecting students from unfair credit card marketing at all of its campuses," Cuomo says in a statement.
On some SUNY campuses, credit card companies have been known to work with student organizations to encourage students to fill out a credit card application in exchange for a free t-shirt or to be entered for a prize drawing. The student organization received money from the credit card company based on the number of applications completed.
"This type of activity no longer takes place," says Ed Engelbride, associate provost at SUNY.
The code of conduct states that schools must offer financial literacy programs for students, limit on-campus credit card marketing and keep students' personal information private from credit card companies unless they have obtained authorization from the student to release the data. Additionally, any school that chooses to enter into an exclusive contract with a credit card company must select based on the students' best interests.
The code also forbids schools from entering into or maintaining an agreement with a credit card company in which the school earns a percentage of the finance charges imposed on students.
Is debit safe from scrutiny?
Engelbride does not expect SUNY's code of conduct agreement to affect campus cards.
While the initial request from Cuomo's office that instructed campuses to provide copies of existing contracts included both credit and debit cards, subsequent statements have focused exclusively on credit.
The best practices document published by the AG's office and agreed to by SUNY was titled, New York Attorney General's Credit Card Reforms for Colleges and Universities. Neither the title nor the text of the document made any mention of debit cards.
Still Ed Mierzwinski, consumer program director for the U.S. Public Interest Research Group, believes the attorney general should look into the relationship between students and all cards, not just credit, to determine which business models are appropriate.
"Colleges are outsourcing tremendous amounts of responsibility to banks. And it's entirely appropriate to decide whether the programs are transparent, whether they're optional and whether the benefits to the colleges are worth the risks to the individual students of paying incredibly high fees in some cases," Mierzwinski says.