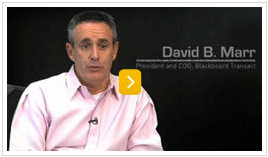 Mobile devices are poised to become the ID credential of the future. In a recent video interview, Blackboard Transact president David Marr shared his views on mobile platforms in higher ed and the impacts on campus card offices. CR80News' Chris Corum discussed the topic with Marr as well in a podcast.
He describes the mobile device as "the virtual front door of the institution," but he stresses that you can't just leave that door propped open. "The credential that is the key to opening that door will reside in the campus card office," he says.
When it comes to service delivery on the modern campus, Marr explains, "geographic boundaries of a campus are no longer the primary driver, mobile devices and applications have blurred these boundaries."
He suggests that campus card administrators get immersed in the conversations about mobile on their campus. "Let IT know that campus card solution providers are moving the credential to the phone," he says, "I am confident that will get their attention."
In the video, Marr highlights several exciting mobile initiatives underway at campuses across the country including Stanford University and University of Washington.
---
To listen to the podcast, click the play button below: