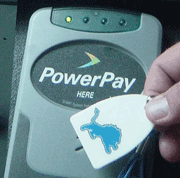 PowerPay's contactless tag is designed to make it easier for football fans to return to the game quicker. The contactless tag got its start with the Seattle Seahawks last season (see November/December Contactless News), and is now in used in Detroit and Philadelphia as well. Consumers, using the cashless PowerPay fob, can complete a transaction at the concession stand in as little as three seconds by waving the tag in front of a PowerPay reader. That means they miss less of the football action.
As PowerPay from Smart System Technologies (SST) gains steam the company is also adding new and improved versions. The latest wrinkles: Allowing a self-registration process which gets the PowerPay tag into users hands faster. Wireless capability has also been implemented.
Based around Texas Instruments RFID engineering, the PowerPay contactless token was first introduced to Seattle Seahawks fans at the first preseason game in August 2003. There, exclusive Club Level Seat ticket holders were able to buy concessions on the club level by waving their keyfob or tag over the a PowerPay reader at a point-of-sale terminal.
"They (fans) love it," said Smart Systems President/CEO Mark Johnson. And the Seahawks are likely happy too since use of the contactless keyfob is generating more sales.
The latest National Football League stadium to accept Powerpay is the Detroit Lions' Ford Field, which was available to fans at the Lions' first home game, Sept. 19.
"We introduced a self registration process at the (Philadelphia) stadium," said Mr. Johnson. "Right now, it's a manned station at the guest services location and several others around the stadium. Fans can literally register themselves, then the attendant links the PowerPay fob to the credit card."
In Detroit, self registration is also being employed said Mr. Johnson. "We're introducing a wireless capability to allow it to be used at portable stations with no connectivity," he added. "Previously, it was at the cash register only. Now there will be a PowerPay reader coupled with a wireless-enabled payment terminal. That transaction will be communicated wirelessly to our hub."
PowerPay relies on a Verifone terminal and a Nortel Network.
But while Detroit fans will soon be getting used to the cashless way of paying for concessions, the Philadelphia Eagles' stadium has given its fans two choices: PowerPay or MasterCard's PayPass, both contactless and both linked to credit cards.
MasterCard, which is beginning its national PayPass rollout in McDonald's restaurants in New York and Dallas, has joined MBNA and the Philadelphia Eagles to launch the Eagles' Extra Points Rewards Program, featuring PayPass.
Using MasterCard PayPass, Eagles' fans "won't miss any of the action, as they simply tap their payment card on the specially equipped merchant terminal and speed their way through concession lines," said Betsy Foran-Owens, vice president, Product Services, MasterCard International. "Each of Lincoln Financial Field's (home of the Philadelphia Eagles) permanent concession stands has been terminalized to accept PayPass. Additionally, fans will also have the opportunity to accumulate Eagles reward points when using MBNA's NFL Extra Points rewards card."
As systems integrator for the Eagles, "we have an agreement with MasterCard and the Eagles to use PayPass," said Mr. Johnson. "We've integrated PayPass software into our firmware. It will read not only PowerPay but also PayPass. This is part of our whole platform of interoperability. We're building a standardized 14443 platform that will be interoperable with all RFID-based payment markets."
Philadelphia, added Mr. Johnson, "is the only sports facility where PayPass is available. When you sign up for an Eagles MBNA MasterCard you'll get the MasterCard plus a PowerPay tag that will link to that card."
While PowerPay can link to a debit card as well, "people seem to want to use it linked to their credit cards," said Mr. Johnson.
"PowerPay has not only captured the imagination of the fans, but when this was announced in Philadelphia during the Democratic Convention, it was on the front page of the newspaper, above the fold," he added.
When the PowerPay system first went into Seattle last year, a study found that "the average PowerPay transaction is 18% greater then cash transactions," said Mr. Johnson.
The Seattle Seahawks also initiated a time study involving 211 transactions. "The average PowerPay transaction took just 6.7 seconds, the average cash transaction 15.7 seconds and the average credit transaction 37.5 seconds," he said.
"It speeds up the line, it gives fans a better concession experience and fans like it because they can get back to see the game quicker. We find they're using PowerPay twice as much over a credit card."
A New York University Stern Business School study following the 2003 NFL season found that 83% of PowerPay users ranked themselves as "extremely satisfied" with the PowerPay solution, according to SST.
"PowerPay will prove to be a great benefit for our fans," said Tom Lewand, executive vice president and COO of the Detroit Lions and Ford Field. "This innovative payment and reward system will truly enhance the fan experience here at Ford Field, and we're pleased to be among the first professional sports properties to adopt and offer the technology."
The Detroit Lions and Ford Field, along with other merchants who adopt the PowerPay technology, are offering reward points similar to what Philadelphia is doing. Consumers using PowerPay can earn points that can be accrued and redeemed for Lions merchandise and/or team-related prizes, in addition to offers from participating sponsors.
PowerPay's software can also allow merchants to create target groups of consumers and communicate relevant content and offers to individuals based on buying preferences and demographic data, then automatically reconcile those offers at the point of sale.
"Our solution is not for just payment, we have a whole suite of business analytics that allow a business to gather demographic information," Mr. Johnson said last year when announcing the Seattle contract. The team can cross-reference offers, he said. For example, if a fan spends $25 on concessions, he can get $10 off on merchandise. Or, the team could send e-mail to all males between the ages of 18 and 34 and offer them particular kinds of merchandise.
"But we protect the privacy of the user," he emphasized. "We'll send (the fans) information based on what they've shown they like to do."
But football fans aren't the only ones gaining the benefits of cashless payments. The system, said Mr. Johnson, can also be used at other events, such as concerts. "We live in a very cluttered world, so ease and convenience are very important," said Mr. Johnson.
For more information about SST and PowerPay, visit www.PowerPayIt.com.