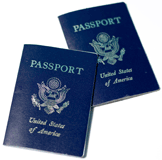 Programs ideal for customer service, photos, document processing
Campus card offices typically run on tight budgets, putting strain on the day-to-day operations. However, some universities have found an inventive solution to bring in some extra revenue.
Card offices looking for extra income might want to consider adding a passport acceptance center so students and the local community can apply for the identity documents on campus. The demand for the travel documents has never been higher as required usage has expanded to include land border crossings, cruises and more.
An acceptance center is a location approved by the U.S. Department of State to facilitate the passport application process. The actual passport documents, however, are still issued by the Department of State at centralized production facilities.
Even if a school doesn't make a profit, it's still building good community relations and providing a valuable service to constituents. Campus card programs can be ideal as most already possess key elements and skills such as photo capture and printing equipment, skilled customer service professionals and application handling processes.
The University of Kentucky in Lexington started its passport program in January 2010, says Karen Doyle, the university's student affairs coordinator for the Office of Student Involvement.
The University of Nebraska, Lincoln, began accepting passport applications in May 2009, says Julie Yardley, manager of the school's NCard and Passport Acceptance Office.
At Nebraska the idea came from the school's chancellor, explains Kim Phelps associate vice chancellor for business and finance. "Of the numerous reasons we had for pursuing this activity, the most important was meeting the needs of a student body and faculty members involved with study abroad programs and international student recruiting," says Phelps.
So what must one do to become an approved acceptance center? Location, it seems, is key because the State Department doesn't want too many facilities operating in close proximity. Then there's the training. "We started the process in 2009 and it took us nine months to go through the process," says Doyle.
Both Yardley and Doyle found that only trained, full-time employees could handle passport applications and operate the center. "You couldn't hire a temp or a student worker," says Doyle.
The offices can take walk-ins, but they may be in for a wait if the correct staff members are not available. Thus, both offices encourage applicants to set up appointments.
To save time, Kentucky encourages applicants to fill out the paperwork online, print it and bring it to the office. "They must come to the facility," says Doyle.
Passports cost the same whether you apply for one at a post office, the campus card office or another approved center.
Each document costs $110. If you want to shave several weeks off the process and receive it in two to three weeks, instead of five or six, tack on an additional $60 plus $12.85 if you want the passport returned by overnight delivery. If you want a passport card–good for ground transportation only between Mexico, the U.S. and Canada–that's $30.
There's also the $25 execution fee or agent-processing fee, which is where a card office or any passport acceptance center, makes its money. This is paid separately from the regular $110 passport application fee.
Another revenue opportunity for schools is with passport photos. Kentucky charges $10 for a set of photos while Nebraska charges $7.50. That compares to $15 charged by the post office or $8-12 that local retailers often charge, explains Yardley. "We didn't want to drive anyone out of business. We wanted to be competitive and it more than covers our expenses."
Nebraska has taken 4,200 sets of photos since it launched the service, says Yardley. She says people also use their photo service for visa applications or for graduate students submitting testing applications.
State department rules force location change
When Kentucky University first opened its passport acceptance center, the facility was housed in the card office. That changed in January 2013 due to State Department's "operational" changes that restricted passport centers from sharing space with student ID or other service locations, says Doyle.
The major ongoing cost is employee salaries. "When we added this to existing employees duties, there was no additional overhead. It was done during less busy hours of the day and month. If someone was hired to do just passports the salary would have to be covered completely by these revenues. So, it's a good idea to add it to an already existing office or service," says Doyle.
The first year the University of Kentucky offered passports, it processed more than 600, with 700 the following year and more than 1,000 in 2012, says Doyle. The school made $13,000 the first year, $15,000 the second year and projeced $18,000 to $20,000 in 2012, says Doyle.
The university of Nebraska has processed 3,176 passport applications. That's a $25 per application profit, or about $79,000 since the university started processing passports in 2009.
The application process takes 10 to 30 minutes depending on the complication of the application, says Doyle.
"A person brings a birth certificate and old passport if he has one. We witness the signature and send the package on to the regional center where processing occurs. The completed passports are then mailed back to the individual. We don't retain any information about that person," says Doyle.
"It provides a wonderful service for the university, the faculty and staff and the community at large … and it increases good will," says Yardley. "It's really not that hard to add this to our duties. We're already a printing and copy center."
If Yardley had it to do over again, she says she would have spent the initial couple of days at a post office observing the staff processing passport applications. "The first few times I was a little nervous, but after that it got better," she says.
As to what Yardley can offer other schools considering becoming a passport acceptance facility: "Find your regional passport office, that's your starting point." She says it's possible a school can get turned down if the Department of State believes there are enough agencies in the area already.
But if your card office is approved, it can be a great add-on service and revenue opportunity. "It has been a great experience," says Yardley.
Estimated startup costs for passport acceptance
Camera & Printer: $1,500
Die Cutter: $100
Embosser Seal: $40
Safe for Transmittals: Varies