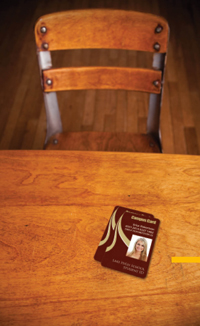 Secondary schools finding value in advanced IDs
Kindergarten through high school … the final frontier for the higher education campus card provider. While ID cards are not uncommon in school hallways, the secondary education market is virtually untapped when it comes to advanced campus card systems.
Campus card providers including CBORD, Blackboard, CardSmith and Heartland are working to gain a foothold in the K-12 market. A handful of progressive high schools are already finding that advanced card systems can ease many administrative burdens and give students a glimpse into their future when they head to college and are responsible for their own budget.
Adlai Stevenson High School, a public school near Chicago, could almost pass for a college. Occupying a million square feet and comprising its own school district, it is a successful college preparatory school with 97% of its graduates going on to college. It uses technology from Blackboard to power its campus card program.
There's also Williston Northampton School, a private school served by CardSmith in Easthampton, Mass. It has 528 middle and high school students and is a combination day and boarding school.
The Burlington School District in Vermont is serviced by Heartland School Solutions, a division of Heartland created specifically to manage the K-12 market.
And the 3900 students at the Singapore American School rely on CBORD for campus card solutions. It is located on a 34-acre tract and features three cafeterias, three swimming pools, four libraries, three theaters, eight gymnasiums, a broadcasting studio, a climbing gym and tennis courts.
Extending their reach
It makes sense for campus card companies to broaden horizons because there's not a lot of difference between high schools and colleges. "High schools are like smaller college campuses," says Jay Summerall, president of CardSmith.
"High schools have a very similar list of needs as do many of our university clients," says Jeff Staples, Blackboard Transact's vice president of market development strategy. "The most glaring differences regard residential needs."
High schools need everything from payment to identity driven services to secure access, Staples adds. " K-12 has different reporting requirements–such as free and reduced lunch controls–but at the end of the day it still comes down to managing assets and services."
At least some see the level of interest from schools increasing. "I think there's momentum among high schools to advance card systems," says Summerall. "We have a fairly steady stream of inquiries, and we've picked up some in the last year or two. It's a business we're starting to focus on."
A major advantage is that the schools eliminate handling cash, says Summerall. "It alleviates a big administrative burden at the cashier level," he adds.
"I had one administrator overjoyed she wouldn't have her staff collecting coins from laundry and vending machines," says Summerall. This can free up time for multiple staff members because to physical collection of money typically requires dual controls and chaperones.
"As a high school the availability of a cashless system is huge," says Mark Michelini, assistant superintendent for business at Adlai Stevenson. "We're not counting dollar bills any more."
The institution, named after a former Illinois governor who ran for president in 1952 and 1956, went live with Blackboard Transact in August 2010 using the system for stored value accounts. Blackboard Transact also helps ensure students using the free and reduced lunch program are not recognizable by others, ensuring anonymity and privacy, says Michelini.
The school went from using two separate stored value accounts–food services and bookstore accounts–to a one card solution, adds Staples. Blackboard also provides online deposit capability so parents can fund student accounts.
Another goal was to give students a glimpse into college life, says Douglas Kahler, Stevenson's director of information services. "I enjoy the fact I can go to a vending machine and use my Blackboard card. Faculty, staff, everyone is utilizing the card," says Kahler.
CBORD visits Asia
CBORD entered into the K-12 market in 1996 when it started serving two private schools, Deerfield Academy in Massachusetts and The Latin School of Chicago, says Read Winkelman, CBORD's vice president of sales.
The company also serves the Singapore American School in Southeast Asia. The school was established in 1956 to serve the growing American community while Singapore was still part of Malaysia. It is located on a 34-acre campus on the north end of the island. The buildings themselves include more than 1 million square feet and serve 3,900 students from ages three to 18. The population consists of 55 nationalities with 72% holding an American passport, says William Scarborough, director of finance and business operations at the school.
Singapore presented its own challenges when it went looking for a card provider. For example, in its review of vendors, the school had to eliminate several because they only offered 110-volt equipment as opposed to 230 volt, says Scarborough.
He says that they found CBORD offered a robust product offering and had local representation out of Australia. The company provides an ID card with two purses or accounts. The first is controlled the school and used in cafeterias and vending machines on campus. The second is managed by a national provider and can be used at 15,000 merchants in Singapore, including the public transit systems and for parking and road tolls, explains Scarborough.
In addition, Singapore American uses CBORD's integrated POS system, printer and copier control, CCTV with 250 cameras and access control turnstiles at entrances to campus and various office doors. Additionally, card readers are installed on 115 school buses to record rider access.
CardSmith's private school PLAY
Summerall says he had no idea that he would be involved with the secondary school market, when CardSmith was first founded nine-years ago.
The company started serving the secondary market in 2005-06. Most clients are private high schools, both day and boarding schools. "They sought us out and we learned what their needs were and some of the nomenclatures," Summerall adds.
The Massachusetts-based Williston Northampton School is in its fourth year with CardSmith, says Chuck McCullagh, the school's chief financial officer. He cites three reasons the school wanted to build a robust campus card program for its students.
"First we wanted to be able to use the card on campus for transactions–to purchase from the soda machine, the campus store, snack bar, library. We wanted to eliminate the need for cash," says McCullagh.
Second, the school wanted to provide parents the ability to track their student's charges in real time. "They can look at the status of the student account," McCullagh says. "We have a number of international students and it's good for those families."
Williston's third reason–one cited by numerous schools–is that most of their students will be going to college and need to learn budgeting and financial responsibility. "They have to learn how to manage the card and their spending," says McCullagh.
And then there's public schools
When you add public schools to the mix, there are more reporting requirements, such as tracking free and reduced lunch recipients.
While CBORD could offer K-12 any of the services it offers higher education, the company had a challenge in the cafeteria. "We don't have a program that manages free and reduced lunch," says Winkelman.
Horizon Software International fixed that. CBORD's parent company, Roper Industries, acquired Horizon in 2008 to serve public school systems. "Horizon represents approximately half of the mega school districts in the U.S.," says Randy Eckels, Horizon president and former CBORD senior vice president of sales and marketing.
Together, CBORD and Horizon serve about 30,000 schools, says Eckels.
Horizon is 20-years-old and was created for the single purpose of serving the K-12 market, says Eckels. It was originally a back of the house software solution used for menu planning, procurement and production, he adds.
Still most public schools and Horizon clients don't issue ID cards or use them in the cafeteria. In high schools PINs or fingerprints are more common than plastic cards, says Eckels. Older students enter a PIN number when going through the cafeteria line, but for younger kids, the cafeteria relies on the child's picture to access the account and determine whether he's on free or reduced lunch, says Eckels.
Horizon's MyPaymentsPlus system enables a parent to deposit funds online for lunch money, vending purchases and student fees, says Eckels.
Even without a physical campus card, the system eliminates cash handling. Students can even enter a four-digit code at a vending machine. "(For K-12) It's a more practical implementation than a card system," says Eckels.
Others see these PIN and biometric solutions as an ideal intro to full-blown campus card implementations. As schools get a sense of the administrative efficiencies, it can open their eyes to other possibilities.
Buying into the K-12 space
Heartland entered the K-12 market by acquiring four companies to form its School Solutions division, says Keith Womack, Heartland's School Solutions director. "We started two years ago, acquiring companies with 25 years' experience in the K-12 space," says Womack. "We saw a real advantage to serving K-12 schools."
The companies acquired by Heartland include: School-Link Technologies, solutions provider for payments management; LunchBox Software, provider of school nutrition software; Comalex, developer of POS and food service functions; and MySchoolBucks, a Web site for parents to pay for their child's meals and other expenses.
Student account usage keeps lunch lines moving rapidly, says Womack, noting that most students have just 20 minutes to eat.
"Students tend to spend more when they have money in accounts," he adds. "And we can provide lots more information to parents."
Think children can order and eat anything they want in the cafeteria? Think again. With SeeMyPlate, another Heartland product that is integrated into the cafeteria's POS system, a photo of the student's tray is captured at checkout. "The picture is uploaded to our parent Web site for secure access to their child's meal purchase," adds Womack. Parents can see what their child buys. SeeMyPlate is currently deployed in five school districts.
The Burlington School District in Vermont relies on Heartland software in the cafeteria, for free and reduced lunch programs and vending, says Doug Davis, Burlington's director of food service.
Like many clients, Davis is exploring opportunities to grow the system into other areas and applications.
Womack believes that many of the products currently in use in the campus arena will be pushed down to the K-12 market with even more use for ID cards. "It's coming. I don't know when but it is coming," says Womack.
The future
Campus card providers have a distinct advantage when working with K-12 schools because they can utilize services they've perfected in the college market without reinventing the wheel.
David Minutella, manager of customer solutions at CardSmith, provides the example of financial aid allowances. "We set up an automated routine that works like a meal plan," he explains. IN the past, recipients had to regularly visit the school's financial aid office, but CardSmith automated the process depositing the money directly to the student's card. "It's done anonymously so all they have to do is present the card at the cafeteria," says Minutella.
Applications like this translate well from higher education to K-12, suggesting a strong future for willing campus card providers in a large new market.