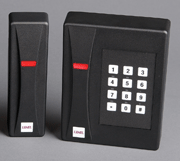 A Colorado-based manufacturer of contactless security readers has significantly strengthened its market position with a major announcement in the physical security space. XCeedID's multi-technology readers - capable of reading prox plus an array of contactless card flavors (e.g. Mifare, DESFire, iCLASS, my-d) - have been selected by Lenel for private-labeling.
Lenel Privately-Labels XceedID Multi-Tech Readers
GOLDEN, COLORADO – February 9, 2006 – XceedID Corp. recently entered into a private-label OEM agreement with Lenel Systems International, the leading provider of software and integrated security management systems. XceedID Corporation's innovative line of ISO-X™ Multi-Technology readers will now be available under the Lenel brand as the Lenel OpenCard™ Reader series.
XceedID and Lenel worked together to customize the versatile ISO-X Multi-Technology reader for use with the Lenel OnGuard® security platform, creating a unit with unprecedented functionality. Using OnGuard OpenCard™, Lenel's smart card encoded information standard, the Lenel OpenCard Readers support HID® proximity, GE/CASI® ProxLite®, my-d®, MIFARE®, MIFARE DESFire®, HID iCLASS™, XceedID ISO-X and other technologies. The devices can read proximity numbers, smart card serial numbers and the data application areas of contactless smart cards.
"XceedID is pleased to be working closely with Lenel to deliver innovative reader solutions to the market. We expect our threaded partnership with Lenel to grow with current and future products and we anticipate that our combined offering will be a significant value-add for the Lenel customer base." said John Menzel, XceedID President and CEO.
"Lenel is very pleased to now offer flexible, competitively-priced readers that support multiple card technologies with an open standard," said Erik Larsen, Product Manager of Identity Solutions for Lenel Systems International. "The Lenel OpenCard Reader series provides a viable solution for customers who are transitioning from one card technology to a newer standard, or for those who require multiple card technologies in a complex access control environment."
The Lenel OpenCard Reader series includes a mullion-mount reader, a mid-range reader and a mid-range reader with a keypad.
About Lenel
Lenel Systems International, Inc. is a global leader in the development and delivery of scalable, integrated systems for the commercial security market, with more than 12,600 system implementations in 75 countries. Lenel is headquartered in Rochester, New York, with sales and support coverage in all major world markets. Lenel is a subsidiary of UTC Fire & Security, which is a business unit of United Technologies Corporation (NYSE:UTX). More information about Lenel and its products can be found on the company's web site at www.lenel.com.