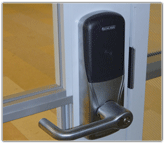 New systems brings flexibility for physical access control
The University of Virginia was looking for a door locking system that would give it the flexibility to mix and match, something modular that would make changes easy and less expensive. Wireless was another option the university wanted. Thanks to Ingersoll Rand and its partnership with CBORD, the university's campus card provider, UVA was able to make that happen.
"We wanted a wireless solution so we didn't have to wire dormitories," says Gary Conley, facilities and systems engineer for UVA, a 19,000-student institution located in Charlottesville. "When we first started the process a couple years ago nothing met our criteria."
The university wanted something that would work in a college environment. "It's different than a corporate environment," says Conley. "Dorms are higher security. We're protecting residents, not just controlling access."
UVA was also looking for a system that had PIN pads and could be remotely locked down, says Conley. UVA requires dual authentication, swiping a card and entering a PIN, for a door to unlock. "The products we looked at either didn't have keypads, they weren't online or they couldn't be locked down remotely."
Enter the AD-Series locks from Schlage, one of Ingersoll Rand Security Technologies' companies. The AD-Series offers a range of modular locks and the AD-400 model is wireless, says Tom Wright, sales consultant for Ingersoll Rand Security Technologies.
All the AD-Series models are modular so to parts can just be swapped out for newer ones. "The unique thing about the AD series is all these options are in the same form factor, so a customer can start off with offline then decide to move to wireless. You're not replacing the entire lockset–only a component," says Read Winkelman, CBORD's vice president of sales.
The product line also makes it easier to move from a magnetic stripe card to a contactless smart card because you only have to replace the card reader, says Winkelman.
The university first became aware of the AD-400 when it was tagged to test out the locking system. "CBORD knew UVA was interested in this product and they came to us," says Conley. "It sounded like the AD-400 met all the university's needs including dual authentication and real time lock-down."
Ingersoll Rand first needed some feedback. When the university began testing the system, its first suggestion involved whether the card should be swiped, like a credit card, or inserted into the reader, similar to the way cards are used today to open hotel room doors. "We wanted a swipe card reader," says Conley. "Some students carry their card on a lanyard. We wanted them to be able to use their card without taking it off the lanyard."
This necessitated some design changes. "We had a different card reader on the initial design," recalls Wright. "It was important for UVA to require dual authentication to open a door with a card and a PIN. What wasn't working well was the design on the magnetic stripe reader since it had to be inserted into the lock."
The first units were installed last summer and the school now has about 210 going into dormitories and about 175 into academic buildings.
UVA uses multiple models from the AD-Series. "We have the AD-200, a stand-alone battery operated lock and we also use the AD-300 which involves minimal wiring. The AD-400, which connects into UVA's card system, is a wireless implementation," explains Conley.
One consideration for stand-alone, unconnected devices is that you have to visit each lock to program it, using a PDA or some kind of handheld device. "Anytime you have a problem with the lock or when a resident moves out you have to physically visit the lock," says Wright. With a wireless system, everything can be managed from the host computer.
One key advantage to the AD-400 is what Ingersoll Rand calls its "Wake up on Radio," a battery saving technique. "The lock goes to sleep until you do something to wake it up," Wright says.
In some technologies waking the lock up can take a little more time than you'd like. "With Wake Up on Radio, you communicate with the lock very quickly, almost instantly," says Wright.
Ingersoll Rand's long-time partnership with CBORD helped a lot in rolling out the new system, says Winkelman. "We had a substantial amount of input. Ingersoll Rand views the education market as a primary market for this platform and they wanted us to have a say," adds Winkelman. "The partnership also provides valuable integrations that improve efficiency for users," he says.
"The integration between the AD-Series and CS Gold makes it easy to manage a variety of locking solutions from a single interface," says Winkelman. "Our goal is to give our customers lots of options and let them determine the right fit for their campuses."
Contactless smart cards are also on UVA's radar. It's already in use in some academic areas, but it has been talked about for use in the dorms as well, says Conley.